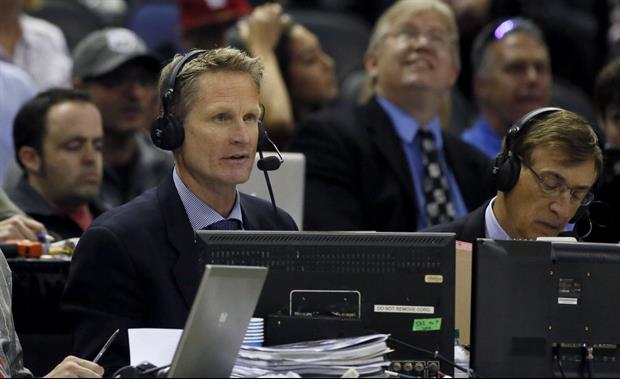 Soobum Im-USA TODAY Sports
Multiple sources are reporting that TNT announcer Steve Kerr will accept the Golden State Warriors head coaching position. Per
ESPN
,
quote:




---

Steve Kerr has turned down Phil Jackson and the New York Knicks to accept a five-year, $25 million offer to become the Golden State Warriors' next coach, saying "it just felt like the right move on many levels."

"They have a good young team. The location is ideal," Kerr said in a phone interview with NBA.com on Wednesday night. "My daughter goes to Cal and plays volleyball. My oldest son is in college in San Diego and our youngest is a junior in high school. It's just a short flight for them."

---
Taking the Warriors job meant that Kerr would have to turn down a 4 year offer he received from his former coach Phil Jackson who he won 3 NBA tittles with.
quote:




---

"Ultimately, it was agonizing to say no to Phil because of what I think of him and what he's done for my career," Kerr said, according to NBA.com. "When Phil Jackson asks you to coach the Knicks, how do you say no? I think they're going to turn it around, but going to be a big undertaking and it's going to take time. The idea of doing that 3,000 miles from home, it just didn't feel right."

---
Kerr spent three seasons as general manager of the Phoenix Suns between 2007-2010, but has never served as a head coach.
Related:
Popular Stories