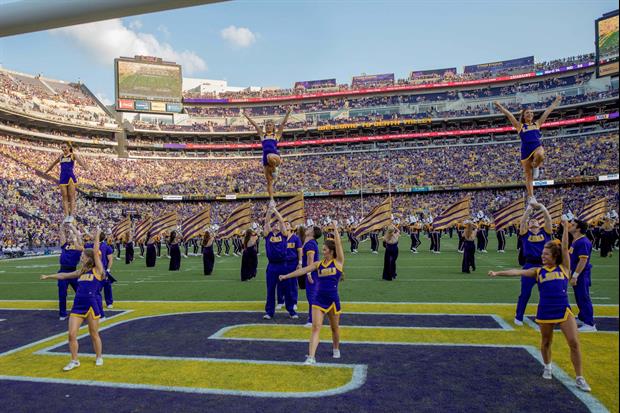 Stephen Lew-USA TODAY Sports
LSU returns to Tiger Stadium on Saturday to face the No. 10 Auburn Tigers in Death Valley. Kickoff is set for 2:30 p.m. CT and the game will be televised on CBS.
Over 70 members of LSU 2007 National Championship team, along with former coach Les Miles will be honored on the field at halftime to celebrate the 10-year Aniversary of the team.
Here are the complete times of interest for Saturday's game, according to LSU:
quote:




---

LSU vs. Auburn
October 14, 2017 * Baton Rouge, La. (Tiger Stadium) * CBS

Saturday, October 14
8 a.m. LSU SportShop opens
8 a.m. LSU Ticket Office Opens (1st Floor of Athletic Administration Building)
9:30 a.m. L-Club Tailgate (Legends Club at PMAC)
10:30 a.m. Chase Tyler Band performs in Zatarain's Tiger One Village (front of PMAC)
11 a.m. CST's LSU GameDay Live Pre-Game Show from PMAC ramps
· Gordy Rush, Victor Howell, Jacob Hester, Eric Alexander, Emily Dixon
11:30 a.m. Club level and Suites open at Tiger Stadium
LSU At the Game Programs on sale in and around Tiger Stadium
11:45 a.m. LSU Student gates open at Tiger Stadium
Noon All remaining gates – including Skyline Club - open at Tiger Stadium
Noon LSU Men's Basketball Showcase (main floor at PMAC)
· Head coach Will Wade will be mic'd up for 45-minute public viewing of practice
12:25 p.m. LSU walks down "Victory Hill" with former LSU football alumni
12:30 p.m. LSU Game Day presented by CST radio show at Zatarain's Tiger One Village
· Hunt Palmer, Jacob Hester, Marlon Favorite
· Special Guest Glenn Dorsey at 12:50 p.m.
12:40 p.m. Band comes down "Victory Hill"
2 p.m. LSU Sports Radio Network live from Tiger Stadium
· Chris Blair, Doug Moreau, Gordy Rush
· Listen free at www.LSUsports.net/live
2:16 p.m. Folds of Honor Presentation
2:17 p.m. Guest Captains Presentation
· Glenn Dorsey, Patrick Fisher, Matt Flynn, Jacob Hester, Craig Steltz
2:20 p.m. TAF Foundation of Champions Recognition
2:23 p.m. Golden Band from Tigerland takes the field for pregame performance
2:27 p.m. Alma Mater and National Anthem
2:33 p.m. LSU Intro Video
2:34 p.m. Team Captains out of locker room
2:34:30 p.m. LSU takes the field
2:36 p.m. Coin toss at midfield
2:36 p.m. Auburn takes the field
2:39 p.m. Kickoff: LSU vs. Auburn on CBS

On Field Presentations
1st Quarter: Gymnastics SEC Championship/NCAA Runner-Up
TAF Campbell Society
Mike Habitat
Organ Donor
1st/2nd Quarter Break: TAF President's Cup
Glenn Dorsey – SEC Legend
2nd Quarter: Maui Invitational/LSU Men's Basketball Surfboard

Halftime: 2007 National Championship Team Recognition



---
Related:
Popular Stories