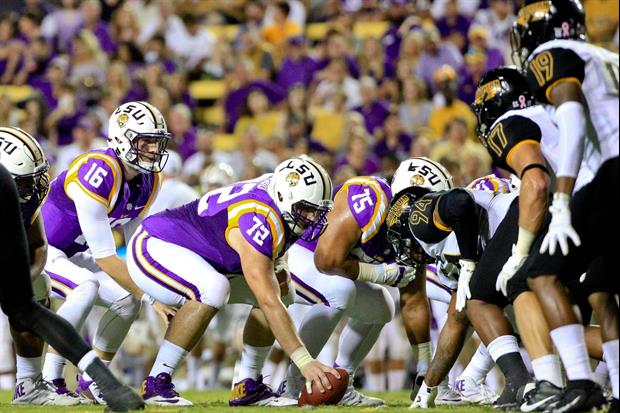 Derick E. Hingle-USA TODAY Sports
Despite the recent shuffling on LSU's offensive line,
Pro Football Focus
ranked Tiger as the No. 9 unit in all of college football. Here is what they had to say:
quote:




---

9. LSU
Similar to Iowa's offensive line LSU's big guys up front are good run blockers and pass blockers. They have gotten better every week and they seem to be finding their stride at the right time. LSU has a physical smash-mouth style and they impose their will on defenses. Big tests still lie ahead for the Tigers, including the Crimson Tide. With No. 10 center Ethan Pocic and No. 10 guard Josh Boutte, LSU's running game will look to shift to another gear down the stretch of their SEC schedule.

---
PFF's Top 10 O-Lines:
1. Iowa
2. Washington State
3. Kansas State
4. Western Michigan
5. San Diego State
6. Ohio State
7. Alabama
8. Western Kentucky
9. LSU
10. Notre Dame
Since the beginning of the season, LSU has played many different combinations on the offensive line due to injuries and the one game suspension of Josh Boutte.
The entire offensive line with the exception of Toby Weathersby (ankle) is expected to be available against Ole Miss on Saturday, according to head coach Ed Orgeron.
Related:
Popular Stories