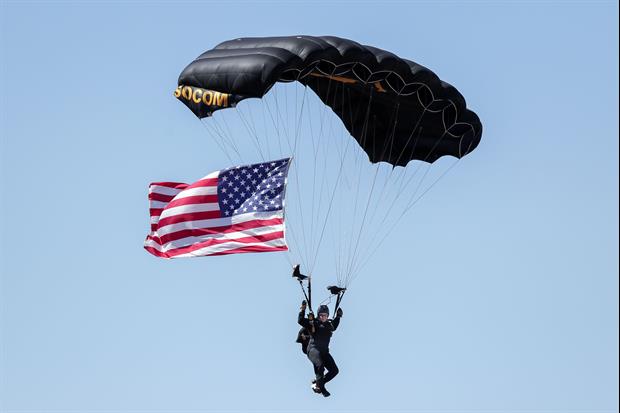 Stephen Lew-USA TODAY Sports
LSU ATHLETIC COMMUNICATIONS

For Immediate Release - October 12, 2018

STOVALL JERSEY RETIREMENT, PRE-GAME PARACHUTE TEAM HIGHLIGHT SATURDAY IN TIGER STADIUM
BATON ROUGE – A sellout crowd, a national television audience, a halftime jersey retirement and pregame parachute jump team are some of the many elements fans can expect Saturday when 12th-ranked LSU hosts second-ranked Georgia in a pivotal Southeastern Conference clash in Tiger Stadium.
Kickoff between the Tigers and Bulldogs is set for 2:39 p.m. CT. The game is the premier game in the SEC this week and will be televised to millions of households across the country on CBS. It's also the first meeting between LSU and Georgia in Tiger Stadium since 2008.
As part of Saturday's pregame show, the United States Special Operations Command Parachute Demonstration Team will fly into Tiger Stadium. The parachute team will jump from two miles high and land at midfield in Tiger Stadium approximately 20 minutes prior to kickoff.
The Para-Commandos are comprised of U.S. Special Operations Command personnel headquartered at MacDill Air Force Base in Tampa, Florida. The Para-Commandos jumping into Tiger Stadium on Saturday are mostly combat veteran special operators from the U.S. Army Special Forces or Rangers, the U.S. Air Force's Special Tactics Squadron, U.S. Navy Seals and U.S. Marine Corps Special Operations Raiders.
Saturday will be the first time since the Virginia Tech game in 2007 that a parachute team will be part of LSU's pregame show.
Another feature of Saturday's game will be the 360-degree fan gigapixel photo that will take place between the first and second quarter. The gigapixel photo will cover the entire stadium and will give fans the opportunity to "tag" themselves in this photo in Tiger Stadium. It's shareable through social media channels and a unique way to remember the day LSU hosted No. 2 Georgia in Tiger Stadium.
At halftime, legendary Tiger Jerry Stovall will have his No. 21 jersey retired and placed on the façade on the east side of Tiger Stadium, joining Billy Cannon's No. 20 and Tommy Casanova's No. 37. The Stovall ceremony will take place at the 11-minute mark at halftime and will feature a video honoring the LSU legend along with comments from Stovall.
Fans are encouraged to arrive early on Saturday as LSU is anticipating one of the largest crowds ever on campus for this Top 15 matchup. The game is sold out and fans in need of tickets are advised to purchase only through StubHub at LSUsports.net/marketplace, the official secondary ticket marketplace for LSU Athletics.
Related:
Popular Stories