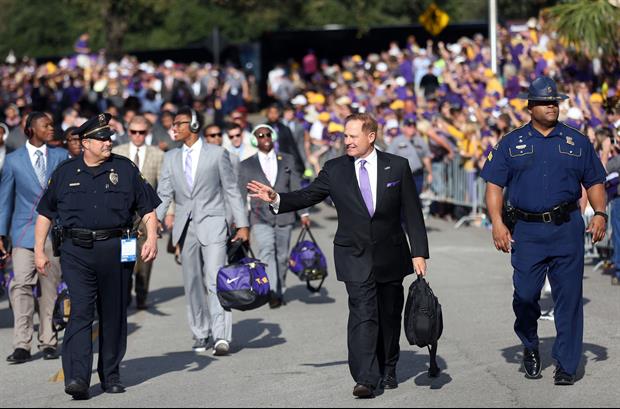 Crystal LoGiudice-USA TODAY Sports
Per LSUSports.net: In a series that filled with tradition, great moments and drama, LSU and Ole Miss renew one of the long-standing rivalries in the Southeastern Conference on Saturday when the No. 23 Tigers hosts third-ranked and undefeated Ole Miss in a sold out Tiger Stadium.
Kickoff between the Tigers and Rebels is set for 6:15 p.m. on ESPN. It's premier game in college football on Saturday as LSU and Ole Miss are one of just two games nationally that features a pair of Top 25 teams. ESPN's College Gameday is one campus as well bringing more attention (and excitement) to a game that could go a long way in determining college football playoff participants.
Complete preview
(3) Ole Miss (7-0, 4-0 SEC) at (24) LSU (6-2, 2-2 SEC)
7:15pm ET, October 25, 2014
Tiger Stadium (LA), Baton Rouge, LA
TV: ESPN
LSU-Ole Miss History
Baton Rouge Weather
LSU-Ole Miss Hype Video
Gameday Timeline:
8:00am - ESPN's College GameDay (Parade Ground)
8:30am - Coach Les Miles on ESPN College GameDay set (Parade Ground)
11:00am - CST LSU Live Pre-Game Show (Tiger One Village at PMAC)
11:00am - LSU Homecoming Parade (through campus; Route:Up West Lakeshore to South Stadium to Field House Drive to Dalrymple)
Noon, Ticket office opens
1:30pm - Tiger One Village opens (front of PMAC)
2:00pm - Rockin Dopsie & Zydeco Twins, Zatarain's Tiger One Village
2:00pm - L-Club Tailgate (Legends Club at PMAC)
2:45pm - TAF Tailgate Party (PMAC)
3:00pm - Club level and Suites open at Tiger Stadium
3:15pm - LSU Student gates open at Tiger Stadium
3:30pm - All remaining gates open at Tiger Stadium
4:10pm - LSU walks down "Victory Hill"
4:15pm - LSU Game Day presented by CST radio show at Tiger One Village
4:20pm - Mike VI comes down Victory Hill
4:25pm - Band comes down Victory Hill
5:46pm - Mike the Tiger and LSU Cheerleaders field parade
6:00pm - Guest captain presentation: Billy Cannon, Bert Jones, Bradie James, Billy Baggett
6:04pm - Golden Band from Tigerland takes the field for pregame performance
6:09pm - Alma Mater and National Anthem
6:15pm - LSU intro video
6:17pm - LSU takes the field
6:18pm - Ole Miss takes the field
6:18pm - Coin toss at midfield
6:21pm - Kickoff: LSU vs. Ole Miss on ESPN
Halftime:
·Homecoming Court presentation
·LSU Band performs
Related:
Popular Stories