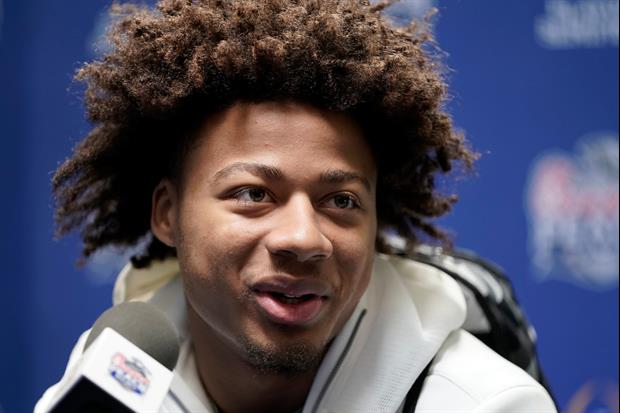 Abell Images - 2019 Peach Bowl
CHICK-FIL-A PEACH BOWL: LSU VS OKLAHOMA

December 26, 2019

Derek Stingley

Atlanta, Georgia

Q. Does it almost give you like goosebumps every time, no matter how much you prepare for it?
DEREK STINGLEY: Every single time.

Q. A lot of one-on-one opportunities with CeeDee. Or how do you look at it going in based on how you looked at plays in practice?
DEREK STINGLEY: Yeah, I mean, based on, like, if it ends up like that, like without defensive play call, then it will be a nice matchup, in my opinion.

Q. How much of what you see in practice can help you prepare for these receivers?
DEREK STINGLEY: Going against Ja'Marr and Terrace, every day they've been much help me prepare for games like this.

Q. When you CeeDee and his yards after catch, what makes him so dangerous?
DEREK STINGLEY: His ability to make people miss in the open field. He's strong and fast so it will be kind of hard to tackle him if you're not in the right position.

Q. I know you obviously weren't here when Jalen was at Alabama, but how much have the older guys and Dave Aranda sort of helped you prepare for what kind of player he is?
DEREK STINGLEY: Well, I mean, they pretty much talk about, like, his running abilities, and if he gets running, you got to treat him like a running back because he's a bigger guy. Really good. You know, he'll run you over.

Throwing-wise, we know that he's good throwing the ball. I've seen that on TV last year.

Q. You've not faced a lot of quarterbacks like Jalen. You do think quarterbacks Bo Nix and like the quarterback from Ole Miss have prepared you for Jalen?
DEREK STINGLEY: Oh, yeah. After those games, we went back to see what we did wrong, and we tried our best to learn from him.

Q. Jalen's style is a little different as a runner than Plumlee or Bo Nix. What kind of adjustments do you make in that regard?
DEREK STINGLEY: We just got to be ready for it. If it's a passing play and somehow he breaks out of the pocket, we've got to make sure the secondary stay on our receivers and the interior level is there, everybody gets to him in time.

Q. Everyone asks about CeeDee. How exciting is it to go up against guys like Jerry Jeudy, big-time receivers?
DEREK STINGLEY: It's crazy because, like, last year, I'm watching these people on TV, and now I'm lining up right across from them. Like the coolest thing about it to me is whenever I go line up on the opposite side, seeing all the coaches that I see on TV all the time, and they're right there by my face. It's cool. It's cool to be in this position.

Q. Did you expect everything to culminate the way it did so quickly?
DEREK STINGLEY: No, I didn't think it would be like this. I figured I'd do all right, but not they way I'm doing right now.

Q. In the Ole Miss game when Plumlee ran crazy on you guys, after that happened, did you all kind of really tighten up things?
DEREK STINGLEY: Yeah, I feel like after that game, the defense we sat down, talked about a lot of things, tried to fix it the best we could.

Q. Is this something you kind of expected? You were one of the top recruits in the country, now playing in the Peach Bowl against probably one of the best wide receivers in college football. Is this something you expected of yourself in the first year?
DEREK STINGLEY: No. I never would have thought that things would end up this way. But it's cool, though, to like -- I don't know, like, it's just one of the best feelings in the world.

Q. Is that kind of like the dream, coming to LSU? Because you're from Louisiana and everything. Coming to LSU and getting to play so much as a freshman?
DEREK STINGLEY: Yeah, that's really been a dream of mine for a long time.
Related:
Popular Stories