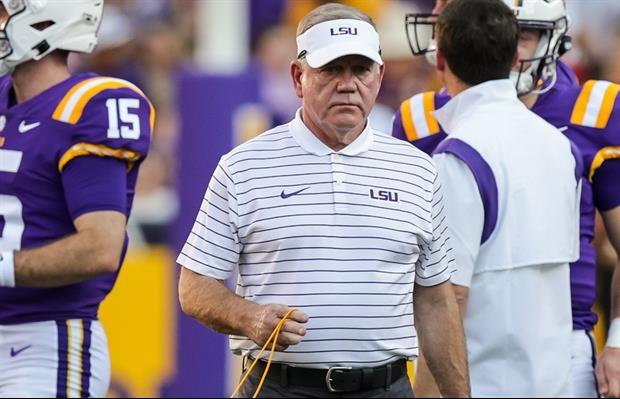 Stephen Lew-USA TODAY Sports
No. 6 LSU heads to College Station this weekend to face Texas A&M in the regular-season finale. The Aggies (4-7) have not had the year they wanted but remain a dangerous opponent that would love to spoil the Tigers' season.
On Monday, head coach Brian Kelly spoke about the matchup and Aggies head coach Jimbo Fisher.
quote:




---

Now moving forward we take on an SEC opponent, which is well known to all LSU fans and Texas A&M. Certainly when we talk about a talented football team, this is as arguably as talented as a football team as we'll see all year. They're young in some areas, but it doesn't take away from the talent that they have on the field.

Jimbo obviously is an outstanding football coach. I've gone against him when he was at Florida State. Certainly this is their game. Last one that they play this year again LSU, their rival, they'll play their absolute best against us, and we'll have to meet and exceed our play.

Certainly outstanding players on both sides of the ball. Devon Achane, the running back, is outstanding. The receiver, one of the best in the country. Again, Stewart is a guy that you have to know where he is at all times.

Defensively, young and talented. Outstanding defensive line. Run to the football. Again, great atmosphere. And one that our football team is certainly looking forward to and has, again, from our perspective handled themselves all year in the right way, and we'll prepare accordingly for an outstanding, talented football team.

But, look, they don't have the wins that they wanted, but all they need is one, and that's to beat LSU. We'll have to prepare very well and perform well on Saturday against this football team.


Q. You mentioned coaching against Jimbo. Did it four times when you were at Notre Dame. The hallmark of Jimbo teams, what is it like coaching against him, preparing against him?

BRIAN KELLY: He is talented. He is obviously a great recruiter, and he is talented. He's had talented football teams every year that I've gone against him.

Again, the calling card has always been outstanding offenses, the ability to play aggressive defense and just good football teams. You know, they've always been great games. We look forward to another great matchup again.


Q. As best you can tell, why is A&M struggled so much this year?

BRIAN KELLY: It's a young football team. It's a very talented football team, but it's young. So, you know, you can see at times it is really scary and then sometimes there's a loss there of maybe some focus. But if they put it all together, it's not a team you want to be around when they put it all together. It's a very talented football team.

---
Related:
Popular Stories