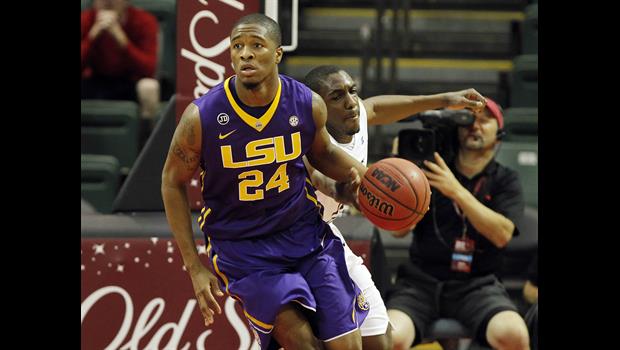 Photo Gallery
Pre KenPom: 43
Post KenPom: 44
It wasn't pretty, but it was never truly in question. LSU survived a poor performance late, allowing ULM to end the game on an 11-0 run to reduce an 18 point lead to only 7. However, a big game from freshman Jordan Mickey helped the Tigers control the game.
Mickey led the Tigers with a career high 25 points. He also added 9 rebounds and 5 blocks. After 4 early turnovers, he cleaned up his game and protected the ball. He went 9 of 13 from the field and 7 of 9 from the free throw line. He was the only Tiger who shot better than 50% from the charity stripe.
The only other player to score double figure points was Andre Stringer. He scored 10 points on the night. Johnny O'Bryant had his lowest points output (4) since scoring only two against Florida in a loss last January. However, LSU was able to hold ULM to 0.82 points per possession and win without the large scoring total we have become use to.
LSU shot 51.4% from inside the arc and only 27.8% from three point land. The Tigers got two three's from Shavon Coleman (2/4) as well as two from Andre Stringer (2/6). In the end, UL-Monroe won the tempo battle and really helped keep them in the game.
Image Link
With 4:33 left in the game, LSU led 61-43. LSU took their foot off the gas and let ULM make it look much closer than it really was. However, this is the same ULM team that only lost by 17 at #5 Kansas. They overcame a 2nd half 18 point deficit to Northwestern State to win in overtime. They have spunk and was a good test after the 12 day layoff.
Team Grades:
Jordan Mickey:
(A+) Normally wouldn't give a perfect score to someone who has 4 turnovers, but they were early and he took the game over and won this one himself.
Johnny O'Bryant:
(B) JOB only turned it over 2 times which ties his season low, but only scored 4 points. He was immediately double teamed and passed decently out of the post. Both assists were to a slashing Mickey.
Andre Stringer:
(A-) Stringer scored 10 points on 10 shots. He had no turnovers, a steal and an assist.
Anthony Hickey:
(B) Hickey scored 2 points on 4 shots, had 4 rebounds, 4 assists, and 3 steals with only 2 turnovers.
Shavon Coleman:
(B+) Coleman got the start and played well. His 6 points came on 2/4 shooting from three point range. He added 6 rebounds, 2 assists and a steal.
Jarell Martin:
(B) Martin scored 3 on a deep ball. He also grabbed 3 rebounds and 2 blocks.
Malik Morgan:
(B+) Malik looked good taking the ball to the rim. He was rewarded with 4 free throws. He scored 6, had 3 boards, and a block in 16 minutes.
Tim Quarterman:
(B) At times, Tim looked great. His length obviously disrupted the ULM offense and he had some nice passes on offense. He finished with 3 points and 2 assists but had 3 turnovers.
John Odo:
(B-) In 7 minutes of action, Odo got 1 rebound and 1 steal.
Up Next: LSU @ Texas Tech on Wednesday night. BIG road game for the Tigers.
Popular Stories