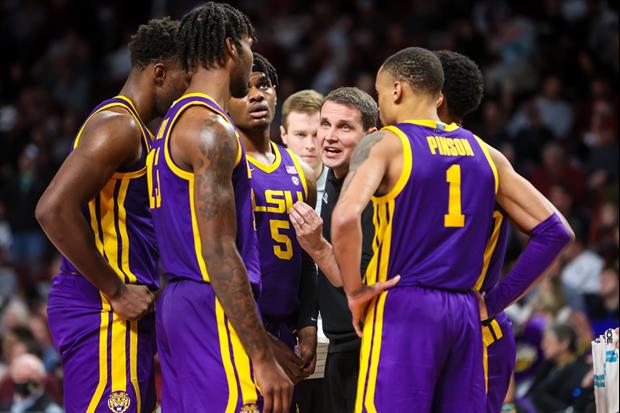 Jeff Blake-USA TODAY Sports
Tip-off update:
The LSU-Missouri game will start at 2:13 p.m. CT on the SEC Network.
LSU will open up the SEC Tournament by playing Missouri on Thursday afternoon at the Amalie Arena in Tampa, Fla.
The second-round matchup will start at 1 p.m. CT (on the SEC Network) or 25 minutes after the conclusion Florida-Texas A&M game.
Missouri advanced to the second round by beating Ole Miss, 72-60 on Wednesday. LSU is currently an 11.5-favorite over Missouri and the over/under is 133.0. Here's a game preview from
LSUSports.net:
quote:




---

LSU has a 49-60 record in 61 tournament appearances and has won its first game played 31 times in tournament history. The Tigers lone SEC Tournament victory was in 1980.

LSU is expected to go with its standard pre-and-post injury period starting lineup that is 19-3 on the year with Xavier Pinson and All-SEC Freshman Team member Brandon Murray at guards, Mwani Wilkinson and Second Team All-SEC selection Darius Days at forward and Efton Reid at center.

Pinson is averaging 10.3 points, 2.6 rebounds and 4.7 assists while Murray is at 10.1 points per game and 2.9 rebounds. Wilkinson averages 3.9 points and 1.3 steals while Days is second on the team in scoring at 13.6 points and 7.7 rebounds. Reid comes in at 6.2 points and 4.5 rebounds.

LSU off the bench will be paced by guard Eric Gaines and SEC Sixth Man of the Year and All-SEC First Team selection Tari Eason. Gaines averaged 9.2 points and over three assists per game, while Eason is at 16.9 points per game, 6.9 rebounds and 2.0 steals per game. Read more.

---
Popular Stories