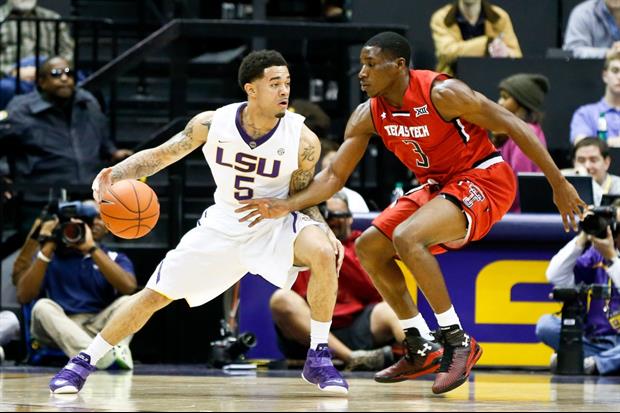 Derick E. Hingle-USA TODAY Sports
Who:
Massachusetts Minutemen (Amherst, MA)
When:
Tuesday, December 2, 6:00pm
Where:
PMAC (13,215, 45th NCAA)
How:
***
TV:
SECN
***
Radio:
98.1FM
***
Stream:
SECN via ESPN3.com
LSU takes on Massachusetts in the PMAC to kick off the most important out of conference week of the season. They will also head to #21 West Virginia on Thursday night taking part in the SEC/Big12 challenge.
LSU survived Saturday night vs McNeese St without leading scorer, rebounder, and blocker, Jordan Mickey, who was held out of competition due to a minor injury. Jarell Martin put up another new career high in points with 26. LSU also got an unexpected jolt of offensive production from 6'4" power forward, Brian Bridgewater, who scored 16 in 22 minutes.
On that same night, UMASS went into Harvard and almost beat a very good Harvard team who started the year in the top 25. UMASS had a 45-36 lead with 18:00 left in the second half before squandering the lead late in the game and missing a game winning shot as the time expired. The Minutemen had 5 double figure scorers.
Projected Starters:
LSU
Josh Gray (6'1" 182 Jr) 10.7PPG, 4.5APG
Keith Hornsby (6'4" 210 Jr) 12.3PPG, 5.2RPG
Jarell Martin (6'10" 236 So) 16.5PPG, 9.3RPG
Jordan Mickey (6'8" 235 So) 17.8PPG, 10RPG, 1.8BPG
John Odo (6'10" 245 Sr) 2.3PPG, 1.5RPG
UMASS
Trey Davis (6'0" 185 Jr) 11.3PPG, 2.7APG
Derrick Gordon (6'3" 205 Jr) 13.6PPG, 3.4APG, 5RPG
Seth Berger (6'7" 210 So) 2.3PPG, 2.1RPG, 1.4SPG
Maxie Esho (6'8" 215 Sr) 13.1PPG, 6.4RPG, 1.0SPG
Cady Lalanne (6'10" 253 Sr) 14.9PPG, 10RPG, 2.4BPG
Image Link
The Minutemen will be one of the bigger teams LSU will play this season and they use their height to get to the free throw line. UMASS scores nearly 30% of their points from the charity stripe. They have already taken 221 free throws compared to LSU's 106. They also shoot a very respectable 72.9% from the free throw line. They have 5 different players who have made over 20 free throws this season (LSU has 1).
LSU will have to stay out of foul trouble against the Minutemen, and that will be a very difficult task. UMASS has forced at least 1 player to get 4 fouls in each of their games, and they have forced 6 players to foul out of games. With LSU's lack of depth, foul trouble can be a major problem. LSU will need to keep the perimeter players from penetrating into the lane as much as possible to help prevent post players fouling slashing guards.
UMASS only makes 29.1% of their three pointers and only 13.9% of their points come from beyond the arc (6th lowest % in country) so forcing UMASS to shoot the basketball from deep could be one way to try and stop the Minutemen offense.
On defense, LSU should be able to get the ball inside, but watch out for Cady Lalanne who averages 2.4 blocks per game. Lalanne had 16 points in the meeting between these two schools last season. In that matchup, LSU had 5 players pick up 4 fouls and Jarell Martin was injured in the first minute of the game. Such circumstances would not be a winning recipe in this years match-up.
The tempo in this game should be wild. While LSU is expected to be a team that likes to push tempo, the Minutemen are even faster averaging only 15.4 seconds per possession and nearly 73 possessions per game (LSU averages 16.5 seconds per possession and 69.9 possessions per game). If LSU can stay out of foul trouble, look for a great game and a possible LSU victory.
Prediction:
LSU 78, UMASS 81
Popular Stories