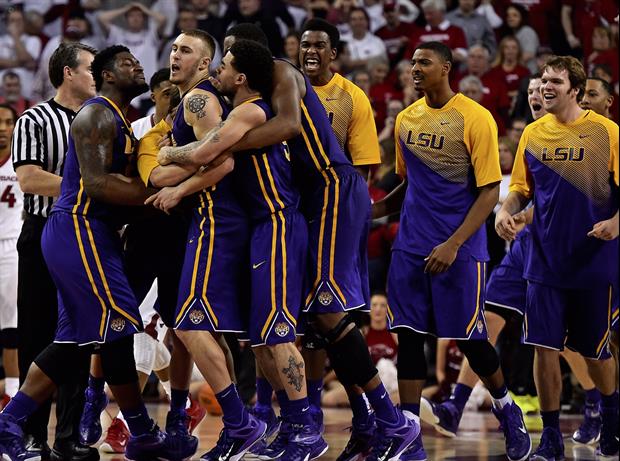 Jasen Vinlove-USA TODAY Sports
Record last week:
(1-1)
Tennessee 78, LSU 63
LSU 81, Arkansas 78
Week Summary:
Well Dr Jekyll and Mr Hyde appeared in LSU jerseys this week. LSU couldn't find a way to slow down a Tennessee team who had lost their last 5 but then redeemed their poor home loss with a huge road win over #18 Arkansas. Keith Hornsby hit the game winning shot with 0.00 left on the clock in a game that LSU led nearly the entire way through. It was also a game in which the Tigers were without star forward, Jordan Mickey, due to a shoulder injury. Before the week, people said LSU needed one more win, and getting the victory in Bud Walton may very well have punched their ticket to the big dance. According to playoffstatus.com, LSU still has >99% chance of making the tournament even without a win in the SECT.
Streak:
Win 1
Top performer:
Jarell Martin has become a very consistent scorer and rebounder for LSU. He led the Tigers in both categories this week with 43 points and 13 boards. His 27 points at Arkansas was only 1 point away from his career high. He was 11 of 16 from inside the arc and made 5 of 7 free throws. He also had a key block in the last minute of the game to give LSU a chance at the winning basket.
Cause for Concern:
Jordan Mickey did not play in the Arkansas game and getting him back to full health is absolutely necessary for the Tigers to advance in the NCAA Tournament. He should be ready for the SEC Tournament but he needs to be 100%.
Top Team Stat of Week:
LSU made 16 of 42 three point attempts on the week. The 38% clip is much better than their 33.7% season average.
Rankings and Standings:
CBS RPI 50 (LW45),
ESPN RPI 48 (LW45),
BPI 41 (LW32),
KenPom 42 (LW28)
Breaking the trend:
LSU only had 5 blocks on the week. LSU has averaged over 6 blocks per game so having 5 in two games was certainly breaking the Tigers trend.
Best game:
Jalyn Patterson absolutely lit up the scoreboard versus Arkansas. He hit 6 of 8 from three point range and pulled down 6 rebounds in a 20 point effort that was a career high.
LSU Opponent who made noise:
Old Dominion won both games last week moving their winning streak to 6 in Conference USA. They will enter the CUSA Tournament as the #2 seed with a chance to make the dance.
Interesting Stat of the Week:
The Tigers are 3-0 on the road against top 51 RPI teams. LSU has shown they are very comfortable playing on the road with 9 wins away from the friendly confines of the PMAC.
LSU Scorers this week:
Jarell Martin 43
Keith Hornsby 38
Jalyn Patterson 20
Josh Gray 13
Tim Quarterman 13
Jordan Mickey 9
Aaron Epps 5
Brian Bridgewater 2
Darcy Malone 1
LSU Rebounders this week:
Jarell Martin 13
Keith Hornsby 10
Jalyn Patterson 9
Jordan Mickey 8
Tim Quarterman 6
Darcy Malone 4
Brian Bridgewater 2
Aaron Epps 1
Josh Gray 1
LSU Assists/TO this week:
Tim Quarterman 10:7
Josh Gray 6:2
Keith Hornsby 4:2
Jalyn Patterson 4:3
Darcy Malone 3:2
Jordan Mickey 1:0
Brian Bridgewater 1:0
Jarell Martin 1:9
FINAL SEC Standings:
LSU finished with the 4 seed in the SEC Tournament. They will get a first and second round bye and play the winner of the Texas A&M vs Miss St/Auburn game.
Image Link
Bracketology:
The Tigers didn't make the splash they could have with a 2-0 week, but with the win over Arkansas they solidified their place in the field. They are looking at a 9, 10, or 11 seed at the moment. I think if the season ended today, LSU would be a 10 seed.
Image Link
Most Dominant SEC Win of the Week:
Tennessee 78 @ LSU 63 - The Vols went into Baton Rouge and totally dominated the second half of the game. After a tied halftime score, Tennessee won the second half 45-30 to give LSU their largest margin of loss on the year.
Biggest SEC Upset of the Week:
Alabama 61 @ Texas A&M 60 - Texas A&M all but had the 3 seed locked up. They only needed a win at home over Alabama, a team with very little to play with, but were upended by the Tide in a game that could knock the Aggies out of the NCAA Tournament.
Recruiting News:
The #1 SG in the country, Malik Newman, who wants to play Point Guard in college has been trending LSU's way. His top three are LSU, Kentucky, and Kansas. Kentucky may have 3 PG's already on their roster next year and Kansas should be returning their starting PG. Newman is good friends with Blakeney and Simmons who are both trying to sway him into the P&G.
SEC Tournament Bracket:
Image Link
Popular Stories