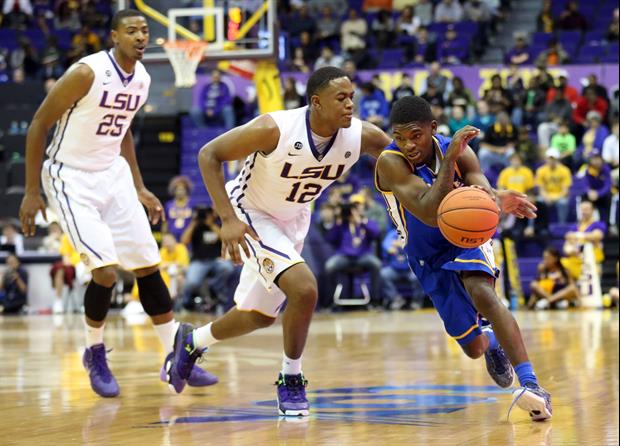 Crystal LoGiudice-USA TODAY Sports
Under Coach Jones, LSU has basically had two different defenses, man to man and a 1-2-1-1 full court press. On a very rare occasion, LSU can go into a 2-3 zone that sometimes warps into a 2-1-2 zone depending on how the offense is attacking, but half court zone is something you won't see LSU play unless they really are struggling to guard the post.
LSU's man to man defense is all about ball pressure and getting into passing lanes. Many times, an LSU guard will pick up the point guard near half court and try to force mistakes with the first pass. With Mickey and Robinson down low, guards will pressure the ball hard which will occasionally allow guards to get inside under duress. LSU was 28th best 2 point defense last year in large part to Jordan Mickey. Add another large, defense first post player and we should see even more improvement there.
LSU's biggest improvement will need to be defending through picks and screens. In the exhibition game, LSU asked the player defending the screener to step out on the ball handler and force him to stop his drive, giving the ball handler's defender time to recuperate. This will be a vital part of LSU's defense.
Image Link
If LSU is struggling to guard a post player, they may move into their 2-3 zone. They will crash down on the post and force their opponents to shoot from outside. This has been a way opponents have tried (and often successfully) to stop Johnny O'Bryant in recent years. The obvious way to break this defense down is to get it inside and quickly pass out of the double or triple teams to open teammates.
I can't imagine LSU running this defense more than a couple possessions in a few games this year. They may come out of a timeout with it just to try and disrupt the opponents drawn up play. That will really be it's only use for LSU this season unless foul trouble hinders their ability to guard the post.
While depth hasn't allowed for LSU to run "40 minutes of hell" press defense, they have used it when trailing in games to speed up the opponent and force them to take early shots. They press using a 1-2-1-1 formation where they trap the ball on the inbounds. They will setup with a long defender guarding the inbounder (4 spot). Two more Tigers (2 and 3 spots) will setup around the back-court free throw line. Those three are in charge of trapping the inbounds pass and trying to force a long pass down court. LSU will then have "the center fielder" (1 spot) around half court who will read the ball handlers and try and jump into passing lanes and the safety man (5 spot) who will guard the basket if the press is broken.
Image Link
No matter what the situation is, LSU will have more length than every SEC team outside of Kentucky this season. They will use their length on the defensive end to force tipped balls and block shots. LSU was 1st in blocked shots and 6th in steals (in conference) last season and I expect the same results this year. LSU should reach the 200 team blocks milestone for the first time since 08-09.
The biggest question mark on defense will be rebounding. While LSU has the length to rebound with the best of them, LSU will lose position going for blocked shots. If LSU is able to rebound well, they will be a very good defense and will help the team compete for a spot in March Madness.
Geaux Tigers!
More Preview Articles can be found
HERE
Popular Stories