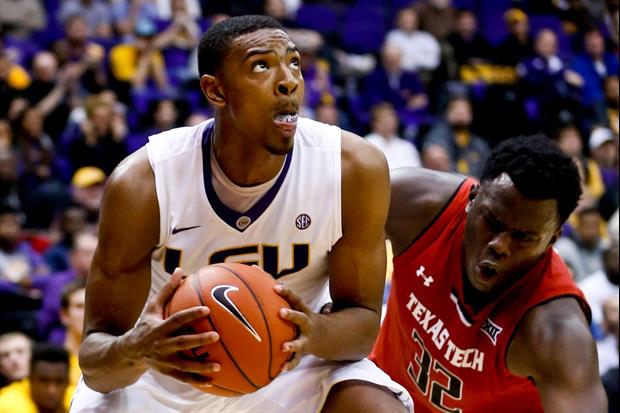 Derick E. Hingle-USA TODAY Sports
The Tigers turned a 36-24 deficit into an overtime victory against Texas Tech on Tuesday night in the PMAC. The Tigers "Big 4" each recorded double digit scoring and Martin and Mickey each had career high rebounding totals. Mickey led the way for LSU with 18 points, 14 rebounds, 3 blocks and 2 steals. Martin was right on his heels with 17 points, 12 rebounds, 3 assists, 2 steals and some monstrous dunks.
Image Link
Josh Gray scored 14 points and added 4 assists, while Keith Hornsby scored 12 points, including LSU's only two three pointers.
Tim Quarterman added 6 big points off the bench and played nearly the entire second half on Zach Smith after he scored 10 first half points. With just seconds remaining, Tim Quarterman got a steal and layup to tie the game for LSU and force overtime.
Overall, LSU shot only 2 of 19 (10.5%) from three point range and 24 of 52 (46.2%) from two point range. While the Tigers struggled shooting, they were able to force 17 turnovers, and outrebound the Red Raiders 47-46. They also played much better defense than they did against Gardner-Webb.
Image Link
The Tigers forced the Red Raiders to shoot only 38.3% from inside and 25.0% from the three point line. They were able to cover the pick and roll much better and ball handlers were more worried about protecting the ball from obsessive defenders than passing the ball.
This wasn't a game in which LSU played their best, but they were able to find a way to win. LSU was able to turn a 12 point deficit into a victory, and while this win will not be circled by the selection committee, LSU dodged a huge red mark on their resume.
Popular Stories