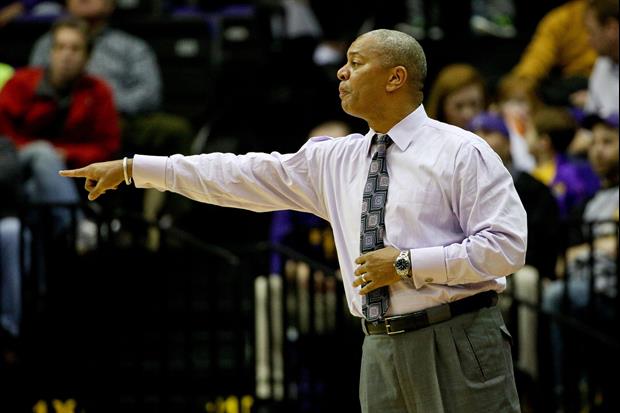 Derick E. Hingle-USA TODAY Sports
This LSU vs Kentucky game has been circled on many a calendar for a long time. It pits two teams with a couple differences, yet many more similarities. Tempo wise, LSU and Kentucky are almost exact opposites. LSU leads the SEC in tempo and like to push the ball offensively and defensively. On the other hand, Kentucky is 13th in the SEC in tempo. They play a slow, methodical style on offense, while forcing opponents to take challenged shots late in the shot clock while on defense.
The other glaring difference between the two teams is depth, where LSU will feature 6-7 players while Kentucky will feature 10-11 players. No Kentucky player averages over 26 minutes per game, while LSU has 5 players over 28 minutes per game as well as Patterson who has been increasing his minutes rapidly.
After those two differences, the similarities pile up. These are the two longest, most athletic teams in the conference. Mickey and Martin for LSU and Towns and Cauley-Stein for Kentucky are the premier big men in the conference. Both teams are best when they are attacking the paint and getting to the free throw line. These teams are #1 and #2 in the conference in blocked shots, led in large parts to Mickey and Towns.
They are also #1 and #2 in defensive efficiency. The two teams are #1 and #2 in effective field goal defense, #1 and #3 in 3pt% defense, #2 and #3 in free throw rate defense --
Do you get the point yet?
-- and both LSU and Kentucky will use defense to jump start their offenses.
Image Link
It's hard to talk about this game without mentioning last season's game, lovingly dubbed "The ICE DOME", which became an instant classic. LSU went into the game as underdogs at home against a Kentucky team that would make the NCAA final. South Louisiana had an uncharacteristically cold and icy climate that made travel to the game impossible for many fans; still Students picked up the slack and helped cheer LSU to an 87-82 victory in what felt like the turning point of an entire program as LSU rekindled excitement in their basketball program.
Tuesday night will have a similar feel, excitement wise, but the weather will be in the 60's with no precipitation. It is LSU's first SEC sell-out crowd since 2006. LSU has also encouraged fans to wear colors based on seating locations as shown below:
Image Link
Injury Report:
LSU seems to be completely healthy, however it will be their 3rd game in 6 days. Kentucky will be without star big man, Trey Lyles, who has missed Kentucky's last 3 games.
Matchup to Watch:
One big way to help your chances against Kentucky is the three point shot. That is why I think the matchup to watch in this one is
Keith Hornsby
vs the
Harrison Twins
. Not only does LSU need to efficiently make some three pointers, they cannot allow Kentucky to knock down their own. It will also be vital to keep the twins from getting into the lane, because foul trouble could really hurt the Tigers if UK can get into the paint at will.
Keys to the Game:
Limiting offensive rebounds
will be a tough task, but it is a must for beating Kentucky. The Wildcats are 4th in the NCAA in offensive rebound % which springboards them up the charts of offensive efficiency. Take away their offensive rebounds and their offense becomes manageable.
Stay out of Foul Trouble
If you think Coach Cal hasn't told the Wildcats to go right at Mickey and Martin, you are crazy. It will be a tough task for LSU's big men to stay out of foul trouble, but it is a must. The Tigers do not have the depth to stay in the game with Martin and Mickey out for extended stretches.
Play Team Basketball
There will be so much emotion in the PMAC that it will be easy for players to try and beat Kentucky individually, rather than by using team work. LSU must play through the offense and not force ill timed or ill advised shots. Every possession has to count and you cannot take the basketball for granted.
Prediction:
LSU 63, Kentucky 75
SEC Standings:
Image Link
Popular Stories