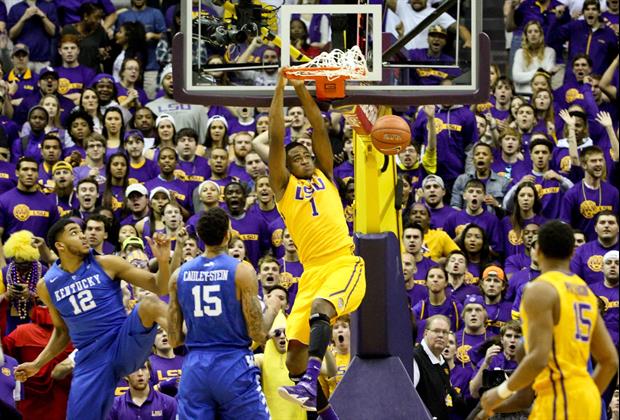 Derick E. Hingle-USA TODAY Sports
Who:
LSU Tigers (18-7, 7-5 5th SEC) @ Texas A&M Aggies (17-7, 8-4 3rd SEC)
When:
Tuesday, February 17th 8:00pm
Where:
Reed Arena (12,989 - 48th NCAA) - College Station, TX
How:
***
TV:
SECN
***
Radio:
98.1FM
***
Stream:
SECN+ via ESPN3.com
The term "big game" is thrown around a lot in basketball. Maybe you are playing a rival team, or the number one team in the country, or a team whom a serious recruiting battle has made the result of paramount importance. Then there are games like Tuesday night's Mardi Gras showdown between LSU and Texas A&M. I'd be hard pressed to tell you a more meaningful game for LSU or Texas A&M this season than their Teusday night matchup.
In Baton Rouge earlier this year, Texas A&M pulled out an impressive comeback. The Aggies were down 58-47 with under 10 minutes left before finishing the game on a 20-6 run to win by three. In that contest both Danuel House and Jalen Jones scored 18 while LSU keyed on Alex Caruso, Texas A&M's do-everything PG. This time LSU will have to get more stops, but more importantly have to get the ball inside. In the game, LSU shot 7 of 23 from three and only got to the free throw line for 11 attempts. Texas A&M only picked up 12 fouls all game, and LSU lost in shocking fashion.
Image Link
Currently, these two teams are in 3rd (aTm) and 5th (LSU) in the conference, however, a win for LSU would pull the two even. Texas A&M should be favored in the matchup, but that has been good news for LSU this year who are 5-1 on the season when they are the underdog, with their lone loss being to Kentucky by 2.
Image Link
Ole Miss has a very favorable schedule moving forward so LSU's best chance to get to a top 4 SEC seed is to pass Texas A&M. Two losses to the Aggies would mean a very steel, uphill climb to pass Texas A&M with only 6 games remaining. Both teams received votes in this week's polls and would certainly be considered a match-up between bubble teams.
Matchup to Watch:
Alex Caruso (6'5" PG) vs Tim Quarterman (6'6" PG). You won't find many games with a matchup of more dynamic playmakers. Alex Caruso leads the SEC in assists and has 4 games this year with double figure assist totals. His size allows him to get inside and find players in traffic. Tim Quarterman has a similar skill set when playing point guard that will make this matchup increasingly interesting.
Tigers win if:
They attack the basket:
In the first matchup between these two teams, LSU kept trying to shoot jump shots rather than go inside. The Tigers shot only 11 free throws as a team and took 23 three pointers. LSU needs to utilize Mickey and Martin inside if they plan on winning this one on the road.
Avoid long scoring droughts:
In LSU's losses this year, it has been long scoring droughts, normally associated with a shooting slump, that has really hurt the Tigers. If they can avoid those type of droughts, they should have a much better chance at getting the win.
Stay out of foul trouble:
With LSU's lack of depth, this is always a major factor in games. LSU has been relatively good at staying out of foul trouble, but Mickey's minutes were limited in these teams first contest due to foul trouble, so the Tigers have to protect their big men by not allowing penetration by perimeter guards.
Prediction:
LSU 74, Texas A&M 69
Popular Stories