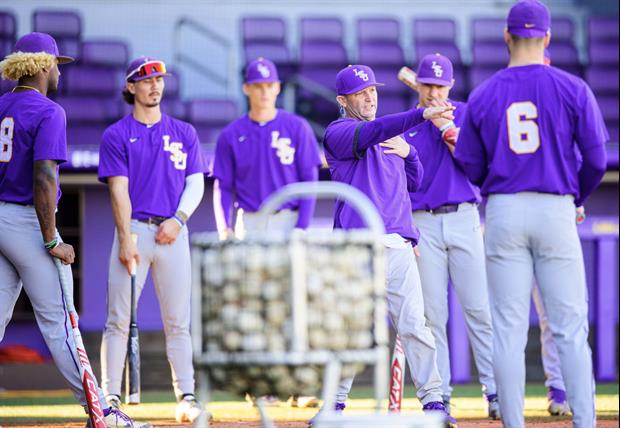 LSU Sports Photography
No. 1 LSU Tigers (7-1)
Butler Bulldogs (2-6)
Central Connecticut State Blue Devils (0-0)
DATES/TIMES
·Friday, March 3 – Central Connecticut vs. Butler @ 1 p.m. CT;
Butler at LSU @ 6:30 p.m. CT
·Saturday, March 4 –
Central Connecticut at LSU @ 1:30 p.m. CT
; Butler vs. Central Connecticut @ 6:30 p.m. CT
·Sunday, March 5 –
Central Connecticut at LSU @ 1 p.m. CT
·Monday March 6 –
Butler at LSU @ 6:30 p.m. CT
STADIUM
·Alex Box Stadium, Skip Bertman Field (10,326)
RANKINGS
·LSU – No. 1 in all college baseball polls
·Butler – unranked
·CCSU - unranked
RADIO
·LSU games on LSU Sports Radio Network affiliates; Baton Rouge stations - 98.1 FM on Friday and Sunday; 100.7 FM on Saturday and Monday
·Live audio for LSU games at www.LSUsports.net/live; Live stats for LSU games at www.LSUstats.com
ONLINE
·All LSU games will be streamed live on SEC Network +
LSU SERIES RECORDS VS. BUTLER & CENTRAL CONNECTICUT STATE
·Friday's game will mark the first-ever meeting in baseball between LSU and Butler, which competes in the Big East Conference … LSU is 6-0 all-time against Big East Conference clubs - the Tigers are 3-0 vs. Villanova, 2-0 vs. St. John's and 1-0 vs. Connecticut.
·The only prior meeting between LSU and Central Connecticut State occurred in the 2021 NCAA Eugene Regional, when the Tigers posted a 6-5, 10-inning win over the Blue Devils in an elimination game; LSU went on to defeat Gonzaga and Oregon (twice) to win the regional … the only other Northeast Conference school that LSU has played is Sacred Heart, and the Tigers are 4-0 all-time vs. Sacred Heart.
PITCHING MATCHUP FRIDAY – BUTLER at LSU
LSU – Jr. RH Paul Skenes (2-0, 0.75 ERA, 12.0 IP, 3 BB, 23 SO)
Butler – LH Cory Bosecker (0-1, 2.70 ERA, 10.0 IP, 4 BB, 14 SO)
QUOTING COACH JAY JOHNSON
"One of the positives about our road trip last week was that we used 14 pitchers over four games, and no one had to pitch twice; there are very few pitching staffs in the country that can accomplish that and win three of the four games. I thought that showcased our depth, and we're really going to have to count on that during this stretch where we'll play five games in six days. This is going to be challenging weekend – Central Connecticut was an NCAA regional team in 2021 that played an extra-inning game against LSU, and Butler has a veteran lineup and a very good pitcher that we'll face on Friday night."
ABOUT THE TIGERS
·LSU is 7-1 this season after completing a four-game road swing with a 3-0 win over Texas on Tuesday night in Austin … the road trip began last weekend in the Karbach Round Rock Classic at Dell Diamond in Round Rock, Texas, as the Tigers posted wins over Kansas State and Sam Houston while suffering their only loss of the season to Iowa … LSU was declared the champion of the Round Rock Classic due to an advantage in run differential over Iowa and Sam Houston, both of whom also won two of three games in the event.
·Second baseman Gavin Dugas launched a three-run homer in the top of the ninth inning Tuesday night to lift top-ranked LSU to a 3-0 win over Texas at Disch-Falk Field … with the game scoreless entering the top of the ninth inning, LSU catcher Brady Neal and shortstop Jordan Thompson drew back-to-back walks from Texas reliever Chris Stuart … Stuart struck out third baseman Ben Nippolt for the first out of the inning, and reliever Andre Duplantier II was inserted into the game to face Dugas, who smashed a Duplantier pitch beyond the wall in left-center field, giving LSU a 3-0 advantage with his third homer of the season.
·LSU left-hander Nate Ackenhausen (1-0) was the winning pitcher Tuesday night after entering the contest in the fifth inning and working 3.1 scoreless innings, limiting the Longhorns to one hit with one walk and four strikeouts … LSU right-hander Thatcher Hurd blanked Texas over the first 4.2 innings, allowing three hits with three walks and four strikeouts … LSU right-hander Christian Little pitched a perfect bottom of the ninth to earn his first save of the year.
·LSU centerfielder Dylan Crews enters Friday's game versus Butler batting .519 (14-for-27) with three doubles, one homer, nine RBI and 13 runs scored … Crews was named MVP of the Karbach Round Rock Classic last Sunday after hitting .692 (9-for-13) in three games with three doubles, seven RBI and six runs … in the Tigers' 16-4 win over Sam Houston on Sunday that clinched the tournament championship, Crews was 5-for-6 at the plate with three doubles, four RBI and four runs, tying the LSU single-game record for doubles.
·Junior right-hander Paul Skenes improved to 2-0 this season as he defeated Kansas State last Friday in the opening game of the Round Rock Classic … Skenes worked six innings, limiting the Wildcats to one run on two hits with two walks and 11 strikeouts, firing 101 pitches in the outing … he retired 17 of the final 18 Kansas State hitters that he faced … he was voted to the Round Rock Classic All-Tournament team … Skenes has a 0.75 cumulative ERA this season in 12 innings, allowing only one run on five hits with three walks and 23 strikeouts … Skenes is limiting opponents to a .122 batting average.
·Shortstop Jordan Thompson batted .417 (5-for-12) in the Tigers' four-game road swing in Texas with two RBI and three runs scored … outfielder Brayden Jobert batted .313 (5-for-16) on the road trip with one triple, two homers, five RBI and three runs … second baseman Gavin Dugas and DH/first baseman Jared Jones each collected one homer and four RBI.
ABOUT THE OPPONENTS
·Central Connecticut State will play two games against one other this weekend at Alex Box Stadium, in addition to their games versus LSU … Butler will face CCSU at 1 p.m. Friday and at 6:30 p.m. Saturday; admission is free for both of the CCSU-Butler games.
·Central Connecticut State, which is located in New Britain, Conn., will play its first game of the season at 1 p.m. Friday when the Blue Devils face Butler in Alex Box Stadium … CCSU is the favorite to win the 2023 Northeast Conference, according to a poll of the league's coaches
·Butler, which is located Indianapolis, Ind., is 2-6 this season; the Bulldogs won two of four games at Fairleigh Dickinson; they were swept in a three-game series at Campbell; and Butler dropped a 13-2 decision at Indiana on Tuesday.
Popular Stories