Other homebrew step-by-step threads
Extract step-by-step from LoneStarTiger
All-grain step-by-step by Zappa's Stache
BugAC and s14suspense do an all-grain double feature. Fly Sparge bonus from Bug
quote:


---

Some of you more experienced brewers should do a step by step guide next time you brew. I know I would love to see how to brew some more difficult beers.

---
In another thread TheOcean requested a picture step-by-step of some all-grain brewing. I decided to give it a go when I brewed today. This is my first time doing one of these picture step-by-step thing. Hopefully it's clear and all the pictures come through.
The goal for this recipe was a French farmhouse ale. I took a biere de garde recipe, tweaked it just a touch, and will use an American farmhouse yest blend. Recipe help came from this book. I highly recommend the book.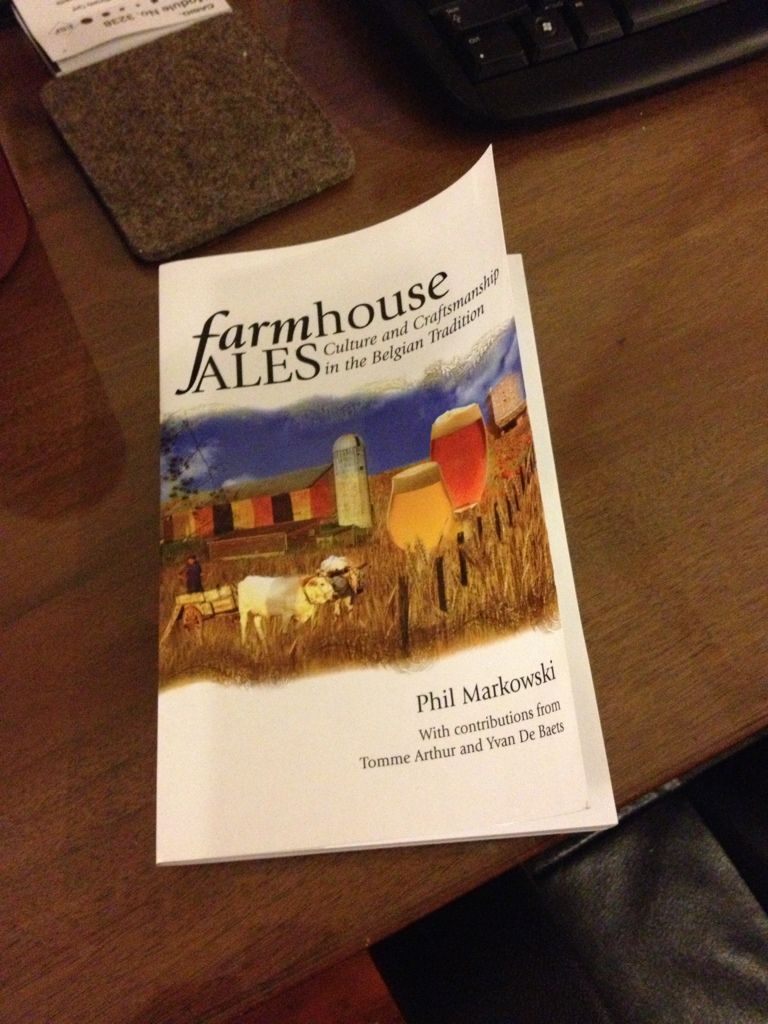 The recipe is as follows:
10.50 lb Pilsner
2.10 lb Munich Malt
0.70 lb Aromatic Malt
0.50 lb Caravienne Malt
0.25 lb Chocolate Wheat Malt
0.16 lb Biscuit Malt
0.05 lb Black Patent Malt
1.50 oz Fuggles [4.50 %] (60 min) Hops 21.6 IBU
0.50 oz Hallertauer [4.80 %] (15 min) Hops 3.8 IBU
Will be fermented at 68 using WLP670 American Farmhouse Blend.
Started off heating the mash strike water. I use my stove for this part. Usually the strike water will fit in one pot, but I needed a touch over 18 qts for the mash and had to split it between two pots.
While that's going on I preheat my mash tun with hot tap water.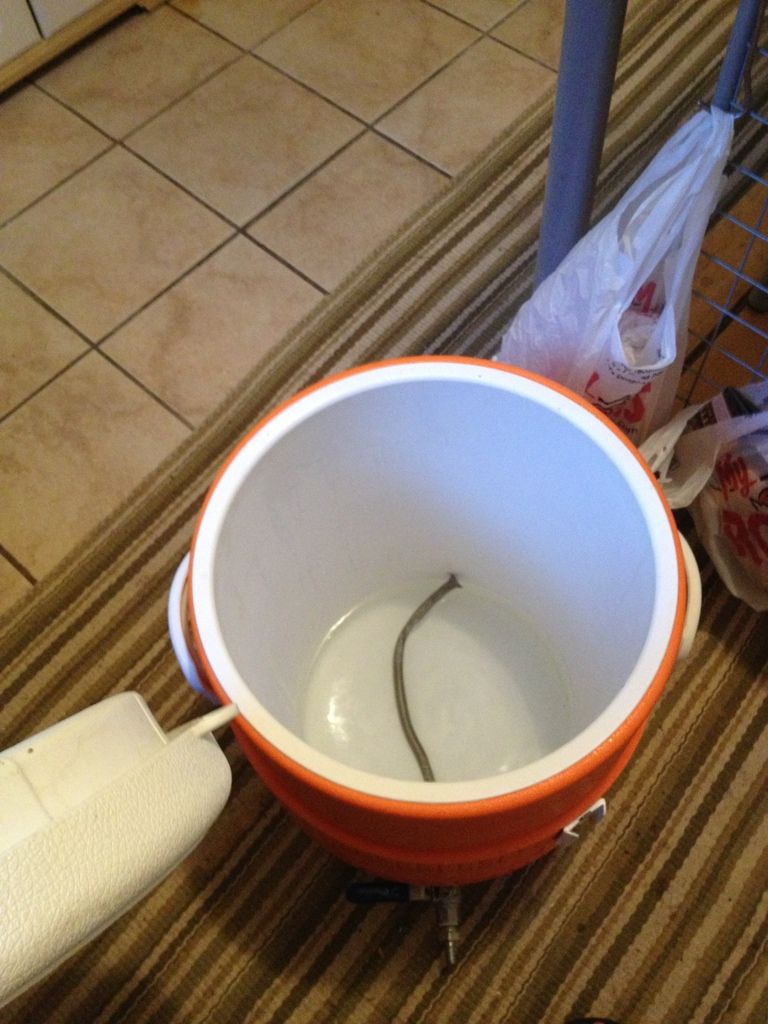 Once my strike water is at the desired temperature (162 in this case), I dump it in the mash tun and then pour the grain in. I give it a good stir and check the temperature.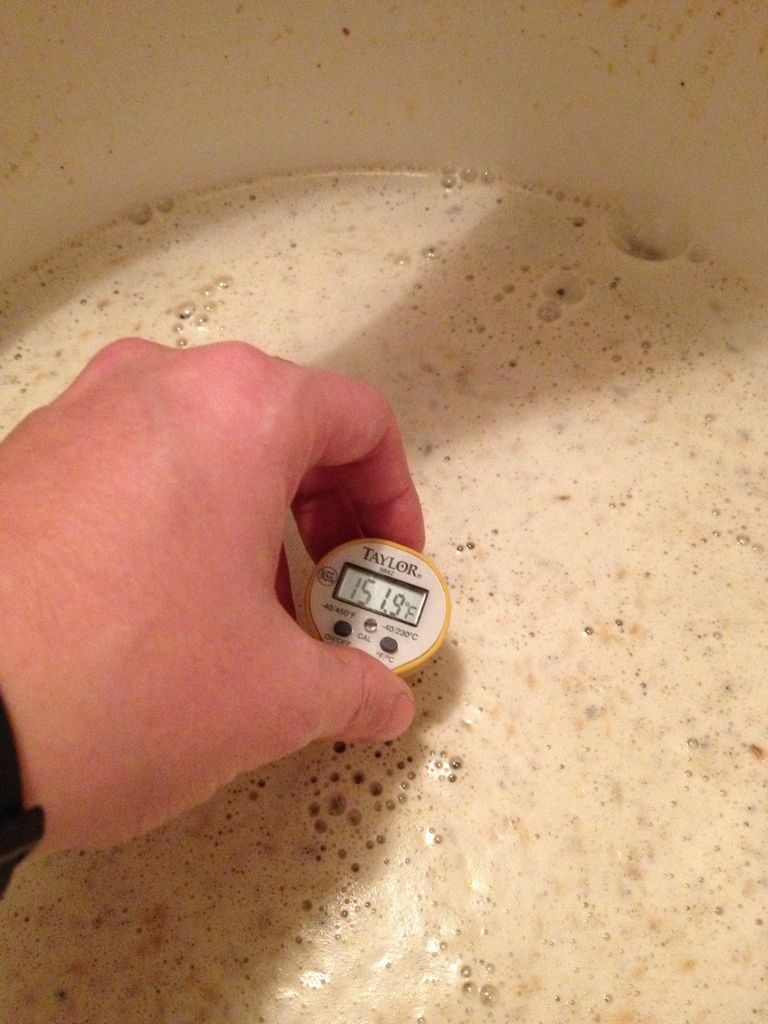 I was a little over my target mash temperature. I was shooting for 150. I added a little cold water and gave it a stir and it came down to right at 150.
Now that the mash ahs started, I can start drinking. Sipping on a homebrewed Oktoberfest.
After about 30 minutes of mashing I start prepping my sparge water in the two pots. The target temperature for the sparge water will be between 160-170.
After an hour I it's time to drain the mash. First I check the temperature.
I lost a little over a degree during the mash. I take the cooler outside and begin the vorlauf the wort. Vorlaufing is taking a draw from the mash tun and gently pouring it back over the top of the grain bed. You do this a few times until the grain bed is settled and you get clear wort.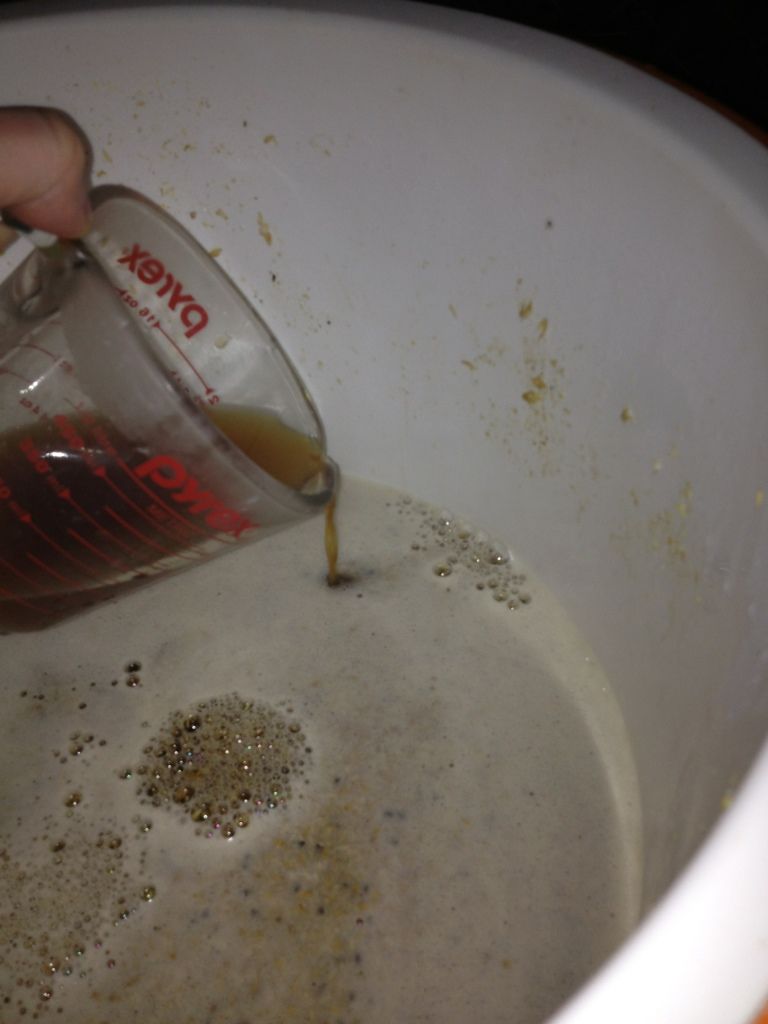 After that's done I drain the wort from the mash in to the brew kettle.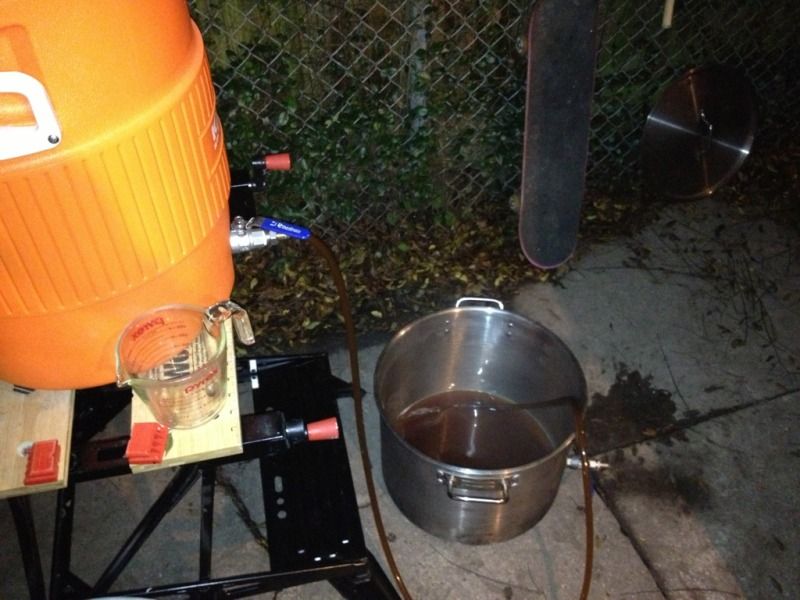 After the mash is drained, I add the sparge water. I did a single sparge today. I try and aim for as close to 170 as I can get, but today I did not do so well. I let this sit for 10 minutes then drain in to the brew kettle.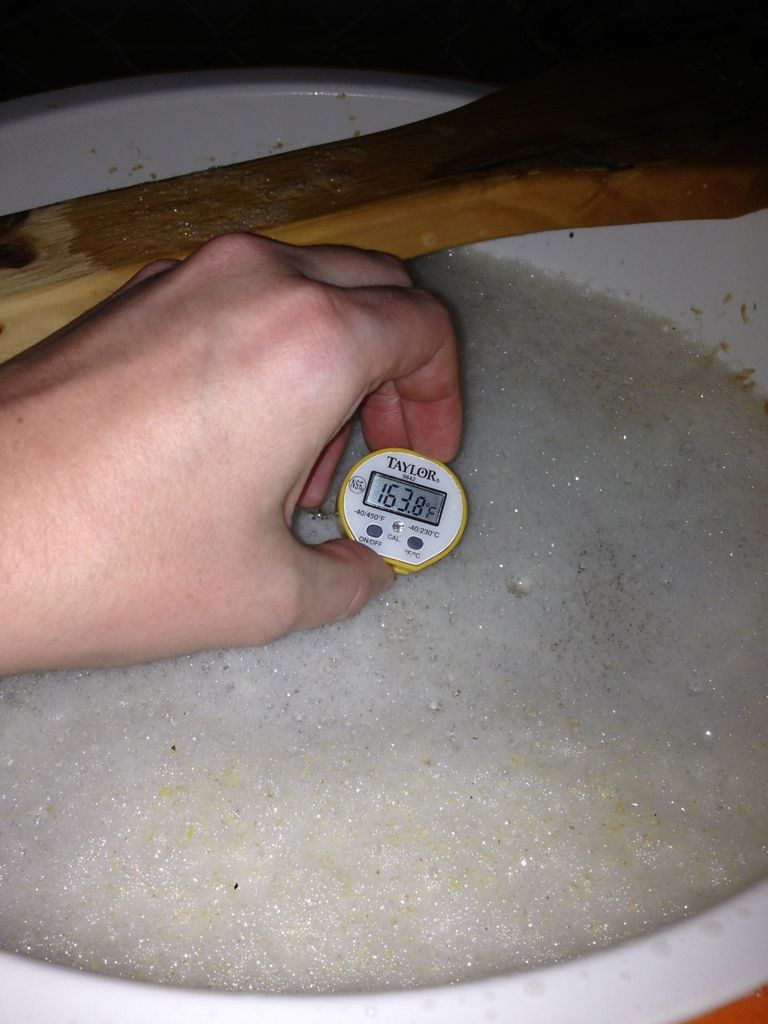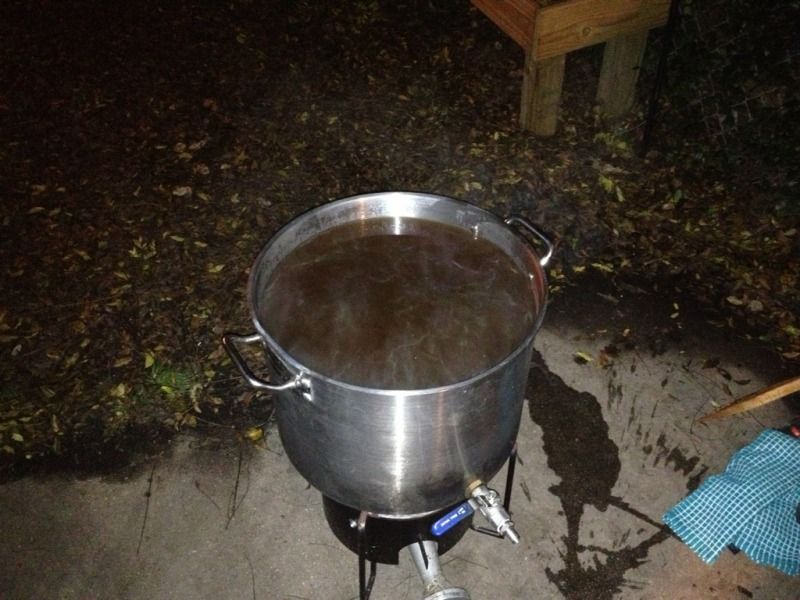 As you can see, the wort is almost to the top of my kettle. This will pose a problem when the boil starts as the hot break will most certainly boil over. For those that don't brew, when you first start boiling the wort will boil up a great deal and if you are not careful with it the beer will come spilling over the sides and cause a mess. So in comes Fermcaps. Fermcaps are a food-safe additive that prevents boil-overs. Also works during fermentation to prevent explosive fermentation. I love the stuff.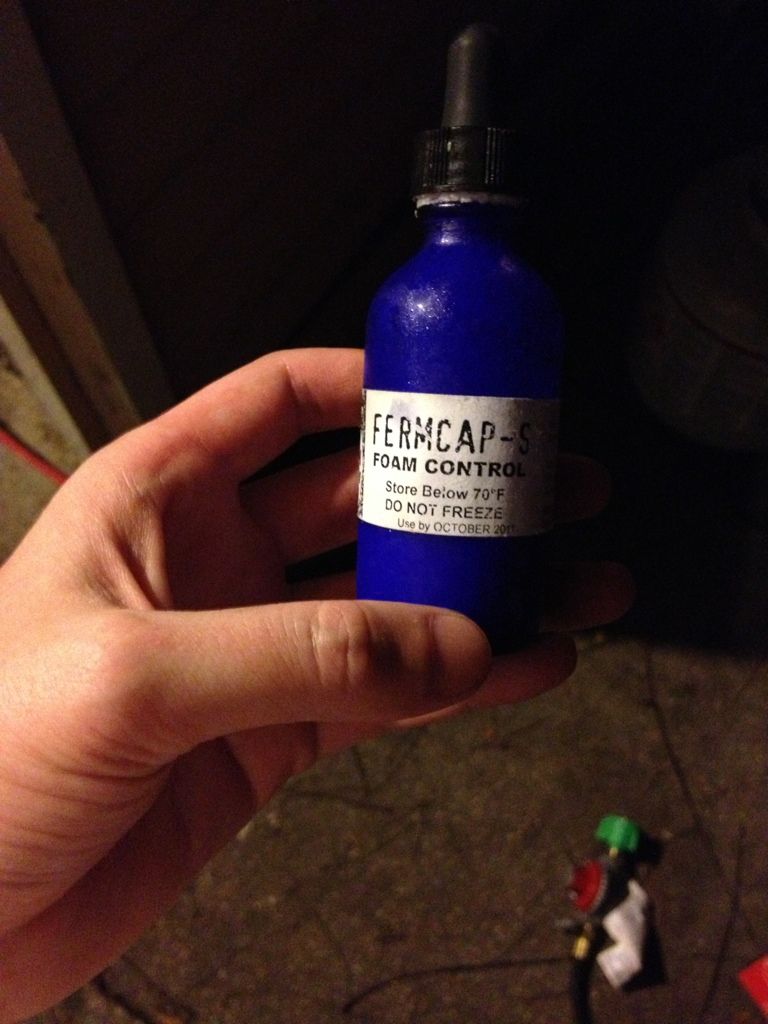 Now I wait for it to come to a boil. As I wait I clean out my mash tun and compost the grain.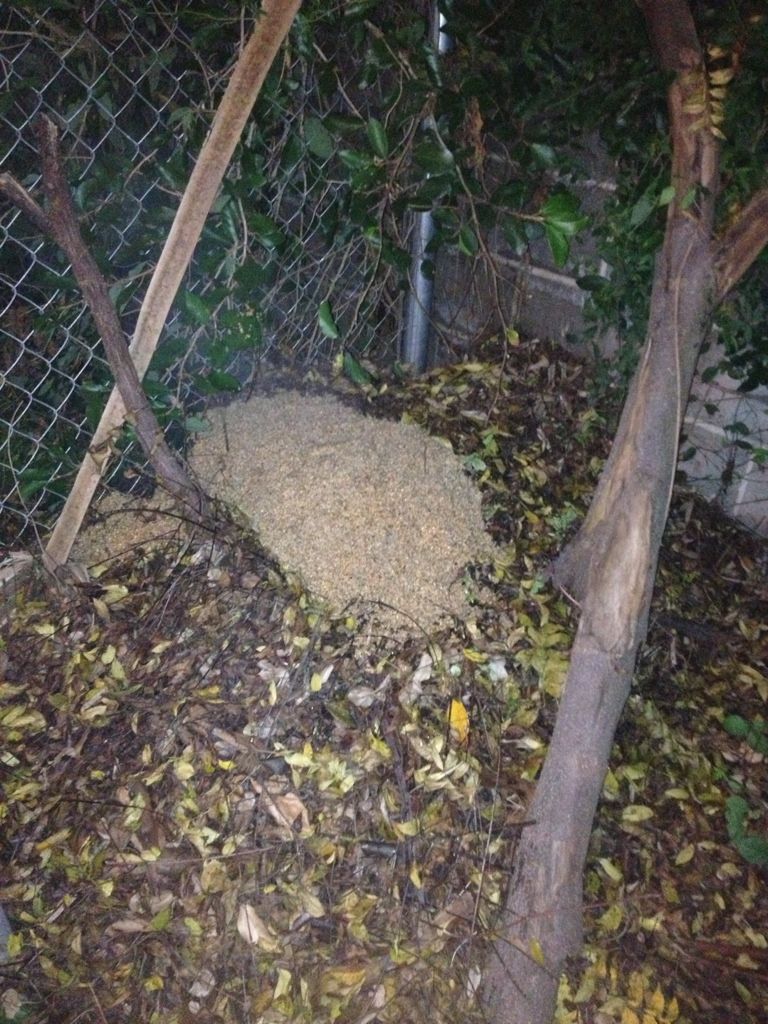 This post was edited on 4/20 at 5:13 pm