*inspired by MeridianDog* (because we love his threads)
Today we are going hot and hard, making "flat top" burgers.
First, we are placing our cast iron skillet into the oven, as hot as you can get it. In my case, my oven reaches 550 degrees. We are going to heat this puppy for 20-30 minutes.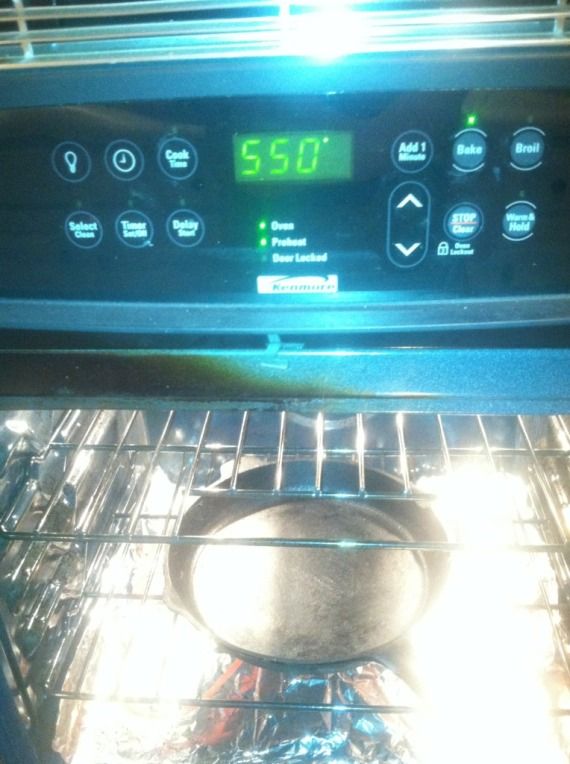 In the mean time, while the skillet heats, their grill guy knows sets up his work station.
Image: http://i29.photobucket.com/albums/c287/Boar91782/D37EB75F-99B1-407B-9607-988A9A13EA57-21030-00001115892518D5_zps2338a1ea.jpg?t=1367627140

Image: http://i29.photobucket.com/albums/c287/Boar91782/61AE7548-67AB-4F98-A23F-6658F4F641AB-21030-00001115938B1E67_zpsfb5eb246.jpg?t=1367627147

We add some salt to the the hot pan. It helps keep the burger from sticking, and it adds a little flavor to the side I am going to press down, that isn't seasoned before hand. See below:
Then we start the process, doing what burger guys do. We place loosely formed ball of meat on the pan. We are doing one patty at a time, because she likes her attention. And after all, its her night.
Image: http://i29.photobucket.com/albums/c287/Boar91782/9CE0C580-281B-426E-8843-8E62A984DD78-21030-00001115A6C049BF_zps461e341c.jpg?t=1367627161

And you're gonna want a strong handled spatula. You're going to smash the meat down against the hot pan, depending on what thickness you want. I like mine pretty thin, between 1/4" and 1/2".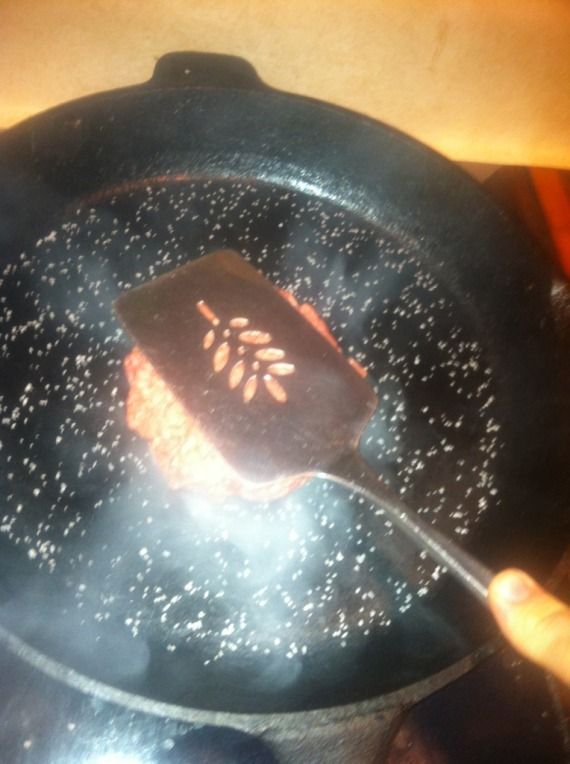 Once pressed to desired thickness, the burger house adds a generous amount of salt, fresh cracked pepper, and a little bit of garlic salt to the top of the patty. During this step, I cook for about only 1 minutes time. Then flip. Remember, the pan is hot, and the patty rather thin!!
And we flip! Boy, look at that baby smoke! The people in the burger house are going to go home stinky, but it will be so worth it to them. Once flipped, season the bottom side of the patty. We're doing salt, pepper, and garlic salt again.
Image: http://i29.photobucket.com/albums/c287/Boar91782/170D2DFB-F9E0-44AF-A19A-C167D2556EE4-21030-00001115C5BF1AAB_zps0a1b5582.jpg?t=1367627184

Meanwhile, the chef put the finishing touches on his toppings, and sticks his bun in the over to get a little crisp. At the burger house they don't like a fully toasted bun, but to get the top just toasted enough to hold everything from seeping through, while keeping the inside of the bun moist.
Once that is done, the burger is ready to be pulled. We put her on a paper towel to soak up a little grease.
Image: http://i29.photobucket.com/albums/c287/Boar91782/8E23D2EC-D7B9-486C-8F46-D702F0360114-21030-00001115F169CD6E_zpsc1abdbb7.jpg?t=1367627213

Top her with some white cheddar, cause that's what they like at the burger house.
Then we get her dressed for prom(a lot of mayo, tad yellow mustard, lettuce, onion, tomato), while the tater tots finish.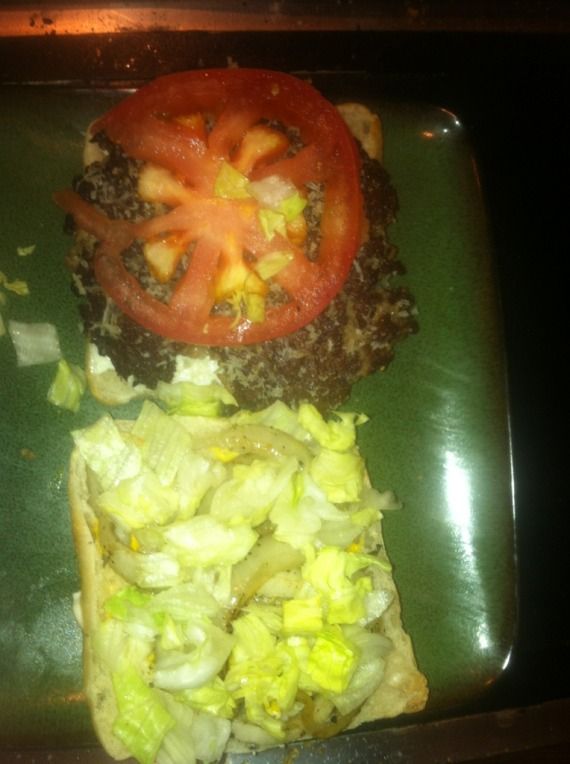 .....and now she's ready to dance...
notes:
*the burger house found some nice ciabatta buns at the local Rouses. This is what they used in this great recipe
*the burger house also likes to heat their tater tots on a hot pizza stone. Gives a nice crispy outside, and tender, potato-y inside.