First, Gaston, thanks for the recommendation and thanks for telling us about the front door! We were able to look like we knew what we were doing upon entering. I know we would have looked like morons, otherwise. While we were eating, two guys did enter through those doors. A server quickly went and locked them after.
As to the food. OMG. Truly delicious. We loved our starters as well as our entrees. No dessert, we were quite satisfied to end the meal without.
It was a much more intimate atmosphere than our previous night's dinner at Borgne. It was so dark that my husband had to use the table candle to see some of the menu. We were there very early in the evening and the place didn't start filling up until we were almost ready to leave. Good thing Gaston wasn't there, because I did take pics of the food.
Don't worry, I didn't tell them that you sent us. My son's friend, Charlie, used to work there. I told them that she sent us.
Pic quality isn't great. Had to take quick shots so as not to be too obvious.
Chicken Liver Crostini
Maras Farm's sprouts, dandelion gastrique
So good. Slightly rich, but not so rich that I didn't eat it all. Yum.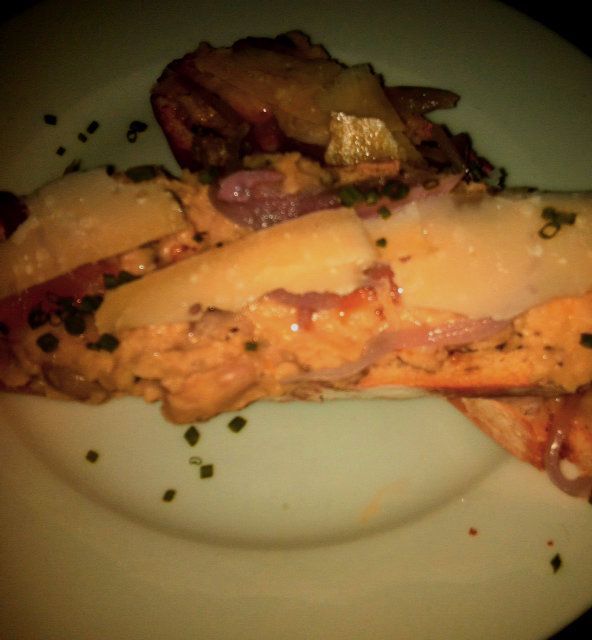 Crushed Field Peas on Toast
lemon, mint, Pecorino Toscano, chili oil
My husband's starter. He loved it! I had a bite and thought it was delicious, too. Seriously, crushed field peas? Good stuff.
Pan-fried Pork Shoulder
coosa valley grits, mushrooms, mustard jus
My main. The pork shoulder was tender with a crispy outside. Flavorful and rich. The grits and pork made a perfect bite. The mustard greens tasted lightly pickled. They were not like slow cooked southern greens (which I loved), but a fresher interpretation. Loved it all.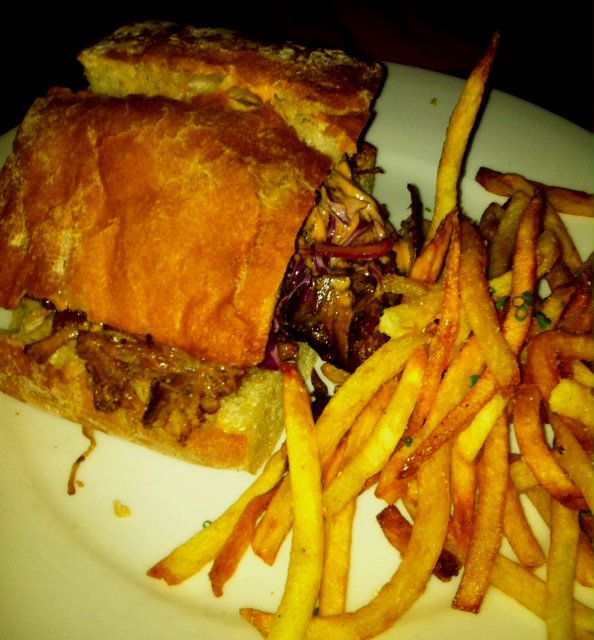 Slow-Cooked Pork Sandwich
pickled collards, roasted garlic and chili oil
There was a red slaw that came with another dish, and my husband asked if they would give him the slaw instead of the pickled collards, which they did. He loved it.
Great restaurant. Small, intimate, not a huge menu, but enough that would make me want to go back and try some of the other things. A most excellent choice. A+
We weren't very adventurous with our drinks. My husband had a Sylvain Sazerac and then a margarita on the rocks. I had one margarita on the rocks.
This post was edited on 1/30 at 10:03 pm