Copyright @2017 TigerDroppings.com. All rights reserved.
Sports Forums
Message Boards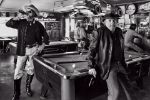 | | |
| --- | --- |
| Favorite team: | New Orleans Pelicans |
| Location: | Deer Stand |
| Biography: | LSU FAN |
| Interests: | LSU Sports |
| Occupation: | |
| Number of Posts: | 26842 |
| Registered on: | 3/14/2008 |
| Online Status: | Not Online |
Recent Posts
Message
re: help with stocking pond
-
Slickback
on 6/15/17 at 11:27 am
---
I bet GooDat and a couple of his buddies could go out there and slam dem bluegill and drop the population in a couple days. ...but seriously, find a few friends and friends with kids and go try to catch as many as you can. Feed them bread and cast net them if needed. You have to reduce the b...
Jump to Post
-
View Topic
- Replies (0)
re: RAILCAR TECHNICIAN (loader) Salary & future ?
-
Slickback
on 6/4/17 at 9:03 pm
---
Depends on what your goals are. If you want be an operator then it's a good start. Work as a loader a couple years and start applying for operator jobs. You can probably bump your pay up a couple dollars/hr for a couple years and should be able to get as much OT as you want. Not a whole lot of othe...
Jump to Post
-
View Topic
- Replies (0)
re: Fishing camp location ideas
-
Slickback
on 6/3/17 at 4:56 pm
---
Old River is great for kids...cheap, very wide, little boat traffic. Sacalait fishing can be great and bass fishing can be very good too. The problem is there are several months a year that you probably won't be able to get to your camp and where the lake is unusable because of the MS river level...
Jump to Post
-
View Topic
-
Replies (2)
re: Flood insurnce lapse due to dementia
-
Slickback
on 5/19/17 at 8:01 am
---
Depending on the servicer, the agent is usually notified the same way as the insured. A renewal notice in the mail (billed and mailed 45 days prior) and a notice a few days before renewal. Then an expiration notice. The agent should be calling at the time of the second and third notice but it's not ...
Jump to Post
-
View Topic
- Replies (0)
re: Anyone here sell insurance?
-
Slickback
on 4/20/17 at 9:37 pm
---
Take the prelicensing exam as much as possible and it will show you which areas you are strong in and which areas you are weak in. Also look up what % of questions come from each section and base your studying off of those two pieces of info. ...
Jump to Post
-
View Topic
- Replies (0)