Copyright @2017 TigerDroppings.com. All rights reserved.
Sports Forums
Message Boards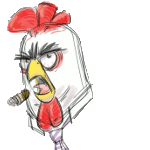 | | |
| --- | --- |
| Favorite team: | South Carolina |
| Location: | Resident Ethicist |
| Biography: | Son, Dad, Husband, Grandfather ... lover, fighter, wild bull rider. Men wanna be me, women wanna love me. Life is good, always has been. |
| Interests: | Gamecock Sports, hunting, fishing, shooting, rescuing dogs, reloading, physics (both disciplines), Jazz, Voltaire and William Price Fox. Oil & Charcoal, sometimes Watercolors. |
| Occupation: | I oversee the ethical aspects of the SECr empire and then sell my advice to Chicken & Ice. |
| Number of Posts: | 21335 |
| Registered on: | 7/12/2012 |
| Online Status: | Not Online |
Recent Posts
Message
re: SEC does it right way
-
scrooster
on 6/16/17 at 3:27 pm
---
The SEC works because we are Southerners ... plain and simple. Southerners play nice with one another better than any other region in the country. We bust balls on this board ... but the rest of the country is jealous of our SEC SEC SEC chants. That Southern thing is also what makes the ACC o...
Jump to Post
-
View Topic
-
Replies (3)
re: Rooster??
-
scrooster
on 6/16/17 at 2:28 pm
---
[quote]With the recent sanctions coming down on louisville, can that possibly open the door for a shot at Dan McDonnell? From what I've seen, he's a super class act and who would want to share an athletic dept with petrino and pitino and all the bad press they bring reputation wise?[/quote] I dun...
Jump to Post
-
View Topic
-
Replies (1)