TV: ESPNU
Radio: 98.1 FM
Internet ESPN3.com
LSU (4-0) takes on their biggest test of the season when the Seton Hall Pirates (5-1) come to the PMAC. The game is scheduled for ESPNU at 8:30pm as part of the annual SEC/Big East challenge. The Pirates bring more length than any other team has brought to the PMAC this season. While the lineups have changed throughout the young season, the projected lineup has 4 players over the size of 6'6" starting. LSU fans will see the type of lineup Johnny Jones is planning on building into the future; big, athletic men who can play multiple roles.
LSU is coming off a victory over Mississippi Valley State in which the Tigers shot a remarkable 70% in the second half. Seton Hall comes to the PMAC on their first true road game (2 neutral site games) after a 76-61 victory over St. Peter's. Seton Hall will attempt to body up down low where they have a size advantage. LSU will try to contain the Seton Hall post attack while competing down low on their end as well. A major matchup to watch will be LSU's Shavon Coleman, the 6'5" forward vs Seton Hall's larger forwards. Seton Hall will use 6'6" players at the 4 position occasionally, which will help Coleman.
**Due to the injury of 6'9" Auda, Seton Hall will be much smaller at the 4 position.
Seton Hall's main height advantage comes from their guard positions where they start two players at 6'6". Look for Morgan/Carmouche (6'4") and Shane Hammink (6'7") to play a significant role in stopping their big guards. I am interested to see how much playing time Andre Stringer (5'9") gets with the size Seton Hall brings to the PMAC. LSU will need more production out of Eddie Ludwig than his 6 minutes, 0 points performance against Miss Valley St and would love to get some production out of Andrew Del Piero who is averaging 4.75 points per game.
Seton Hall Projected Starting Lineup
Tom Maayan (6'1" 180lbs Fr)
– 25min/gm, 3.2ppg, 4.5apg, 2.5spg, 44%3pt
Aaron Cosby (6'3" 190 So)
- 23.0min/gm, 11.4ppg, 1.2apg, 40%3pt
Fuquan Edwin (6'6" 205 Jr)
– 30min/gm, 19.7ppg, 6.0rpg, 2.2apg, 3.1spg, 46%3pt
Brian Oliver (6'6" 226 Jr)
– 24min/gm, 7.5ppg, 3.7rpg, 1.3spg, 33%fg
Eugene Teague (6'9" 290 Jr)
– 28min/gm, 13.3ppg, 8.8rpg, 1.5apg, 56%fg
LSU Projected Starting Lineup
Anthony Hickey (5'11" 182 So)
– 28.3min/gm, 10.3ppg, 6.0apg, 4.0spg, 3.8rpg, 41%3pt
Charles Carmouche (6'4" 187 Sr)
– 21.3min/gm, 10.0ppg, 2.0spg, 42%3pt
Shane Hammink (6'7" 208 Fr)
– 19.8min/gm, 7.3ppg, 3rpg, 50%3pt
Eddie Ludwig (6'9" 210 Sr)
– 18.3min/gm, 3.3ppg, 4.8rpg
Johnny O'Bryant (6'9" 262 So)
– 18.0min/gm, 12.3ppg, 8.0rpg, 59%fg
Bench Contributors
Shavon Coleman (6'5" 195 Jr)
– 30.0min/gm, 17.3ppg, 8.0rpg, 1.5spg, 57%3pt, 56%fg
Andre Stringer (5'10" 182 Jr
- 20.0min/gm, 9.5ppg, 1.5apg, 1.3rpg, 45%3pt, 56%fg
Andrew Del Piero aka ADP aka Tuba (7'3" 254 Sr)
- 7.8min/gm, 4.8ppg, 2.8rpg, 1.3bpg, 67%fg
Team Stats Comparison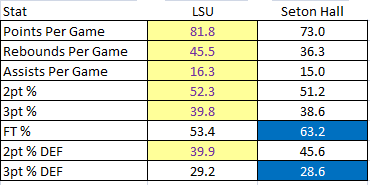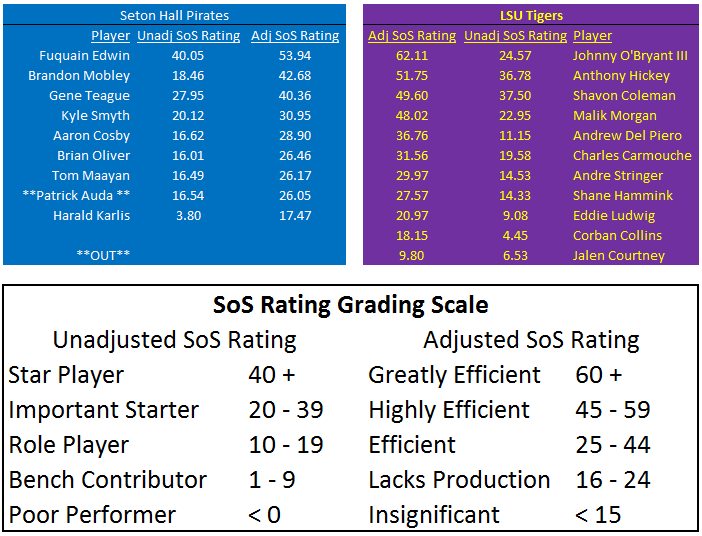 **For SoS Rating explanation click
HERE
Prediction: LSU 75, Seton Hall 65
Season: 17-12, NIT
The Tiger Athletic Foundation Collegiate Club is hosting a tailgate beginning at 7:00 PM before the game this Thursday. Free food and drinks and chance to take part in the halftime competition. See the event Facebook page for more information.
Event Page
This post was edited on 11/29 at 9:30 am