ThinePreparedAni
USA Fan
In a sea of cognitive dissonance
Member since Mar 2013
5377 posts

re: NY Times: The Pentagon's U.F.O. Program - spin off for aerospace / esoteric discussion
Posted by ThinePreparedAni
on 12/6/18 at 8:07 pm to ThinePreparedAni
DIA pdfs below
quote:




---


Warp Drive, Dark Energy, and the Manipulation of Extra Dimensions

Advanced Space Propulsion Based on Vacuum Engineering

---
https://media.lasvegasnow.com/nxsglobal/lasvegasnow/document_dev/2018/05/04/Warp_Drive_Dark_Energy_1525479960070_41686974_ver1.0.pdf
https://media.lasvegasnow.com/nxsglobal/lasvegasnow/document_dev/2018/05/04/Advanced_Space_Propulsion_1525479713208_41686961_ver1.0.pdf
——
And today:
https://theconversation.com/bizarre-dark-fluid-with-negative-mass-could-dominate-the-universe-what-my-research-suggests-107922
quote:




---

Bizarre 'dark fluid' with negative mass could dominate the universe – what my research suggests

Jamie Farnes, Research Associate & Astrophysicist based at Oxford's e-Research Centre, University of Oxford
The Conversation
December 5, 2018, 12:03 AM CST


---
quote:




---

It's embarrassing, but astrophysicists are the first to admit it. Our best theoretical model can only explain 5% of the universe. The remaining 95% is famously made up almost entirely of invisible, unknown material dubbed dark energy and dark matter. So even though there are a billion trillion stars in the observable universe, they are actually extremely rare.

The two mysterious dark substances can only be inferred from gravitational effects. Dark matter may be an invisible material, but it exerts a gravitational force on surrounding matter that we can measure. Dark energy is a repulsive force that makes the universe expand at an accelerating rate. The two have always been treated as separate phenomena. But my new study, published in Astronomy and Astrophysics, suggests they may both be part of the same strange concept – a single, unified "dark fluid" of negative masses.

Negative masses are a hypothetical form of matter that would have a type of negative gravity – repelling all other material around them. Unlike familiar positive mass matter, if a negative mass was pushed, it would accelerate towards you rather than away from you.

---
The DIA documents above discussed this in 2010 (along with applications for propolusion...)
IceTiger
USA Fan
Really hot place
Member since Oct 2007
18433 posts

re: NY Times: The Pentagon's U.F.O. Program - spin off for aerospace / esoteric discussion
Posted by IceTiger
on 12/7/18 at 1:56 am to ThinePreparedAni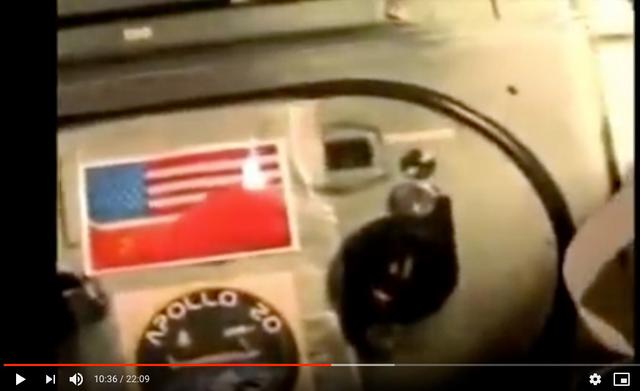 Claim: Apollo 17, 18 missions failed...Apollo 20 was successful
quote:




---

We on Apollo 20 in August 1976 put our lander down on the moon at a site first aerially photographed by Apollo 15 in July to August 1971. It showed a huge cigar-shaped space ship about 3 miles long. That's what we investigated.

---
Lots of clown presence around this guy...Naval Academy, Air Force confirmed...NASA not confirmed
...claims skirmishes with EBEs, gray alien abductions, etc.
ThinePreparedAni
USA Fan
In a sea of cognitive dissonance
Member since Mar 2013
5377 posts

re: NY Times: The Pentagon's U.F.O. Program - spin off for aerospace / esoteric discussion
Posted by ThinePreparedAni
on 12/7/18 at 6:51 pm to ThinePreparedAni
Full vid of Bob sketching out the propulsion system:
https://m.youtube.com/watch?v=VOQl4HXQU9E
quote:




---

Bob lazar the Scientist #8

COSMIC CONNECTION37 views

---
Compare with this:
https://silvarecord.com/2018/12/06/rotating-tilting-craft-lazar-the-gimble/
quote:




---

Rotating & Tilting Craft, Lazar & The Gimbal
DECEMBER 6, 2018

---
quote:




---

The original Bob Lazar and Area 51 story broke in the late 80s thanks to George Knapp. Now there has been a re-emergence of Bob Lazar and his claims because of Jeremy Corbell's film Bob Lazar: Area 51 & Flying Saucers. Many interesting points have been brought up in the debate over Lazar's legitimacy. Everything Mr. Lazar has said since he first came out to the world is being scrutinized, and rightly so in any whistle blower situation. While breaking down aspects of the overall picture, I've found myself highlighting the ideas I consider most compelling. Especially themes that seem to match with what we have been hearing from TTSA, AATIP and AAWSAP members and scientists. One of these matches could be Lazar's description of the craft being inside a gravitational wave and how TTSA speak about engineering the space time metric. These theories may not be scientifically exact, but both seem to describe the same effect, sparing the occupants from inertia.

---
quote:




---

"Well, the craft generates its own gravitational field. Being inside that field essentially doesn't shield you, but essentially you're in, and this is a terrible way to say it, almost in a different realm because you're now influenced only by that gravitational field. For instance people wonder about how a craft like this can make a turn at such high speed, a 90 degree turn, when they would imagine people slamming up against the wall or something to that effect. Well that really wouldn't happen. Inertia would have no effect. You're in a distortion, and don't forget that gravity distorts time and space, so really nothing is going to influence you while you're in there." – Bob Lazar

---
Lazar posited that gravity was a wave in the 80s (only recently proved by disclosed science)
quote:




---

Another very interesting thought I've heard brought up over time, and most recently submitted anonymously to SilvaRecord.com, is the connection between Bob Lazar's tilted craft comments and the Gimbal video that seems to show (prove?) that UFOs/UAP DO INDEED ROTATE/TILT! The Gimbal video showing the rotation, and featuring the flabbergasted voice of the jet fighter pilot describing the movement, is riveting evidence viewed millions of times in the past year since it was released. Bob Lazar speaking about why the Craft need to tilt almost thirty years ago may be among the most compelling of his claims to now be given credence.

---
quote:




---

The way in which it gets propelled… are two different ways; there's what they call "omicron configuration" where the craft is using one generator or a "delta configuration" where it's utilizing all three. Delta configuration would be for space travel. Essentially the craft will tilt up on it's side, as opposed to a science fiction movie where you see a flying saucer moving around, the craft will tilt up on it's side, focus the three gravity generators to a single point, and move through space that way."

---
https://m.youtube.com/watch?v=tf1uLwUTDA0&feature=youtu.be
quote:




---

Gimbal: The First Official UAP Footage from the USG for Public Release
To The Stars Academy of Arts & Science
2,150,571 views 2.8K 395 SUBSCRIBE 15K
Published on Dec 16, 2017

Exclusive analysis brought to you by To The Stars Academy of Arts & Science. Gimbal is the first of three US military videos of unidentified aerial phenomenon (UAP) that has been through the official declassification review process of the United States government and has been approved for public release. This footage, and all official USG footage you will see on TTS Academy's community of interest (COI), comes with essential chain-of-custody documentation validating that it is received in its original and unaltered form and is authentic. The US Department of Defense uses this process in order to meticulously ensure that information and material retain their integrity without revealing sources and methods. This documentation is what sets this footage apart from anything else that has made its way to the public domain, by establishing its authenticity and thereby giving it enormous historical significance.

---
quote:




---

Luis Elizondo also mentioned the rotation in his most recent presentation at the CUN conference:

"…a complete ninety degree angle. That object should not be able to do that. That object should fall out of the sky, and you're only seeing part of that video. The rest of that video remains very sensitive."

---
There are rumblings that we will get more footage in early 2019
Stay tuned. Interesting times ahead...
Back to top
Follow TigerDroppings for LSU Football News