Stadium Rat
LSU Fan
Metairie
Member since Jul 2004
8611 posts

re: Latest F&D Board Cookbook and Jambalaya Calculator Available Here (Links)
Posted by Stadium Rat
on 7/2/21 at 7:25 am to Gris Gris
Creole Eggplant With Shrimp
Recipe courtesy of Mandina's Restaurant, New Orleans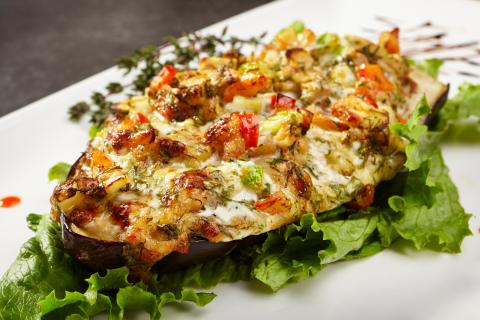 Serves 6
3 tablespoons olive oil
1/2 yellow onion, chopped
1 bell pepper, yellow, red or green OK
1/2 cup celery, chopped
2 tablespoons garlic, chopped or crushed
1 cup tasso ham
2 medium eggplants, peeled and sliced 1-inch thick
1/2 cup chicken stock
1 lb shrimp, peeled and deveined
1 cup Italian-seasoned breadcrumbs
Creole seasoning
pepper
Preheat oven to 350°F. Heat the oil in a large pot over medium heat. Add the onion, bell pepper, celery, and garlic and sauté for 4 to 5 minutes. As the onion becomes translucent, add the tasso and continue to saute for 1 to 2 minutes more. Add the eggplant, chicken stock, and shrimp. Mix thoroughly and remove from the heat.
Stir in the breadcrumbs slowly, allowing them to absorb the stock. Season with Creole seasoning and pepper to taste. If the overall mixture becomes too dry, add a bit more stock to moisten it.
Spread the mixture in a 3-quart casserole dish and bake for 20 minutes.
This post was edited on 7/2 at 7:28 am
Gris Gris
LSU Fan
OTIS!NO RULES FOR SAUCES ON STEAK!!
Member since Feb 2008
42952 posts

Online

re: Latest F&D Board Cookbook and Jambalaya Calculator Available Here (Links)
Posted by Gris Gris
on 9/2/21 at 3:18 pm to Stadium Rat
From UncleBuck504.

Joe's Crab Shack / Landry's Crab Dip

This was converted to use just a half pound of crab because it makes a lot, but obviously double it if using a whole pound. It also works great if you substitute crawfish or shrimp for the crab.

Ingredients

1/2 Pound Crab Meat
¼ cup Diced Yellow Onion
¼ cup Diced Bell Pepper
½ pound (8 oz. package) Cream Cheese
¼ cup Heavy Whipping Cream
½ teaspoon Dry Mustard
1 teaspoon Cajun/Creole Seasoning (they use Old Bay)
2 oz. White Wine
2 Large Roma Tomatoes, Seeded and Diced
1 bunch of Green Onions, Thinly Sliced
½ teaspoon Red Pepper Flakes
½ cup Grated Parmesan Cheese (this should be shredded and in a bag, next to other shredded cheeses like cheddar and mozzarella – Sargento is best, Kraft also makes it, and Kroger does as well – DO NOT buy the expensive, fancy cheese that comes in a plastic tub … it has too much bite. You want the cheap stuff, but NOT the powder crap in a green can either. Again, it should be the shredded stuff in a bag).

Preparation

Sauté yellow onion and bell pepper in a pan with a little butter until the onions are translucent. Be sure not to use too much butter, because it's not really an "ingredient," you just want enough to keep anything from sticking to the pan and olive oil doesn't work well in the dip (learned this the hard way). When the onions are translucent, in the same pan, start to SLOWLY melt down the cream cheese over LOW to MEDIUM heat. Stir constantly, and don't leave it unattended, as it will burn easily. When the cream cheese is melted down, blend in the heavy whipping cream. When that's blended together, stir in dry mustard and white wine. When everything is nicely blended, fold in the parmesan cheese and continue to stir until the cheese is all melted.

When the cheese is melted, fold in the crab, red pepper flakes, Cajun/Creole Seasoning (or Old Bay), Roma tomatoes, and green onions. MAKE SURE the parmesan is melted before you do this because you don't really want to cook the crab, tomatoes and green onions, just warm them up. Let the dip simmer on lowest possible heat for another 5 minutes at most, just until it starts to bubble.

Joe's Crab Shack and Landry's place it in an oval ramekin with some more parm on top and then blast it in a broiler/salamander before service.

They usually served it with tortilla chips or thin slices of toasted baguette bread. Blue corn tortilla chips work well, as do some fancy crackers. If you're going to have this as part of a spread at a party, keep it in a crock pot or other warming vessel.

Back to top
Follow TigerDroppings for LSU Football News