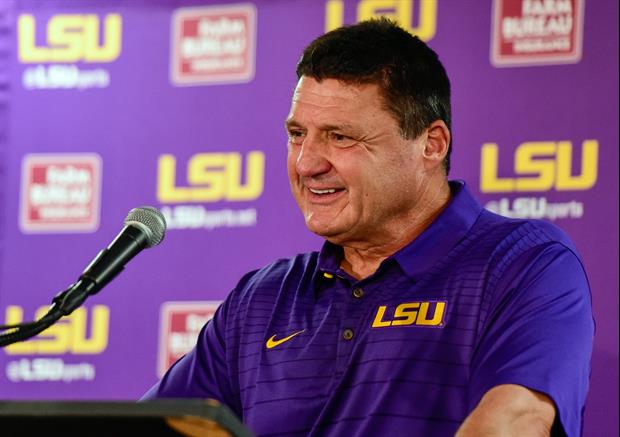 Adam Hagy-USA TODAY Sports
LSU ATHLETIC COMMUNICATIONS

For Immediate Release - September 9, 2019

Question. Ed, I just I've got to ask first, you mentioned that some guys had injuries, some guys had ankles and knees. Do you think there's anybody you're going to kind of hold out from practice this week after what was a pretty grueling game on Saturday night?
ED ORGERON: You're not going to see Glen Logan or Rashard Lawrence. I don't know if any of them are going to be ready for the game. K'Lavon is questionable. He'll be in a boot. You'll see him in a boot today. But he could be available for the game. I need to find that out. But the rest of the guys are going to be okay, I think.

Q. When you look back on the film from this week, I guess what stood out about it in the second half, what Texas was able to do to consistently score on you guys?
ED ORGERON: Quarterback running the ball, obviously. We didn't get a pass rush. We got what we call a bull rush from the inside guys and not let him run out the pocket, but it did work. When that doesn't work, you don't have good pass rush. We had some good rushes on the edge, not so good rushes on the edge, but we weren't able to get off the block and make the play ineligible as we did. That was the first thing. If we do it again, I would go ahead and rush them the whole time.

We had some mistakes on coverage. We had some mistakes on inside coverage, how we played coverage. They had some good schemes, which we should have taken away. We didn't. We misjudged the ball. We made some mistakes on alignment and leverage, and they made some good plays. They're a good football team. They have good athletes. They're going to make plays. It just seemed we couldn't stop them at all, and nothing was working at the time.

Q. Ed, you mentioned this was a week when you guys were going to work on LSU. What did you see from the running backs, getting them in pass receptions and stuff? You guys have been wanting to do that. How do you think you guys can improve there?
ED ORGERON: We gave up two sacks. One we slid the protection, cut to the end, he beat us. And the other protection, we were forced to abort. He didn't abort. He stepped to the side, the guy comes around and beats him. So we need to get better in pass protection from our backs, but I'll say this to you. Clyde had a great block on that third down and 17. That backer was blitzing up the middle. He blocked him and gave Joe a way to throw the football, and it was the winning play of the game.

Q. Coach, you talked about having explosive plays and you guys did a lot of that Saturday, but you were also, after Game 2, 12 for 12 in the red zone, including nine touchdowns. Talk about the play calling from Steve and Joe and just how you guys have done so well in the red zone.
ED ORGERON: Phenomenal. I will say this to you. You go back and look at the plays, Joe made some throws in some tight windows. He was right on the money. So it was a combination of -- we work red zone three times a week and tight red zone. We spend a lot of time on it as far as scheme-wise and what we're going to do. It's not about what the defense is going to do.

So we have a great plan. We have a great quarterback that can do it. The protection was there. We have receivers that can catch the ball.

Q. Coach, if I can ask you, kind of a big picture question, can you speak to kind of weathering the storm here? Becoming the head coach. Early on, your numbers were low in certain spots. You had those two losses to Mississippi State and Troy your first year. Then your recruiting was good early, but it wasn't what it was the last couple of years. I just want to know if you can speak to kind of grinding through that to be where you are right now.
ED ORGERON: You've got to stick to the plan and believe. Obviously, there were some mistakes made early on, but we got better. We got better. I do believe after the Troy game we made significant improvement. Our recruiting has gotten better. I have a great coaching staff right now.

It took me two years to get the coaching staff the way I wanted it. It took us two years to get some depth on the offensive line. It took us two years to get more receivers that could get the ball. It took us two years to get the two running backs that we needed to get in there.

Then the big difference that's been in our football team is Joe Burrow, Joe Brady, last year Cole Tracy, and this year Cade York. Those guys have made a significant difference on our football team since I've been here.

Q. You called the offense, this was your vision, after that game. Did you ever think it could be run as well as it has the first two weeks?
ED ORGERON: I've been a part of four National Championship teams, and I just have memories -- great defense, great defensive line, great quarterback. I just have memories of it, especially at USC, the way we had two Heisman Trophy winners in the backfield and the way we just operated on offense, and I'm starting to see that now. I'm starting to see the same routes. I'm starting to see the same execution. I'm starting to see the type of play from the quarterback that we had from the championship teams.

So, yes, I envisioned that. I didn't know how long it would take. I think Joe has made the most progress from one year to the next than I've seen in a quarterback, and I think he's going to continue to get better.

Q. Two questions. First of all, I know -- you said you kind of straightened on yourself this week, but what attitude do you expect to see Northwestern players come in with? And secondly, is this the kind of game where the redshirt rule -- now Jackson's played four years -- comes into play, and you hope to get the opportunity to let younger kids and even walk-ons get in today?
ED ORGERON: Every time you play LSU, it's going to be their red letter game, especially at Northwestern. They're going to play in Tiger Stadium. They're going to play lights out. They're going to play their best ball. I've been watching TV. I've seen a lot of upsets, and I had one against Troy. So nobody has to warn me again about this. So we're going to be ready. I promise you that. We're going to practice hard.

Q: Your team is going to be reminded of that?
ED ORGERON: Yes, we plan on playing guys that would normally not play if we can, but we're going to go in there with our first team, and we're going to be ready to go for 60 minutes. If it's a toe-to-toe game, it's a toe-to-toe game, but if not, we'll be prepared.

Q. Do you have any update on Ed Ingram? And then secondly, just the attitude -- I caught the interactions between Joe Burrow and his teammates after they scored that touchdown, him even bowing up to you. Just the attitude that kid has to go out and fight.
ED ORGERON: It's contagious, and his attitude is contagious. The way he is the day of the game, the way he is in the locker room, what he brings when the game is on the line. He doesn't blink. He comes to the sideline and fires everybody up. But you know what, big time players make big time plays in big time games. He did it, and so did a lot of guys. It gives our team a lot of confidence that we have a quarterback that wants the ball in his hands at the end of the game to win the game, and we believe in him.

With Ed Ingram, we are hearing things. Nothing's been official. We're hearing things are going to be positive. We're hearing we may hear something this week, but I don't know. That thing is going on for such a long time, I don't know. Until we get the final say-so, we can't confirm anything.

Q. Ed, with the pass catching on running backs out of the backfield, how do you think you guys are with them right now? How do you think you guys can improve there?
ED ORGERON: We need to do better. We need to do better. Those swing routes were not very good. They were throwing very fast. There were some checks off some benches, so we didn't get what we wanted there. There's a lot of routes that we're not running yet, but obviously, we're going to continue to grow in this offense. I think that we have some backs that are very good out of the backfield, especially John Emery on some routes. He can be very good.

So I think you're going to continue to see that growth, but we're not where we want to be yet.

Q. Coach, the program goes into the game this weekend with 799 wins. What does 800 wins say about the team and its history?
ED ORGERON: First of all, I didn't know that. Thank you for telling me. I appreciate that. Any time you have 800 victories, it means that you are a premier team, you're an elite football team, you're an elite program. It reminds me of all the hard work, all the great players that have played here. I've watched LSU all my life, all the great coaches that have been here. I tell the guys before the game, man, we've got to represent. We've got to represent all the guys that wore the purple and gold before us.

Thanks for reminding me of that. 800 victories, that's a big mark.

Q. Can you talk about any hydration problem you had Saturday? Rumors were running around that there was no air conditioning in the dressing room. Can you set stuff straight?
ED ORGERON: First of all, I called Louisiana Tech, and they told us about it. So we did some things in the dressing room that were better. It wasn't great, but it was better. At least we had air in there. They didn't have air. We had some blowers in there. I don't think that caused as much as going out there and having to play 93 plays on defense. I think that had a lot to do with it.

Although it was hot, I thought -- I think the humidity was like 23 percent. It wasn't like Louisiana. But our guys did cramp up in the second half. We talked about it as a staff that we need to get some IVs, more IVs at halftime. Didn't seem like nobody needed one at that time, but to prevent that, I think that more guys will get IVs at halftime, obviously with the doctor's approval.

Q. Coach, you mentioned four game changers over the past couple seasons, and two of them were kickers. Cade York, a freshman, now that you've seen him for two weeks, I mean, his head space on game day, obviously, what he's done, what are your take aways from kind of watching him?
ED ORGERON: Cade has a very strong leg. That ball gets up in the air very fast, and the speed of his kick is phenomenal. We brought Bobby April in as a consultant to look at every one of his kicks with Coach Mac. I do believe they made some corrections in his footwork, and the guy works on it very hard. He's a smart young man.

I'll give you an example. I said after the game -- he didn't practice all week. He had a hip flexor. He didn't practice all week and went and did that in front of that crowd. We feel like we've got us a great kicker.

Obviously, when the game is on the line, he's got to make the clutch kick, but 51, 52, 53, 54, I feel good about.

Q. When Justin Jefferson showed up on campus a few years ago, probably about 170 pounds soaking wet. People thought he was a walk-on. How have you seen him grow physically? Also, just in his role. And what was the thinking in moving him to the slot this year?
ED ORGERON: Well, first of all, Dexter Han has been a great school for us. Justin had come into camp, and I'll never forget, he ran a sluggo route and just wowed everybody. Obviously, it came down to the wire academically, but we saved a scholarship for him, and I'm good friends with Coach Robichaux. They worked hard for his eligibility. I told him I was going to have a scholarship, and it was a good job by the staff of evaluating him.

He's come in here. He don't say a word and worked hard, has developed. I think that Mickey Joseph has been phenomenal with him. Mickey's from New Orleans, and him and Mickey are very close. Justin has matured since he's been here. Joe Brady's come in and taught him how to run routes and done a tremendous job with him and catching the football. So I think that -- and the bottom line is he's a competitor. He's tough blocking. He wants the ball in his hands. He's got ice in his veins. He don't panic.

Q. You talked about what Joe Burrow means to the team. In the time when there's so many true freshmen quarterbacks playing, what's it like to have a fifth year senior out there that you know can handle himself, the maturity?
ED ORGERON: Poise, confidence. Joe's going to get it done. No matter what the circumstances are, we've got a chance to win with him at quarterback. That says a lot to our football team and our coaching staff.

Q. Ed, you talked about the pass rush a little bit earlier. It looked like K'Lavon had some trouble in the first half. It looked like Dave had some adjustment to get him inside. What happened with that on the night, and how are you guys adjusting to that in the future with that?
ED ORGERON: We were going to go to a four man rush, but those guys on the edge were free to rush. Those guys in the middle were pushing. We call that cage rush. And it didn't work. It wasn't very successful. It wasn't because of him. We didn't get enough work inside, and it wasn't good. The guy still ran inside, and it wasn't successful for us.

So we go back and cut it up and cut loose and rush four, but we had to create some rush, and it was good by Dave. He gave us a different formation, which changed the protection and which allows K'Lavon to come up inside, and that opened up the passing lane for us to get more pressure, and I think that you saw Michael divinity get a sack off a similar look, and it was a good job by Dave. Dave kept on working throughout the game scheming to get a pass rush, and he finally got a couple of little breaks there at the end.

Q. Marcel Brooks saw his first action against Texas. What did you see from him? And then Justin Thomas, Neil Farrell, some of those younger guys.
ED ORGERON: Marcel played very well. That hit he made on the quarterback showed his speed and his toughness. We're going to use him more in our green package, especially if K'Lavon can't play this week. We'll start him in our green package and let him rush. Billy Johnson really likes him.

Justin is our most athletic inside guy. Justin played very well. You'll see more of Justin Thomas, especially on third down. He has the quicks. He can make a guard miss up and under. We need to put more speed on the field in pass rush. So those guys can help us.

Q. Kind of a similar question, Ed, but who do you want to see, I guess, more reps from? Or who are you going to have your eye on a defensive end with Rashard and Glen out for the week?
ED ORGERON: Neil Farrell has been playing very well. He's been playing very well. Breiden will get more snaps at defensive end. Hopefully, Siaki can get more snaps at nose tackle. Jarell Cherry will be behind Glen Logan, and then Nelson Jenkins can get some snaps. Those guys will have to be our defensive line this week the way it looks.

Q. Michael Divinity talking to the team about adding to their legacy when they went on the field. He had a team high ten tackles, just all over the place. How do you feel about the way he added to his own legacy in that game?
ED ORGERON: Michael is a tremendous leader. He plays with tremendous heart. We count on Mike. He's a good blitzer. He's a good pass rusher. He made plays all over the field, but believe it or not, when you watch the film, he'll tell you he still needs to get better. It's his first time playing stack linebacker against a big time team. I do believe he's going to learn how to diagnose better, use his hands better, and you'll even see a better Michael Divinity as the season goes on.

Q. Ed, a trio of receivers you had go over 100 yards this week. After two weeks of production like that, what do you think their credential could be the rest of the year?
ED ORGERON: I do think it all depends on the protection. The guys are going to figure out they can't sit there in the zone. We'll have to come with blitzes they're going to protect. They're going to be very creative with what they do. As long as we can protect the quarterback, the sky's the limit for them. They're tremendous football players. They're tremendous athletes. They have a great coach -- two coaches in Mickey Joseph and Joe Brady, and they have a great quarterback in Joe Burrow.

Q. Ed, when you have a game like you had Saturday on a national stage like that and play that well, all of a sudden everybody nationally falls in love, you and your program. Joe Burrow is a Heisman candidate. You're the greatest coach ever. This team is on a roll. How do you handle that mentally with your team? Is that something you're allowing your leaders to say just one week, move on.
ED ORGERON: I trust in the leadership, and I trust in the process. There was a time when all those statements were completely opposite, and I didn't believe them. And I don't think our team believed them. I told them, I said, it's going to be hard when they talk good about you, not to believe it. So we have to turn off the Twitter machine, like I always tell them. I know they're going to read it. We have to block out the noise.

I'm never going to mention a ranking. I'm never going to mention an MVP. I'm never going to mention a candidate about nothing. I'm always going to talk about team, and I'm going to talk about the daily process.

Today is tell the truth Monday. We talk about what we did well, what we've got to fix, improve, and focus on the fundamentals. So when we get them in the team room, it's all about focusing in on the task at hand and not mentioning anything else. But it's a natural thing. I think you need to be guarded about it.

Q. Last year, I think Steve said the strength of the team was the wide receivers. This year we're kind of seeing that play out. Is that just the trust, the work they put in in the off-season? You guys are throwing the ball into space and not to people anymore?
ED ORGERON: No question. One of the things we're doing better this year than we did last year is catching the football. We had 24 out of 25 catches. We had one drop. That's phenomenal. I do believe, when you come to practice, you don't see a lot of balls on the ground. Now, the concepts this year are so much different than they were last year. There are three level routes. They're forming a triangle. Their guy's open. There's reads, and there's adjustments to coverages and everything, and guys are open. It's not like they've got to win one-on-one all the time.

That's what you're seeing the difference. I think it's a matter of work, catching the ball, concepts, and then having a quarterback to put it all together.

Q. Ed, are there any times when Joe Brady is the one calling down the plays, or is he still strictly in a consulting role the whole time, the whole game?
ED ORGERON: No, he calls the plays. Steve lets him call the plays.

Q. And listening on the headset and being part of that process, how do you feel it's worked so far?
ED ORGERON: All good.

Q. The results seem good. I'm just wondering.
ED ORGERON: It works out perfect. Steve Ensminger has no ego. He didn't want any credit. And believe me, he is the architect of everything, man. He gets it done. He's the general in there. But you know what, a good general is going to let smart people do some stuff, and Joe Brady is talented, smart. When it comes time to call the play, Steve lets him call it. He makes that decision, and it worked out fine.
Related:
Popular Stories