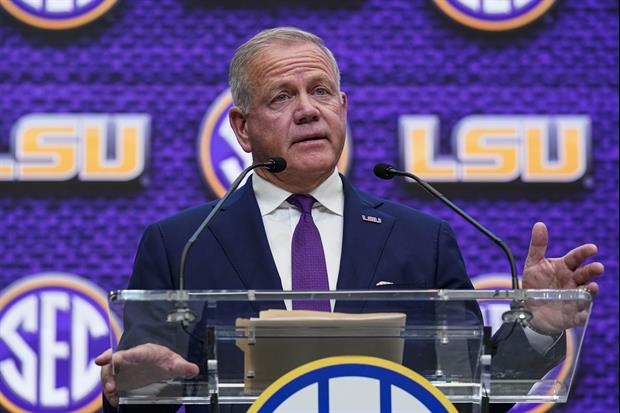 Dale Zanine-USA TODAY Sports
Brian Kelly joined the SEC Coaches Teleconference on Wednesday morning to provide team updates and talk about the upcoming Mississippi State game. Here's what he had to say:

Oppening comment: "Excited to be home at Tiger Stadium to start SEC play against Mississippi State. It's going to be a great challenge."

Brian Kelly on playing in a conference now: "Having the opportunity to play for a conference championship is special. Love being in a conference like the SEC, especially in the West where it's a challenge every week."

Brian Kelly on the QB competition in camp: Jayden Daniels' game experience and poise really helped him win the QB competition. Says Garrett Nussmeier has so many skills, and it's just about harnessing them in.

Brian Kelly on the running game: "It's hard to evaluate so far. As we get into SEC play... we'll get a better assessment of what our RBs look like."

Brian Kelly on Jayden Daniels: He Said he recruited Daniels at Notre Dame. "When he was looking to transfer we built a relationship through the transfer portal."

Brian Kelly on slowing down MSU's offense: "It comes down to fundamentals. You have to be so good at your assignments & fight for every yard. Don't be too cute with your scheme as Mike Leach has seen it all. Have to get Will Rodgers off his spot. He doesn't get rattled."

Brian Kelly on RB John Emery: "He's a big back and has more speed. He hasn't played in a year, so he can't play the whole game. But he will compliment our RB group. He has everything you want, but we're not going to ask him to do too much."
Related:
Popular Stories