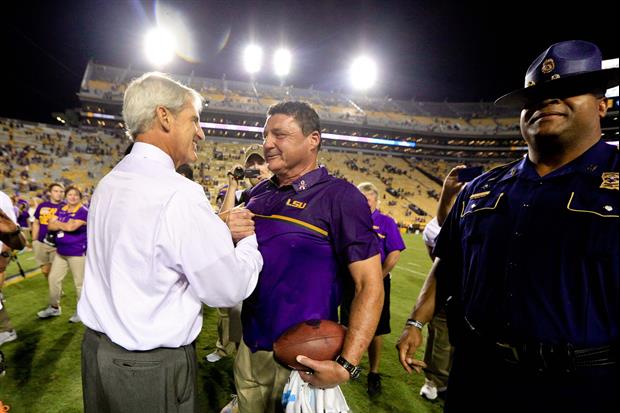 Derick E. Hingle-USA TODAY Sports
The LSU Board of Supervisors athletic committee unanimously approved Ed Orgeron's two-year, $4 million contract extension on Wednesday.
The contract was presented to the committee by athletic director Joe Alleva and is expected to be completely approved by the full Board of Supervisors in a vote later today.
Orgeron's new deal will pay him $4 million a year with $400,000 in added incentives. The $500,000 increase in salary makes him the 24th highest paid coach in College Football.
Here are more details on Orgeron's new contract, according to
NOLA.com:
quote:




---

Orgeron's buyout will nearly double to $10 million, with the amount decreasing $250,000 each month through March 2021. After March 2021, the buyout would remain $4 million for the rest of the contract. Orgeron's buyout is currently $5.3 million.

As for incentives, Orgeron will receive $250,000 if LSU wins 10 games in the regular season — which is up from $100,000. If LSU has 11 wins in the regular season, Orgeron will add $350,000 to his bank account — up from $150,000. And if LSU has a perfect 12-win regular season, Orgeron is slated to receive $500,000. A 12-win season would have previously earned him $200,000.

---
Related:
Popular Stories