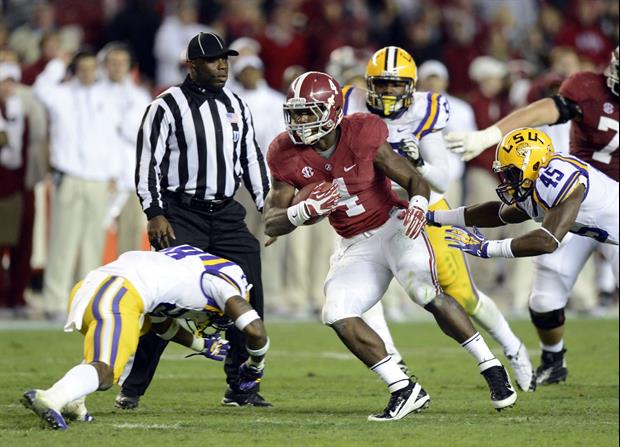 John David Mercer-USA TODAY Sports
The LSU Tigers return to action after a well needed bye week to face No. 5 Alabama in Tiger Stadium on Saturday. All eyes from around the country will be watching as this game is expected to be another classic between the two teams.
Out of six ESPN SEC writers, only two (Edward Aschoff and Alex Scarborough) predicts that LSU will win on Saturday.
Here are a few of the predictions:
quote:




---

Edward Aschoff: So much is riding on this game. LSU can legitimately get back in the SEC hunt, while Alabama's SEC and playoff hopes hinge on a win in Death Valley. Both teams are hitting their strides, but Alabama is a little banged up. Honestly, this is a coin flip. I think we're in for another defensive struggle, and while LSU's defense hasn't been as consistent as Alabama's, I love the way it's playing right now. The offense doesn't have to be great -- and it won't be -- but the defense is going to force mistakes and put that bullying run game in great position to make plays on the positive side of the field. Expect some beautiful Bayou brilliance from the Mad Hatter. LSU 17, Alabama 14

---
quote:




---

David Ching: A month ago, most LSU fans dreaded this game because the Tigers looked nothing like the hard-nosed Les Miles teams of old. They've gotten back to LSU's trademark style -- leaning on power running and feisty defense -- during a three-game winning streak that has the Tigers back in the conversation for a playoff spot. However, beating Alabama requires proficiency at quarterback that the Tigers haven't displayed yet. Unless Anthony Jennings plays the best game of his career, Alabama escapes this slobberknocker with a narrow win. Alabama 24, LSU 23

---
quote:




---

Alex Scarborough: There are two rules for facing the LSU Tigers: get them late in the year and get them at your place. Unfortunately for Alabama, it goes to Death Valley in November. The Tigers' confidence has risen considerably in the past month, their running game is on a roll and the defense has improved. That's not to say the Tide aren't playing well. But Alabama has been different on the road. Inside a raucous Tiger Stadium, communication could be an issue for the offensive line and QB Blake Sims. Penalties and turnovers will be the difference. LSU 20, Alabama 17

---
Other predictions:
Sam Khan Jr.: Alabama 24, LSU 17
Chris Low: Alabama 24, LSU 20
Greg Ostendorf: Alabama 24, LSU 20
Tell us your predictions for Saturday's matchup.
Related:
Popular Stories