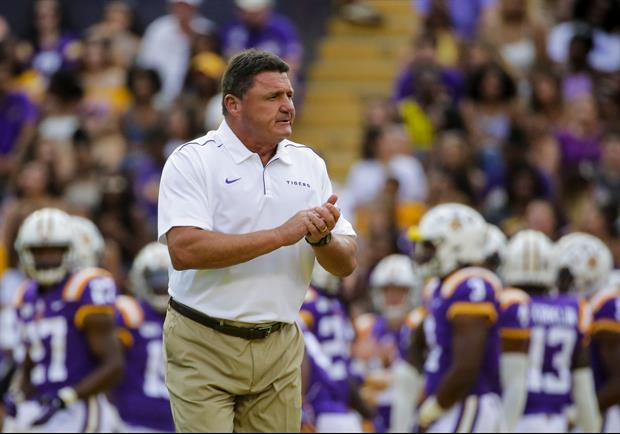 Derick E. Hingle-USA TODAY Sports
LSU ATHLETIC COMMUNICATIONS

For Immediate Release - August 7, 2020

LSU TO HOST MISSOURI, TRAVEL TO VANDERBILT IN NEW 10-GAME SEC SLATE
BATON ROUGE – LSU will host Missouri and make a second consecutive trip to Nashville to face Vanderbilt, the Southeastern Conference announced today as each team in the league added two opponents from the opposite division to fill out the 10-game, conference-only schedule.
The addition of Missouri and Vanderbilt to the LSU schedule is a result of the SEC going to a 10-game, conference only slate this year in football. The remainder of LSU's previously scheduled conference opponents remain the same. Dates for all 10 of LSU's 2020 football games are expected to be announced in the near future.
LSU's other four home games will come against Alabama, Mississippi State, Ole Miss, and South Carolina. In addition to Vanderbilt, LSU travels to face Arkansas, Auburn, Florida, and Texas A&M.
LSU will face Missouri for just the second time since the Tigers joined the SEC in 2012. LSU hosted Mizzou for Homecoming in 2016 in what was Ed Orgeron's first game as head coach of the Tigers. LSU won that game 42-7.
LSU and Vanderbilt will meet in consecutive years for the first time since 2009 and 2010 when the Tigers beat the Commodores, 23-9 in Tiger Stadium followed by a 27-3 win in Nashville the following year. It will also mark the first time LSU travels to Vanderbilt in consecutive years since the 1930s when the Tigers played in Nashville four straight years from 1934-37.
Last year, LSU enjoyed a record-setting day in its 66-38 win over Vanderbilt in Nashville. In that game, the Tigers improved to 4-0 overall as Heisman Trophy quarterback Joe Burrow set the school-record by tossing six touchdown passes with an LSU record tying four going to Ja'Marr Chase.
LSU, who claimed the national title last year with a 15-0 overall mark in what was the most dominant season in college football history, opens the 2020 campaign on Sept. 26 against an opponent that has yet to be determined.
Related:
Popular Stories