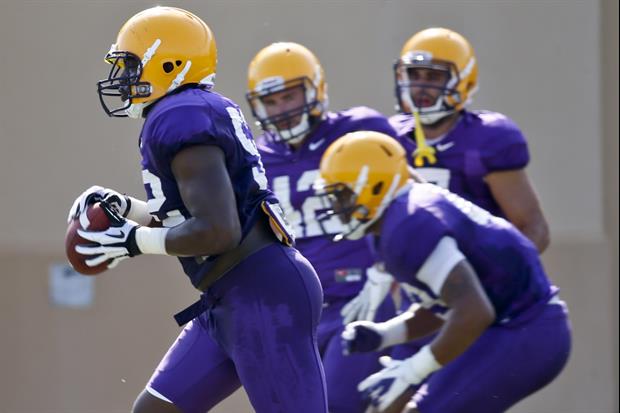 Derick E. Hingle-USA TODAY Sports
LSU announced the Fall Camp practice schedule on Tuesday which will include 20 practice sessions, one walk-through, and three scrimmages.
The team will report on Wednesday, August 5 and practice for the first time on Thursday, August 6. The first day of full pads practice is Monday, August 10.
The three scrimmages will be held at Tiger Stadium on August 15, 22, and 25.
Practices will be open to media from August 6-10.
Here is the full schedule according to
LSUSports.net:
quote:




---

Wednesday, Aug. 5
Team Reports to West Campus Apartments

Thursday, Aug. 6
9:35 a.m. Veterans Practice
3:50 p.m. Freshman/Selected Veterans practice

Friday, Aug. 7
9:30 a.m. Veterans Practice
3:45 p.m. Freshman/Selected Veterans practice

Saturday, Aug. 8
9:20 a.m. Varsity Practice
3:45 p.m. Freshman/Selected Veterans practice

Sunday, Aug. 9
9:15 a.m. Varsity Practice
3:45 p.m. Freshman/Selected Veterans practice

Monday, Aug. 10
9:25 a.m. Practice – First Full Squad Practice (Full Pads)

Tuesday, Aug. 11
3:45 p.m. Walk-thru

Wednesday, Aug. 12
8:35 a.m. Practice
3:45 p.m. Practice

Thursday, Aug. 13
9:15 a.m. Practice

Friday, Aug. 14
9:05 a.m. Practice

Saturday, Aug. 15
11:15 a.m. Scrimmage

Sunday, Aug. 16
3:30 – 5 p.m. LSU Football Media Day – Football Operations Building
5 – 6:30 p.m. LSU Fan Day – Basketball Practice Facility/Maddox Field House

Monday, Aug. 17
8:45 a.m. Practice
4:15 p.m. Practice

Tuesday, Aug. 18
4:15 p.m. Practice

Wednesday, Aug. 19
8:45 a.m. Practice
4:15 p.m. Practice

Thursday, Aug. 20
Break Camp – No Practice

Friday, Aug. 21
11:15 a.m. Practice

Saturday, Aug. 22
11:15 a.m. Scrimmage

Sunday, Aug. 23
No Practice

Tuesday, Aug. 25
Scrimmage

---
Related:
Popular Stories