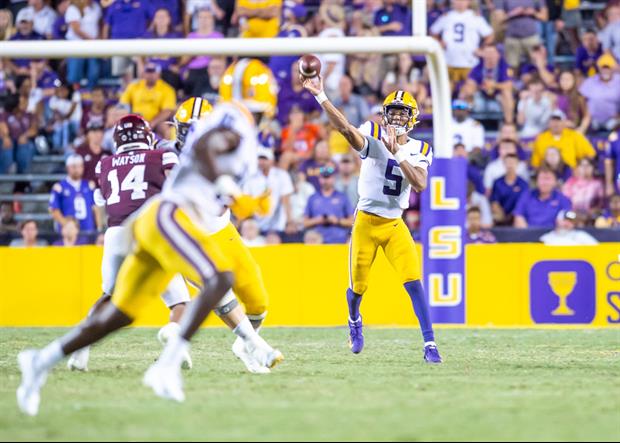 SCOTT CLAUSE/USA TODAY Network / USA TODAY NETWORK
On Monday, head coach Brian Kelly was asked about the play of quarterback Jayden Daniels after his first four games with LSU.
quote:




---

Q. How big was the game for Jayden Daniels and his growth, and what did you go back on the film and see? In the game it was obvious, he was determined to stay in the pocket, but when you go back and look at film, what did you see?

BRIAN KELLY: There are a couple of things. Decisiveness is starting to be part of the vocabulary instead of being hesitant, and that comes with knowledge of the offense.

I think the other thing is that he has become a lot quicker in his setup. I think I mentioned this quick feet, but slowing down and not rushing through progressions.

I think one of the bigger plays in his development was the dig that he threw to Jaray Jenkins in the Red Zone. That was his fourth receiver through a progression.

Those are the kind of things you're looking for in terms of development of a quarterback, and we're starting to see that as well as the screen to Malik Nabers, how quickly that ball comes out. I think a little bit of everything was coming together, and the word I would use is just he is becoming more comfortable and more decisive.

---
Through four games this season, Daniels is 81-111 (73.0 CMP%) for 835 yards, six TDs, and zero interceptions.
He exited the New Mexico game last week with a minor injury but will be good to play vs. Auburn on Saturday, Kelly said.
Related:
Popular Stories