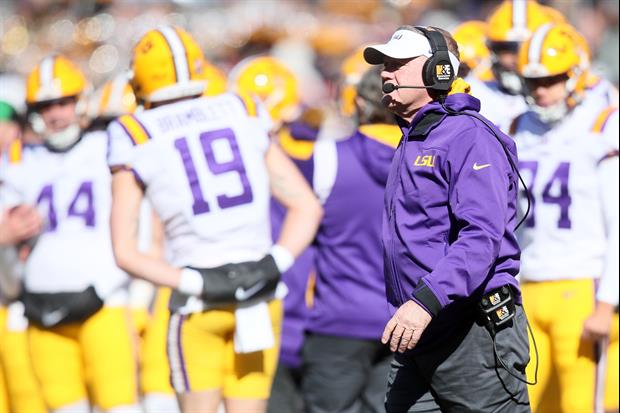 Nelson Chenault-USA TODAY Sports
Brian Kelly held his weekly press conference on Monday to provide team updates and preview the regular season finale at Texas A&M this Saturday.

Kickoff from College Station is set for 6 pm on ESPN. The Tigers are favored by 9.5-points, and the over/under is 46.5 points.

Kelly on Texas A&M: "This is their game. They'll play their absolute best against us. They don't have the wins they wanted. But all they need is one. And that's to beat LSU."

Kelly on LSU's OL: Garrett Dellinger rotated back in at guard, where he's most comfortable. Marlon Martinez did a nice job at center.

Kelly on the chance for a 10-win regular season: "We don't go into the season with a goal of 10 wins. Our goal is to win the SEC West."

On the holiday week schedule: Thursday practice in the morning. Team Thanksgiving dinner with the players and coaches' families. Release all of the non-travel players so they can be with their families. Team meeting at noon on Friday and arrive in College Station at 6 pm.

Kelly on year one in the SEC: "It's lived up to what I thought. Every game is a challenge. Like the Arkansas game... You saw what they did to Ole Miss. People looked at our 13-10 win over Arkansas and asked what was wrong with our team. Nothing's wrong. You don't get a week off."

On Noah Cain: "He helped himself with how he played against UAB. He doesn't make a lot of people miss, but he doesn't need to. He's steady and physical."

On Josh Williams: "He's making progress as he comes back from a knee sprain. We want to be careful and take our time, hope each day he's making the progress to play this weekend."

On the transfer portal: "It can get you into trouble or out of it. It got us out of trouble. We brought in guys of high character. If you're going into the transfer portal, you'd better know what you're getting."

On the recruitment of Harold Perkins: "I remember everyone being worried when he committed to Texas A&M, and I remember telling everyone to be patient."

On freshman DL Quency Wiggins: "He's hit his threshold of four games and is going to redshirt. He has really flourished in the last month. He's learning how to play the right way. We're really excited about him going forward."

On safety Derrick Davis' move to RB: "Should have done it sooner. But he's done for the year and will redshirt."

On A&M bulletin board material: "We know it's a rivalry game. Our guys know that. They don't need any more motivation for this game."

On DC Matt House and trying to keep him: Kelly is not worried about him leaving but would support an assistant who gets a good opportunity. "I don't think Matt came here to be the defensive coordinator for a year, and I think his family likes it here."

On the flu going around the team: Kelly confirms Jayden Daniels had it before the Arkansas game. Kayshon Boutte had it last week, got an IV but couldn't go vs. UAB.
Related:
Popular Stories