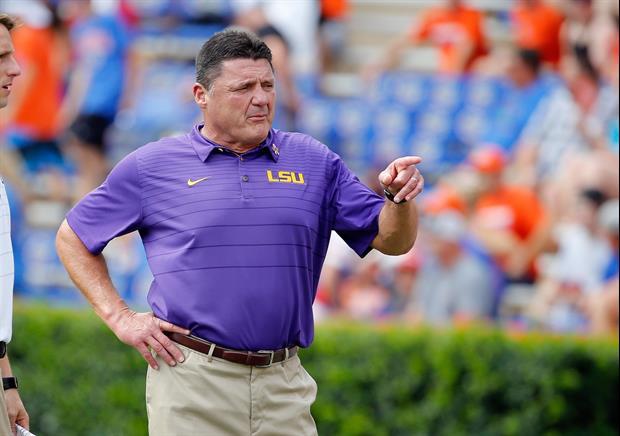 Kim Klement-USA TODAY Sports
LSU head coach Ed Orgeron met with the media Monday and was asked about what he remembers from last years trip to Gainesville when the Tigers upset No. 21 Florida 17-16.
Orgeron mentioned the heat, Florida's missed extra point, and hearing Tom Petty's 'I Won't Back Down" at the start of the fourth quarter.
quote:




---

I remember on the start of the fourth quarter they are playing the Hey, baby there ain't no easy way out, we won't back down by Tom Petty. And I thought it was a tremendous time for our football team because we were singing it too.

---
Full response from Orgeron:
quote:




---

ED ORGERON: Yeah, take away mostly the mindset that we had on the plane, that we were going to win the football game. I take away when we got out there it was probably the hottest place we had been. I remember being in pregame warm up we went out there, because we didn't want any distractions, the year before we had some distractions, I think we had a fight before, our team wasn't ready to play. We had too many turnovers. We made sure our coaches were on the field, made sure there were no distractions there. I remember the heat. I remember telling Coach Jenkins to go easy, I was afraid he was going to pass out it was so hot. But I remember that and then I remember the leadership on our football team came through that day. I remember them missing the extra point and guys like Rashard Lawrence and Devin White saying we're going to win this football game regardless. So those are the things, hard fought battle, I remember on the start of the fourth quarter they are playing the Hey, baby there ain't no easy way out, we won't back down by Tom Petty. And I thought it was a tremendous time for our football team because we were singing it too. And it's going to be a battle, it's going to be a war, it's going to take sixty minutes, this is a rivalry game, it comes down to one play or two, so those are the things I remember.

---
Related:
Popular Stories