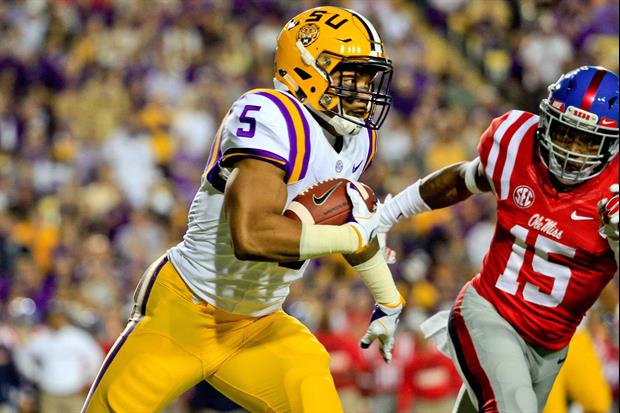 Derick E. Hingle-USA TODAY Sports
LSU running back Derrius Guice and pass rusher Arden Key will likely be headed to the NFL Draft after this season, but Ed Orgeron said he has not talked to either player about their potential departures.
He is, however, assuming that both players will likely declare for the Draft after this season.
On Monday, Orgeron talked about how both players have battled back from injuries and have put together great seasons.
quote:




---

QUESTION: Update on Key and a question about Key and Guice, two juniors who will be playing their last game in the Tiger Stadium and kind of the arc their season took to come back and finish on a high?

COACH ORGERON: First of all, they haven't told me. They haven't talked about it. So I'm going to assume they're going to go out just like everybody else. But they haven't told me.

Let's talk about Arden. Arden went through -- I'm very proud of him. As you know, I recruited Arden. I'm close to him. I'm close to his parents. So Arden is like family to me, like all the guys. But he had some personal problems that went -- we gave him some help, got it fixed and I was proud of him.

Then he comes back and he's about ready to go and then he has to get a shoulder operation.

He says, Coach, I am going to get that shoulder fixed, I'm going to come back. And his momma guaranteed me we're going to have a great season for the LSU Tigers.

And other people would think, well, I don't know, he's getting that shoulder operated, he's going in -- and that was not the case. That was not his family. That was not his mindset.

I think Arden felt that he could play in the heavier weight. It wasn't the right thing and so he lost weight. And now he's playing some of his best football. So I'm proud of him.

LSU has given him the tools to go out and be successful for life on and off the field. With Derrius, as you guys know, and the girls are here, Derrius is always around my office.

And he's a member of our family, he's an energetic guy. And he just wants to be loved, just like everybody else. And he's a different guy off the field than he is on the field. In the scrimmage, he jumped over somebody and he hurt his knee.

And his knee was hurt and he did not -- he wasn't full speed until Ole Miss. He's been playing fantastic ball ever since.

Derrius and Arden are two ascending players. And if they do go out, they're going to be -- they're going to make a difference on somebody else's team in the NFL, just like our guys that went out this year.

You see Godchaux doing well. You see Jamal doing well. And I'm proud of those guys.

---
Related:
Popular Stories