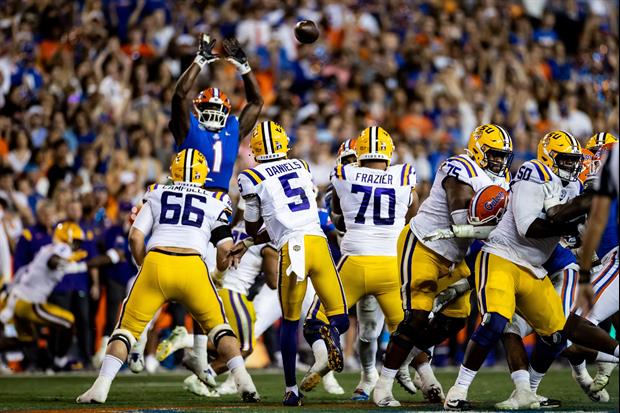 Matt Pendleton / USA TODAY NETWORK
Starting offensive tackles Will Campbell and Emery Jones have done a tremendous job this season anchoring LSU's offensive line as true freshmen.
On Monday, Campbell was named SEC Offensive Lineman of the Week for his dominant play vs. Florida.
Later in the day coach Brian Kelly talked about the "unusual" early success of players and their physical abilities that allow them to compete at such a high level.
quote:




---

Q. When was the last time you remember in your career playing two freshman offensive tackles on the line, and why don't true freshmen typically play in this position?

BRIAN KELLY: I don't think I ever have, but I'm having a hard time with last week in memory. 32 years, 33?

I don't believe I've ever started two freshmen period on an offensive line, but to have two tackles in the SEC is quite unusual.

Again, I think I talked about this last week. It's not necessarily the physical. They have the physical because you cannot play in this league unless you have physical traits. These guys are too fast, too big, too strong. They'll walk you back to the quarterback if you're not physically strong enough.

Emery Jones and Will Campbell physically have the traits to go in the weight room and be as strong as anybody that we have, and are able to move their feet to obviously get out and set these guys. They're going to miss a couple. We got beat inside on a couple of times that they countermoved us.

These guys are extraordinary in their ability to move on to the next play. They focus and then refocus. Their mental approach to the game is so far above any freshman that I'm used to having. They generally have that look in their eyes right about now that they're done.

These guys are anxious for more. That's unusual.

---
Related:
Popular Stories