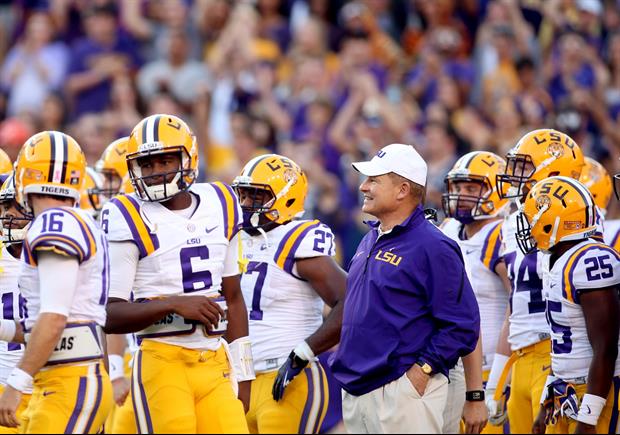 Crystal LoGiudice-USA TODAY Sports
David Ching with
ESPN.com
included best and worst case scenarios for the Tigers in his 2015 LSU Preview article.
LSU's final record in 2015 will hinge on the quarterback play, according to Ching who says the Tigers could finish as good as 11-1 or 7-5 if thing don't go the right way.
Here is more on what he had to say:
quote:




---

Best-case scenario: Some critics act as if LSU doesn't have a talented quarterback on its roster. That's not the case. Harris simply wasn't ready for the job as a true freshman. If he shows some maturity and takes care of the ball, he has the skill set to lead LSU to a division title. Seriously, 11-1 or 10-2 is not unreasonable if the Tigers get dynamic play out of their quarterback. The overall lineup is solid.

Worst-case scenario: As in 2014, if quarterback remains an issue, the Tigers will struggle. After getting gashed a couple times early, LSU still led the SEC in total defense last season by allowing 316.8 yards per game. Nonetheless, the Tigers finished 4-4 in conference play largely because the offense wasn't pulling its weight. If that remains the case in 2015, LSU finishing 8-4 again or falling to 7-5 is possible.


---
You can read Ching's complete
LSU preview here.
What is your prediction for LSU's record in 2015?
Related:
Popular Stories