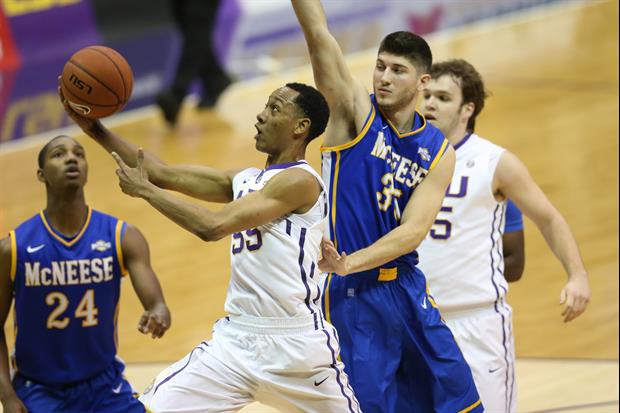 While LSU won't have great depth off the bench, Tim Quarterman gives the Tigers a dynamic combo guard to help rest the starters. The 6'6" point guard had an up and down season last year. He did not shoot the ball well, but he brings "controlled chaos" to both the offensive and defensive ends of the court.
While Hickey got the praise for leading the SEC in steals, Tim Quarterman actually had more steals per defensive possession played than Hickey did. His length allows him to get into passing lanes as well as play very solid fundamental defense. On offense, he was able to get into the lane with ease and his passes were very shootable. His 9 point, 9 assist game against UAB last season was the most assists by a point guard dating back to Garrett Temple.
It's easy to see similarities between Quarterman and Temple. Both about the same size. Both asked to guard opponents top players. Both have some offensive skills, but scoring wasn't one of them. Quarterman may not have quite the defensive skills of Garrett Temple, but his ability to get to the basket makes him a weapon from whatever position he is playing.
With limited depth, Quarterman will play anywhere from point guard, to shooting guard, to small forward. Often times he will be asked to guard an opponents star player. His mixture of length and athleticism makes him a very formidable defensive player.
What to expect from Tim Quarterman:
I would expect Tim Quarterman's minutes to nearly double from last season. As the backup point guard last season, Tim averaged 12.3 minutes per game. This year, he will be the perimeter players backup at all 3 positions. I wouldn't be shocked to see 20-25 minutes from Quarterman. I'd also expect much more consistency from the 6'6" guard.
His scoring won't be from outside, but his ability to get to the rim will allow him to score buckets. His vision should also open up a ton of other players. I'd expect 2-3 assists per game and 5-6 points per game. Both numbers would be great production for Quarterman's sophomore year.
If Quarterman can develop as a consistent deep shooter, watch out SEC. Tim could easily develop to be a guy who you have to gameplan for, just likely not this year.
Geaux Tigers!
More Preview Articles can be found
HERE
Popular Stories