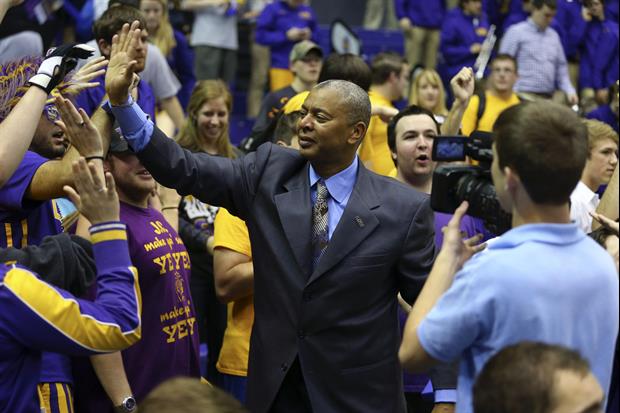 Spruce Derden-USA TODAY Sports
One of the most underrated skills in college basketball coaching is scheduling. There are plenty of different ways to go about scheduling, and unfortunately, Coach Jones wasn't able to create a schedule that is really impressive come tournament selection time. Still, there are some good teams out of conference that will give LSU some good tests prior to conference play.
College basketball scheduling all goes back to a team's RPI. A teams "Rating Percentage Index" is one of the significant computer ratings that is used by the NCAA Selection Committee.
The RPI is comprised 25% from a teams winning percentage, 50% by opponents winning percentage, and 25% by opponents opponents winning percentage. Do the math, 75% of a teams RPI is based off the results of your opponents. Still wondering why scheduling is important? I think not. Anyway, let's look at what LSU has lined up for this year.
Image Link
Obviously nothing very exciting pops right out at you. The only OOC game that Statistician Ken Pommeroy predicts LSU losing is their visit to West Virginia. But Some names that you may not look at as big games could end up being important games. Old Dominion will be battling Louisiana Tech for the Conference USA title and UAB is never a slouch on the hard court.
Image Link
LSU could possibly add another good game to that out of conference schedule during their visit to the US Virgin Islands when they play in the Paradise Jam Tournament. The tourney is from November 21st (Old Dominion) and will run thru November 24th. That Tournament has Nevada, Seton Hall, and Clemson in the opposite side of the bracket.
It also has Illinois St and Weber St, two very good mid majors, on LSU's side of the bracket. Either way, LSU should add three games versus a top 150 team over the stretch of days.
Image Link
The problem with LSU's schedule is not the top end of the OOC schedule. Unfortunately, LSU has a few really poor basketball teams on their schedule. These opponents don't just lose you an opportunity to get a good win, they actually drop your RPI (remember 75% of RPI is based on opponents performances). McNeese St, Sam Houston, Gardner Webb, and Savannah St are really gonna drop LSU's RPI.
LSU's SEC slate does add a little more quality to the schedule. The Tigers get a chance at both Florida and Kentucky at home. Those two are the consensus top two teams in the league so getting 3 total hacks (2vsFLA,1vsUK) will help LSU try and pull some big wins.
The next group down of SEC competition is where LSU finds themselves. fighting for spots 3 thru 7 are LSU, Tennessee, Arkansas, Alabama, and Georgia. LSU plays Tennessee twice, Arkansas once (A), Alabama once (H), and Georgia once (H). Those are going to be critical games in SEC Tournament seeding. LSU does have 1 quick conference turnaround when they play Auburn on a Thursday and Alabama just two days later on Saturday, but luckily both are at home and Auburn is suppose to be one of the worst teams in the SEC.
At the end of the day, LSU's schedule doesn't allow them alot of room for error and only a few chances at marquee wins. Still, It is manageable. LSU really needs a good out of conference record. If they lose an out of conference game, hope it is on the road at West Virginia or in the Virgin Islands against Clemson. But, if LSU is unblemished going into SEC play, they could be a household name by the time SEC play begins.
Geaux Tigers!
More Preview Articles can be found
HERE
Popular Stories