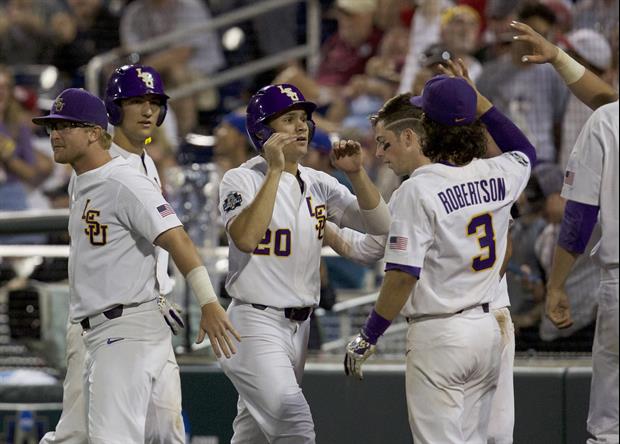 Bruce Thorson-USA TODAY Sports
LSU returns to action in the College World Series on Monday night by playing No. 1 Oregon State at 6 p.m. CT at TD Ameritrade Park in Omaha, NE. The game will be televised on ESPN.
The Tigers advanced to the winners' bracket game by beating Florida State 5-4 on Saturday night. Oregon State defeated Cal State Fullerton 6-5 earlier in the day.
On the mound for the Tigers will be Eric Walker who is 2-0 this postseason with a 0.57 ERA in 15.2 innings, one walk and 16 strikeouts.
Oregon State sophomore RHP Bryce Fehmel (5-2, 3,80 ERA) is expected to start for the Beavers. Per
LSUSports.net:
quote:




---

"Oregon State really has an outstanding ball club," said LSU coach Paul Mainieri. "It seems like every player in their lineup was chosen in the draft, and they have a tremendous pitching staff with a sub-2.00 ERA. We have a lot of respect for (OSU) Coach (Pat) Casey and his staff, and I expect that this game will be a complete blast. Both teams are outstanding and will play with every bit of heart that they have, and hopefully, we'll score more runs than they do"

Oregon State hasn't lost since April 29, when it dropped a 7-5 decision at home to Southern California. LSU hasn't lost since May 9, when South Alabama posted a 7-6 win over the Tigers.

---
Popular Stories