Hog hunting
Well if you read the above info you know that hogs can be formidable animals to hunt. They are lead by their stomachs though and will return to food sources regularly. They also have some predictability in the fact that light rains will get them up on fields to root the insects and worms out of the ground and will also turn them to wallows that they will revisit over and over again. Hogs will avoid the heat as much as possible as they do not sweat. Look for them to be most active dusk till dark, on overcast and rainy days, and inside of deep woods near water mid day.
Despite good eyesight which is color vision unlike deer, they spend most of their time with their noses buried in the ground. This combined with a generally short stature and stiff downward angled necks preventing an upward gaze makes the likelihood of being spotted at a distance low. Regardless good color appropriate camouflage is important if you plan to hunt up close.
Although they have good hearing, traveling in groups where individual pigs are crashing through brush makes it difficult for them to distinguish natural outdoor sounds as abnormal. Don't bang metal together or make other un-natural sounds though.
Weapon choice
is dependent on the user and the desire to collect meat from the hogs.
Bladed Weapons
Bow and arrow are certainly sufficient to kill hogs. Due to the slightly smaller and more forward vitals with thicker more muscular shoulders and the possibility of a substantial "shield" a quartering away shot is strongly recommended. Hogs are tough and will go a long way with only a single or even with a double lung shot. For a quick kill put the arrow through the heart. I prefer a trochar tip for hogs versus a cut on contact tip. I also prefer fixed not mechanical broadheads, but that debate is for elsewhere. Hogs do not leave a good blood trail frequently. The idea of "bled like a stuck pig" is a bit of a farce. The thick fat layers, poor penetration of arrows which often fail to exit and the shot angles all contribute to this issue. Since they don't really have the ability to look up well, you don't have to be all that high and ground hunting is possibility. However, this makes pass through shots frequently miss the heart and the exit wound is too high to give a reliable blood trail.
Picture of the thickened hardened scar and fat layer known as the "shield" lying over the substantial shoulder muscles and shoulder blade on a approximately 200 lb boar. The knife blade is 1.5 inches thick.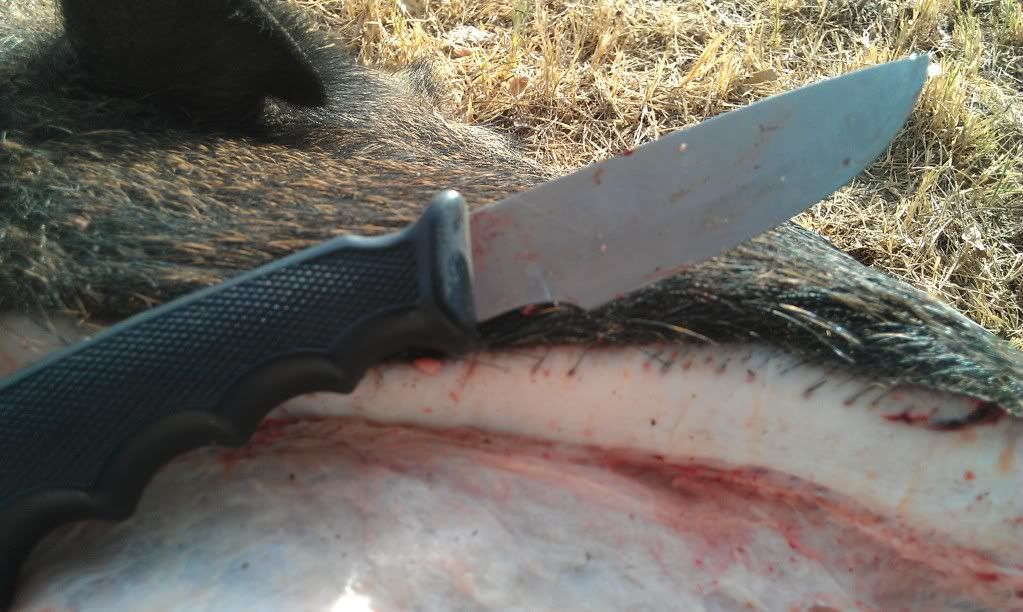 When using a knife, or spear the same angle of insertion is recommended. However an upward angled knife thrust from the front arm pit aiming at the opposite side ear will hit the heart in most cases. A good 6" or longer sturdy blade with at full tang to prevent your hand from slipping is the tool of choice.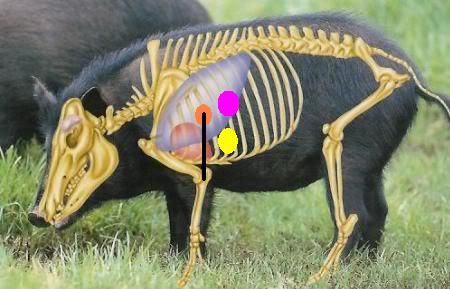 On a ground level quartering away shot aim for the yellow dot.
On an elevated quartering away shot aim for the pink dot
On a ground level perpendicular shot aim for midway up the black line
On an elevated perpendicular shot aim for the orange dot.
Firearms
For firearms pretty much anything will work as long as your shot placement is true.
If you want to retain the meat and do not want to track the hog I
HIGHLY
recommend head shots, specifically ear hole shots. As you can see in this photo and referring to the above picture the brain is located just behind the eye at the lower front margin of the ear. Put a bullet here and they fall in their tracks.
Bullet hole in skull exposing brain cavity on a 245 lb boar I shot with .308 at 50 yards. The bullet did not exit. Notice the cheek bone is gone which forms the floor of the eye socket or orbit. The large depression at the top of the skull behind and above the eye is the attachment o the masseter muscle that closes the jaw. Also notice that the space directly between the eyes is not brain and instead is the back portion of the sinuses. To hit brain with the pig facing you straight on and head slightly down in their normal posture, you need to aim just above and between the eyes. A 22LR or pistol shot to that spot may not penetrate the skull and instead deflect off the skull up and behind the hog.
For head shots you can use just about any round you want. 22LR will easily kill even large hogs if you hit them in the brain. Once again I recommend non FMJ bullets.
For body shots on adult hogs that are 60 lb plus I recommend .30 cal minimum and soft point, hollow point, or ballistic tip ammo. I shoot a .308 with 150 grain PSP core lock and have never hit a hog in the vitals that did not die. I have seen some killed with .223 and 5.56 but I have also seen some seeming hit well run off. Body shots should be aimed at hitting the heart. Use the same angles listed above in associated with the picture.
If you are wanting to shoot lots of hogs in a big group and don't care to recover the hogs or meat body shots with FMJ bullets will pass right through in most cases and may hit additional hogs. A semi-auto large capacity weapon is your friend here. For cheap hog killing I recommend an SKS or AK chambered in 7.62 x 39 with either FMJ or JHP wolf ammo. If the hog is hit in the vitals or gut they will usually die. I have seen one hog frequent a feeder for 9 days with his intestines hanging out. So gut shot hogs may take a while.
Shotguns are another option. Slugs are clearly powerful enough for a hog.
Buckshot down to #4 buck is a good option also and if you need to hit lots of hogs in a tight group (at a feed location) a short barrel, semi-auto, high capacity, 12 gauge loaded with 15 pellet 00 buck is great from a 30 yard distance. I have killed many with 2 3/4" #2 steel shot out of my 12 gauge Benelli Nova while duck hunting at ranges up to 25 yards. I have killed even more in traps with 2 3/4 #8 lead 12 gauge from 10-15 feet. The damage of a head shot at that range is simply shock and awe.
Dog hunting
I have been on one dog hog hunt. It was fun but I am not sure I can add much on this subject. My one word of caution is to make sure you know the guys you are going with and make sure if there are firearms involved you trust those persons handling the guns.
maybe someone else can add more info
This post was edited on 10/9 at 4:37 pm