Tonight's dinnner
Need:
Pork tenderloin - filleted to 1/2 inch, then pounded to 1/4 inch
Cornbread
A bit of link sausage - maybe 1/4 cup - your brand
Celery - 1 stalk chopped
Onion - 1 medium chopped
Garlic - 3 cloves, minced
Craisins - 1/2 cup
Walnuts - 1/4 cup chopped
1 egg, whipped
1 can chicken broth
1 tsp grated orange peel
1 tsp Black pepper, 1/8 tsp fresh sage, 1/2 tsp fresh thyme, 1/2 tsp fresh basil, 6 inches of fresh rosemary, 1 tsp kosher salt, 2 tsp parsley.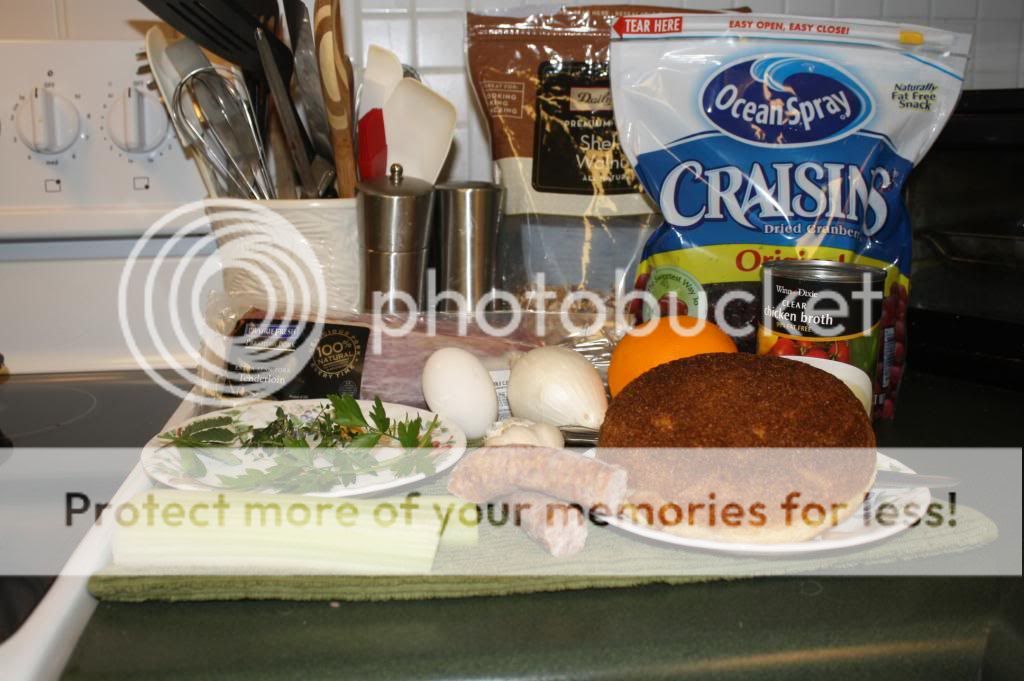 Preheat oven to 375 F.
Saute the chopped onions, celery, garlic and sausage in butter until the veggies are tender. I discarded all but 1/2 tsp of the rosemary, but used it for flavoring during the saute.
Mix sauteed veggies with crumbled cornbread, herbs, orange peel, craisins and walnuts.
Add 1/2 - 3/4 of the chicken broth to get a moist mixture. Taste and add salt as needed, then mix in the egg, which helps tie up the stuffing as it cooks.
Fillet the pork loin to 1/2 inch thickness and then pound it flat between two layers of plastic wrap to about 1/4 inch thickness.
Season the pork with pepper and add stuffing.
Close the loin
Flip it so the flaps are down. Rub the top of the loin with oil and place it in an oiled ovenproof casserole. I made too much stuffing and could not bear the thought of discarding it.
Cook at 375 uncovered for 30 - 45 minutes (can't remember) and pull at an internal temp of 160 F to assure the dressing is cooked.
Carrots in Pear Conserve:
Prep carrots and cook in white wine with a little onion 1/2 tsp sugar, 1/2 tsp kosher salt and a touch of butter.
When fork tender, add pear conserve
which the wife makes (grated pears, craisins, rasins, walnuts, citrus, and sugar)
I made a light gravy with a little medium dark roux and the remnants of the tenderloin deglazed with a touch of white wine. Thought I made photos but evidently didn't. Here is the deglazed roasting dish. The gravy is visible on the plated portions.
Plated
Her plate
Mine
The grated pears give a nice fruity sweetness to the carrots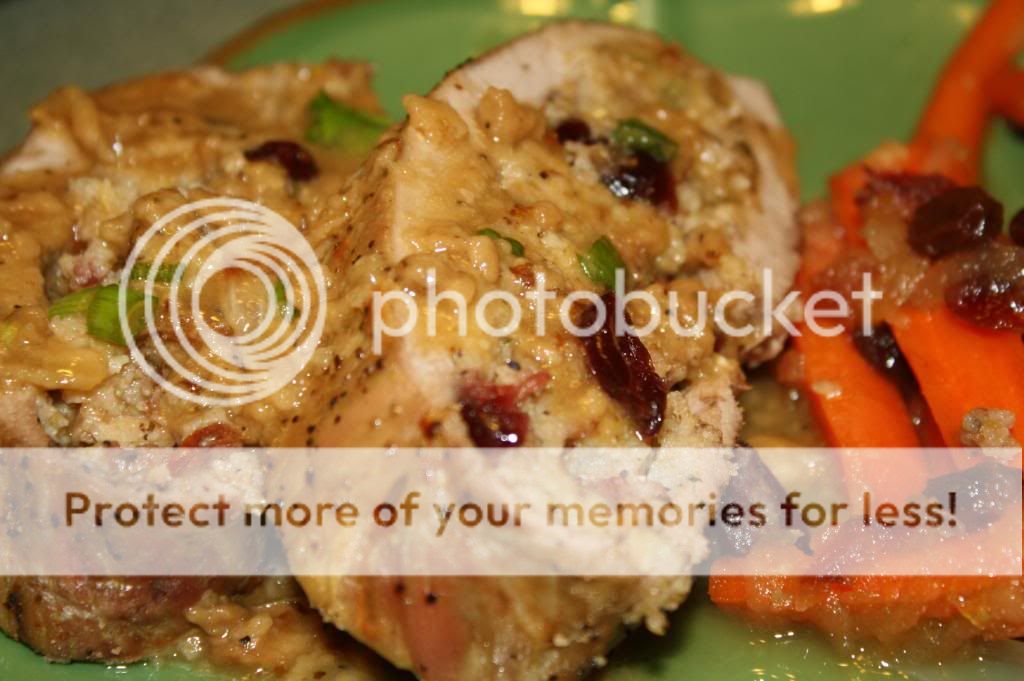 Should be able to see the gravy here
Good meat flavor from the pork. Dressing was fruity with nice hint of citrus.
There were leftovers of the stuffed pork. They will be a nice lunch treat with some peas or beans after church tomorrow.
This post was edited on 5/25 at 11:15 pm