They say to copy someone is the highest form of flattery, and the post earlier by l'affiche was without a doubt the nicest looking presentation I have seen on this board. I was showing his photo to my wife and she said, "Compound Butter - we used to have that all the time. I can make that for you." I said, "but Dear he made Beurre Maitre d'." She smiled like she does so often and said "Yes, compound butter." So here we go with me as Chef and the wife as Sou Chef Supreme.
Beurre maitre d' - thanks l'affiche:
Need
4 Tablespoons Soft (room temp) Butter
2 Tablespoon finely chopped flat parsley
1/8 teaspoon black pepper
1/2 Tablespoon Lemon Juice
pinch of salt
Mix and shape - the wife used a #40 scoop (40 scoops per Qt). Put in Fridge to chill and allow flavors to meld. She used to keep this in the freezer. Don't know why she stopped.
Roasted potatoes:
Need 2 potatoes, oil, Black Pepper, Red Pepper flakes, Parmesan cheese and Beurre maitre d'
Clean and cut potatoes into 1 inch chunks. Coat lightly with oil, add black pepper liberally and red pepper flakes. Roast for 30 minutes on a half sheet pan in oven at 400 F. At end of roast, dust with shaved parmesan cheese and Beurre maitre d' when plating.
Simple salad (iceberg wedge), with a knock out Homemade Thousand Island Dressing:
This is the wife's recipe originally in that Red Checkerboard Better Homes and Gardens vintage 1960's cookbook.
Need:
Lettuce Wedges
1 boiled egg (Grated)
1 1/2 Tablespoon Green Pepper, fine chopped
1 1/2 Tablesoon Celery, fine chopped
1 Tablespoon Onion, fine chopped
2 Tablespoons Ketchup - Your brand
1/2 cup Mayo
1 Teaspoon Paprica
1/2 teaspoon salt
Set up:
Plated - I like Black Pepper with mine: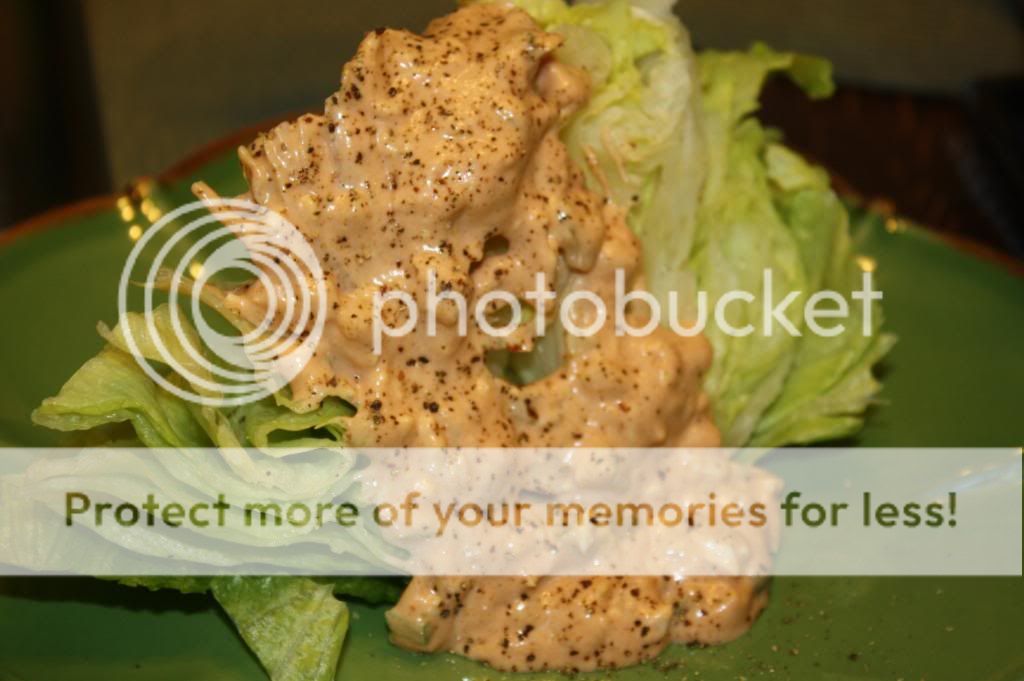 New York Strip Steaks:
Our's were about an inch thick (a little thin for me) seasoned with Black Pepper and Lawry's garlic salt and allowed to warm to room temp (about an hour on the counter top).
Hot grill,:
with steak close to the fire. My intent was to cook them to medium. They were about an inch thick and so I cooked them for about two minutes on each side.
Time to eat:
Beurre maitre d' on the steaks (thanks for the reminder how good this stuff is l'affiche) and on the roasted potatoes.
Almost forgot to show the interior of the steak:
Just a few more shots:
A WORD OF CAUTION
The wife (MHNBPF) says that I need to tell you the Thousand Island Dressing has boiled eggs and should not be stored (must be in the fridge) for longer than two days before eating. We never make more then we will eat that meal. It is so easy to make that having to make it each time you want it is not a real problem.
This post was edited on 5/5 at 8:50 am