Yesterday was nice here at MD's house in Bulldog Land.
So I decided to heat up the old pit and cook outside.
My Brinkman's almost an antique - purchased from Service Merchandise in 1981. They went out of business a long time ago, but the pit still does it's stuff. Gets a new coat of black stove paint each year and keeps on kicking. Hasn't been painted this year, which affects the cooking none at all.
Decided to do a brisket, potato salad, and pinto beans.
While the charcoal was heating up, I set up the meat. To do it my way you'll need brisket (mine was small and pre-trimmed), mustard and oil for coating, and secret recipe dry rub. I didn't use any Garlic Salt on this one.
I coated the lean side with a 50:50 yellow mustard and veggy oil mixture, and coated it with dry rub. Then I turned the brisket over and did the same to the fat side. Both sides look like this and I'll cook it with the fat side up to help baste the brisket during cooking.
At this point, both sides look like this and the brisket is ready to go on the grill. I put a pan under mine to catch drippings. The fire will be a long way away from the brisket - in the firebox.
I go with about this much charcoal.
and add four or five briquettes every twenty or thirty minutes along with water soaked hickory chunks to give me my smoke. Temp is OK to start.
The firebox vent is barely open.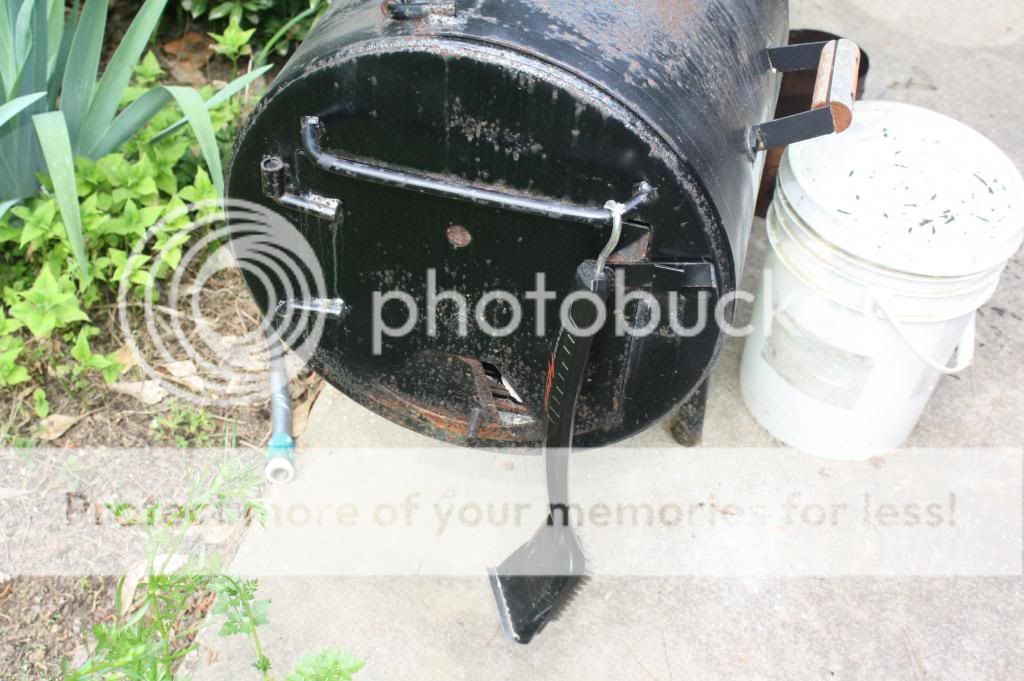 And smoke stack is drawing smoke across the brisket. I keep it closed this much all the way (8 hours, give or take)
Check every so often to make certain I am getting smoke. If not I add a few briquettes and another chuck of hickory wood. I use 3 inch chunks from a tree I lost in Hurricane Ivan - I think we lost 16 trees in that storm - 8 in Katrina.
About 3 or 4 hours into the cooking
Later (after Dark)
I don't get too hyper if I get a hickory fire - just spritz it with a little water to put it out.
Some folks will tell you briskets are hard to cook. I don't think they are. I just keep the heat low and far away. Maybe 220 and try to cool things down if the pit goes over 250. I do like to see smoke coming out the stack all the way through.
I think it's done. Perfect smoke ring:
and nice drippings collected.
I'll decant the liquid and get rid of the oil, then put that cup and a half in a boiler and reduce about half.
Might add a tad of BBQ sauce to that or not. Pretty good with just the dry rub, so I stayed away from the sauce and just used this.
Internal Temp? Maybe 200-205 F seems right for me and then I will let it rest for an hour or so, wrapped in foil.
Want mine to look like this. Sliced diaginally across the grain it will cut with a fork.
Table:
The wife's sensible plate
My no control over my eating plate.
Leftovers for later
At my house leftovers can be a big deal!
There is tater salad hidden in the fridge. I'll post the Pinto Beans and Potato Salad recipes later.
This post was edited on 4/27 at 9:42 pm