LSU Hoops @ Bama | WED 8PM | TV:CSS/COX4 | ESPN3.com
SoS's SEC Power Rankings
1. Kentucky
2. Florida
3. Vanderbilt
4. Alabama
5. Miss St
6. LSU
7. Arkansas
8. Tennessee
9. South Carolina
10. Ole Miss
11. Georgia
12. Auburn
*Note that SEC will probably get 4-5 teams into NCAA Tourny.
General Overview
LSU heads on the road to face a tough Alabama team Wednesday night at 8:00PM vs Bama. This is a big matchup between two of the top contenders from what most fans know as the "Western Division" (note: SEC Basketball does not have divisions). Bama has been in and out of the top 25 this year and pack some star power. Most fans will remember JaMychal Green the Senior All SEC forward and Tony Mitchell their leading scorer. They also bring in 2 highly touted freshman; Levi Randolph and Trevor Lacey.
This Bama squad is another team known for their suffocating man to man defense. They have the 6th highest defensive efficiency (KenPom.com) in the country (LSU is 21). Both big men can block shots and they have had very good perimeter defense. They have allowed only 25% from 3pt land (5th in country) and only 41.6% from 2pt (16th in country). If there defense has a flaw it has been rebounding, a spot LSU looks to take advantage of in this game.
Schedule and SEC stakes
Bama has played a tough schedule and have beated some good teams. Wins include neutral games with Purdue and Witchita St, as well as away games at Georgia Tech and Georgia. They haven't played very good competition at home. They had a very convincing win at Georgia to start their SEC play winning 74-59.
Alabama is in a very similar situation as us starting 2 freshman, but they have higher expectations. I think this is the best team we could pass up to get into NCAA position. Being able to at least split this home and home with Bama would be HUGE and I mean gigantic if we are looking to get into the Tournament. They have a lot of respect from the nation as a solid squad filled with good freshman and solid leaders.
Though they are talented in the post, they do not have a ton of size and Hamilton will be a major matchup problem for Bama. JaMychal Green was injured a few weeks ago but came off the bench the past two games. I expect him to be back in the starting lineup for this one. They know they will need his defensive presence. Here are the matchups we will see with the starting 5:
PG Matchup
#1 Anthony Hickey 5'10" 172 Freshman
Vs.
#12 Trevor Releford 6'1" 180 Sophomore
2 Guard Matchup
#10 Andre Stringer 5'9" 170 Sophomore
Vs.
#3 Trevor Lacey 6'3" 200 Freshman
3 Guard Matchup
#22 Ralston Turner 6'6" 193 Sophomore
Vs.
#20 Levi Randolph 6'5" 185 Freshman
Forward Matchup
#24 Storm Warren 6'7" 230 Senior
Vs.
#5 Tony Mitchell 6'6" 210 Junior
Center Matchup
#41 Justin Hamilton 7'0" 260 Junior
Vs.
#1 JaMychal Green 6'8" 240 Senior
Stats: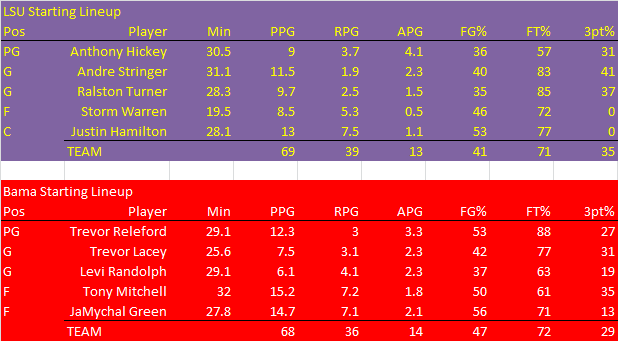 Overall, these teams are very similar. Bama likes to drive and get fouled more than LSU and they are an athletic bunch that haven't been able to consistently knock down the three pointer, which has been LSU's weakness (perimeter defense). I honestly think the matchup favors LSU. I think our height advantage down low will be able to contain Bama's offense. Like I have said in the past, for LSU to be successful they will need a good game from Hamilton and Storm while getting at least 1 of our guards to step up and hit the three. Last game Hickey stepped up and nailed 4/5 from deep and to win this one we will need a similar game out of someone.
I think Bass coming off the bench is another key to LSU. He has come into games and really controlled the tempo. TJ has used him very well and the team has responded while CBass has been in. As long as we have scorers on the floor, which Bass certainly is not, he has been productive. He leads the team in A/TO with a 2.2 ratio and has had 5 games in which he played more than 10 minutes with 0 turnovers. From the PG position that is lights out.
Prediction:
LSU 60 Bama 55
PS: Please no football flames, this is a BASKETBALL thread.
This post was edited on 1/10 at 3:31 pm