from Forbes
The team had an operating loss of roughly $4 million in 2005, with a franchise value of $738 million and team revenues of $160 million. After 1 Super Bowl and 4 double-digit win seasons under Coach Payton, the team's operating income has ranged between $25-37 million except one year when profits dipped to $21 million.
In Forbes most recent valuations, the team's 2012 franchise value is $971 million based on 2011's team revenues totaling $259 million.
With these financials in mind, with the performance abyss that transpired in between the Mora and Payton coaching tenures, and given the Saints struggles to gel effectively in 2012 in Payton's absence, these factors collectively contributed to Saints owner Tom Benson concluding that a $37.5 million investment in Coach Payton was both the profit-maximizing and brand-maximizing thing to do…especially since the next 5 years should cover the remainder of Mr. Brees' peak-performance years as an NFL quarterback.
...
and today we wish Sean Payton HAPPY BIRTHDAY! (49)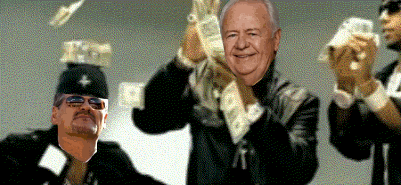 This post was edited on 12/29 at 9:42 am