Version 2 updated formulas(see page 5 for details):
Image: http://i277.photobucket.com/albums/kk75/ereims1/UnadjustedSoSformulaver2.png?t=1354547490

Post Seton Hall updated:
Image: http://s5.postimage.org/tudk0anj9/So_S_Ratings_post_Seton_Hall.png
I have been working on a rating system to track how players impact each game. Rather than looking across the board and looking at 6 stats to pick and choose who had a good game or a poor performance, I wanted one value that would track each of these stats and show who had the greatest impact; cue the unadjusted SoS (Score on Stats) rating:

Explanation of the variables
pts
: This variable is equal to the number of points a player scores. The value given to points is 1. This shows that a given player receives a 1 pt rating boost per point scored.
ast
: This variable is equal to the number of assists a player receives. Given that in college basketball 33.9% of baskets are 3 pointers while 66.1% are 2 pointers I should give this a 2.3 point boost. I added the 0.2 to the rating for passes that lead to fouls, a stat that is not kept, but those who often receive assists also pass into fouls. This is to reward those plays.
reb
: This variable is equal to the number of rebounds a player receives. I wanted points and rebounds to hold a similar point total. Rebounds are a very important part of basketball. Currently LSU averages 85pts and 45 rebs a game. If I wanted them to hold the same value a rebound should be worth 1.9 points, but I deducted 0.1 because defensive rebounds do not lead to easy points, thus should not get the same weight as actual points.
stl
: This variable is equal to the number of steals a player receives. While a steal does not lead to automatic points, it does lead to a better chance at points due to the success of fast breaks so I made it worth 2.0. I also added a momentum bonus of 0.3 because the change in momentum a steal can bring.
blk
: This variable is equal to the number of blocks a player receives. This variable receives a momentum bonus of 1.5 and a block factor of 1.5. Obviously a great block can bring excitement to a game. While it doesn't lead to points, it reduces the chances of an opponent scoring.
to
: This variable is equal to the number of turnovers a player is charged. The value given to a turnover is negative 2.3 due to the fast break and momentum given to the opposition similar to a stl. While it may not lead to a fast break, it reduces the points available to the team and gives an extra opportunity to the opposition.
This gives a players unadjusted SoS Rating. It is helpful to compare players and how they did against other players who may help the team with different stats (ex: PG gets assists, C gets rebounds). It also helps track how a player does over time. With it's use of both time series and cross sectional analysis, it gives the rating a very important ability to compare lots of data.
One problem I had was comparing players who were great when they came in versus players who played well all game. With the amount of time difference it was easy for the players who played a long time to get better stats. That is why I have come up with the adjusted SoS Rating:

The only difference between the unadjusted and adjusted SoS Rating is the denominator and the 40 factor out side of the main equation.
The
min
in the denominator is a variable that is equal to the number of minutes a player is played in the game. The
40
factor outside the equation is to normalize for an entire game. Thus this rating gives what a player's unadjusted rating would be given he played an entire regulation game. If a player plays less than 40 minutes, his adjusted SoS > unadjusted SoS. If a player plays more than 40 min (overtime required for this situation), his adjusted SoS < unadjusted SoS.
With this adjustment it makes it possible to compare players like Andrew Del Piero who has only played an average of 7.75 minutes per game to a player like Shavon Coleman who has played 30 minutes per game. It does not give what their impact was on the game, but what their impact/minute was while they were on the court. This number can be inflated for players who play very little in a game so it should be taken carefully.
As an example I will give you both the unadjusted and adjusted SoS ratings of each player to this point in the season: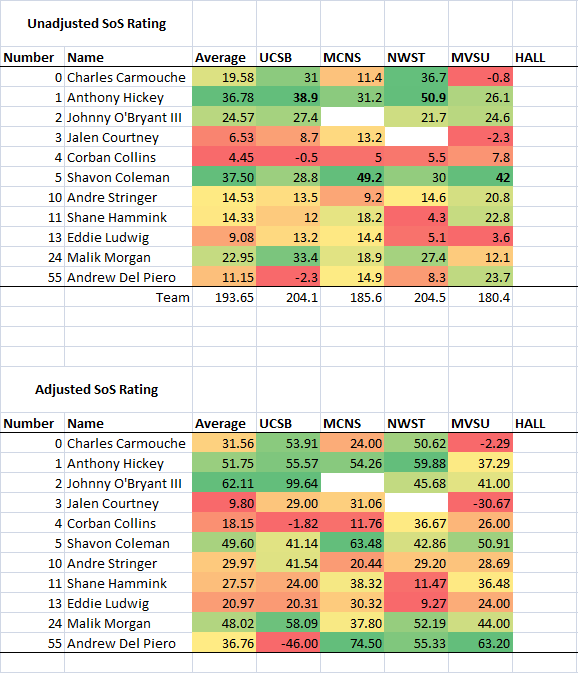 As you can tell, this gives a pretty good measure of how each player has performed this season. Coleman leads on average unadj SoS of 37.5 with Hickey right behind him at 36.78. BUT, they have played the most minutes. If you look at the adjusted SoS Ratings you see that Johnny O'Bryant has had the biggest impact while he is in the game. His 62.11 average is leaps and bounds above anyone else on the team, and if anyone saw his performance in the UC Santa Barbara game, you can completely understand how dominant a 99.64 adj SoS is.
You can also tell that Andrew Del Piero led the team in adj SoS rating in 2 games this season. When in the game he has had a major influence. If you take out his first game in which he only played a minute or two, he has the highest adj SoS on the team. I assume he will continue to get more playing time.
While there may be some changes to this formula, this is the first generation SoS rating system. Other stats under consideration are fouls committed and the separation of offensive and defensive rebounds. Imput is gladly accepted and appreciated. Sometimes with simplicity you find very significant statistics, and I think this rating gives a great picture of how players are performing.
This post was edited on 12/3 at 9:57 am