Message
re: Which "state's right" had been violated to cause South Carolina to secede?

quote:


---

Will slavery talk ever end????

---
When talking about the causes of the Civil War, it is impossible to NOT talk about slavery.


Reply • Back to Top





Reply • Back to Top


You are not going to find accuracy on a message board like this. If you are, indeed, concerned for the truth in this matter - dig it up.
The South was getting unfairly taxed violating the Constitution and staes did have the right to secede at that time.
The injection of race in this matter set the tone for racism as it exists today.
Understanding the truth about the Civil War will be one of the most liberating truths you'll ever dig.


Reply • Back to Top
Posted by
SportTiger1
on 7/13 at 9:30 pm to

Bayou

LoL normal people yes, but not for Rex.


Reply • Back to Top
Posted by
RollTide1987
on 7/13 at 9:40 pm to
CGB Spender
quote:


---

Tariffs that benefited northern industrialization and hurt southern agriculture


---


I just want to get this straight, just to make sure we understand one another. You think that the average, ordinary Southerner would leave their home, their wives, and their kids, to march over hundreds - maybe thousands - of miles from their place of residence to fight, and possibly die, over the issue of tariffs? Do I understand you correctly?




Reply • Back to Top
Posted by
RollTide1987
on 7/13 at 9:48 pm to

RollTide1987

And I just want to impress upon you "states' rights" people that slavery wasn't just an element of the Southern economy by 1860. It WAS the Southern economy. The institution of slavery was a $7 billion industry by that time. And that is 1860 money. If we adjust that for inflation you're looking at over one hundred billion dollars in today's money. If you remove over a hundred million dollars from an economy it is going to have a massive effect. The South believed (unwisely) that Lincoln meant to free the slaves all at once. Such a measure would bring about Armageddon and ruin the Southern economy. Not only would you hurt the rich plantation owners, but you would hurt the poor and middle class farmers because of increased competition from the newly freed slaves.

The South wasn't going to stand for that and that is why they seceded. It had nothing to do with tariffs. That issue was old news by the onset of the 1850s. Barely anyone remembered the tariff crisis by the time the Election of 1860 came along.



This post was edited on 7/13 at 9:48 pm

Reply • Back to Top
Posted by
meldawg399
on 7/13 at 10:29 pm to

RollTide1987

General thoughts on this thread:

To be fair to the South, many of the slave states and territories were slave in name only. Slavery wasn't as entrenched in their economies and, since they didn't have as large populations of slaves, the citizens there would not be as affected by slavery. The South realized that even if the states were 50/50 in terms of technically slave or free in name, the eventual voting in the house of reps would be about 70/30.

Why should 70% of the country determine the laws of an industry that doesn't affect them? Should Maine, Wisconsin, & Illinois pass laws regulating crawfish farms in Louisiana? I don't think so as they don't have any crawfish farms and the industry doesn't affect them.

Ultimately, I believe in the consent of the governed; the South no longer consented and thus said we're going to do our own thing (like the American Revolution). When Thomas Jefferson came to power and the Federalists declined on the national scene, the Hartford Convention was called and Mass., Rhode Island, & Conn. considered secession. And technically if secession were illegal/unrecognized, the southern states would not have had to be "readmitted" and West Virginia would have been merged back into Virginia and the US wouldn't have recognized them as a state since they couldn't secede from Virginia after Virginia seceded/was in rebellion.


quote:


---

And I just want to impress upon you "states' rights" people that AGRICULTURE wasn't just an element of the Southern economy by 1860. It WAS the Southern economy.

---


FIFY




Reply • Back to Top
Posted by
RandyVandy
on 7/13 at 10:46 pm to

meldawg399

Another question; Would those of a pro-Confederate persuasion be as vehemently supportive of a slave insurrection that took over the South? You know, consent of the governed and all.


Reply • Back to Top
Posted by
meldawg399
on 7/13 at 10:57 pm to
RandyVandy
quote:


---

Would those of a pro-Confederate persuasion be as vehemently supportive of a slave insurrection that took over the South?

---


technically they weren't citizens/didn't have voting rights, so it didn't matter, unless they successfully overthrew. I'm guessing the southerners would flee elsewhere? It would've been tough for them to successfully overthrow.

What wuold have happened to the USA had all the women who didn't have sufferage overthrown the government? I have no idea how that would've worked. I guess no sammiches or hot meals?


Reply • Back to Top
Posted by
meldawg399
on 7/13 at 10:58 pm to
RandyVandy
quote:


---

Would those of a pro-Confederate persuasion be as vehemently supportive of a slave insurrection that took over the South?

---


I think this happened on Jamaica or some island in the Carribean.


Reply • Back to Top
Posted by
RandyVandy
on 7/13 at 11:03 pm to
meldawg399
quote:


---


technically they weren't citizens/didn't have voting rights, so it didn't matter, unless they successfully overthrew.

---


That's what I'm talking about. A successful slave rebellion a la the Haitian Revolution and Toussaint Louverture.

Just a hypothetical, I'm not saying it was likely.


Reply • Back to Top
Posted by
summacumdawg
on 7/13 at 11:06 pm to

meldawg399

Has anybody else addressed the fact that the proliferation of tariffs by a republican government, although somewhat punitive , isn't enough for a state or states to secede over?


Reply • Back to Top
Posted by
meldawg399
on 7/13 at 11:11 pm to

RandyVandy

the slaves have a right to attempt it. and just because one side wins/loses doesn't make them the morally right one either imo.

I think the South get an unfairly portrayed bad rep from the Civil War. The situation was very
complex and too many people oversimplify it and view it in absolute terms. New England states had explored similar options before; and I find the basis for the colonies rolling out on England and the South rolling out on the US very similar. So I question how could the colonies be absolutely right yet the South absolutely wrong?

On a side note I think there' has always been slavery in the world and there will always be some form of it as long as humans are here. Maybe the aliens or robots will makes us all slaves one day.


Reply • Back to Top
Posted by
Roaad
on 7/13 at 11:13 pm to
meldawg399
quote:


---

To be fair to the South, many of the slave states and territories were slave in name only. Slavery wasn't as entrenched in their economies and, since they didn't have as large populations of slaves, the citizens there would not be as affected by slavery.

---
Perhaps those that seceded afterwards.

The original 7 states to secede, which started the conflict, all had their economies inseparably tied to slavery.

http://politics.as.nyu.edu/docs/IO/4734/razaghian_s05.5.pdf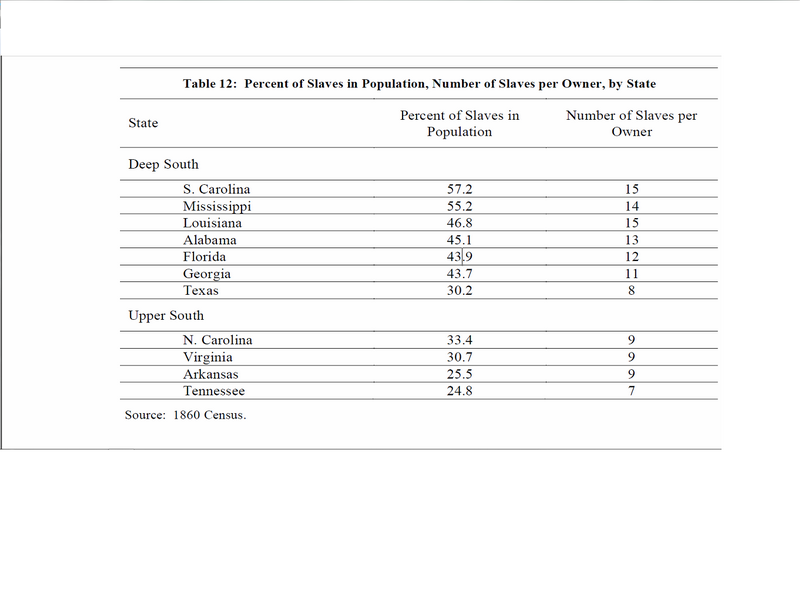 Even the later states had significant slave populations.

Take TN, for example. 25% is pretty damn significant.

This post was edited on 7/13 at 11:14 pm

Reply • Back to Top
Posted by
meldawg399
on 7/13 at 11:14 pm to
summacumdawg
quote:


---

Has anybody else addressed the fact that the proliferation of tariffs by a republican government, although somewhat punitive , isn't enough for a state or states to secede over?

---


I think tariffs/taxation are a perfectly good reason to secede. Will anyone hold it against Germany if they leave the EU because Spain and Italy want them to pay for their governments' irresponsible spending? I think it is perfectly reasonable.


Reply • Back to Top
Posted by
Roaad
on 7/13 at 11:15 pm to
summacumdawg
quote:


---

Has anybody else addressed the fact that the proliferation of tariffs by a republican government, although somewhat punitive , isn't enough for a state or states to secede over?


---
Whose making that absolute determination?

I don't know what the criteria is for secession.


Reply • Back to Top
Posted by
meldawg399
on 7/13 at 11:17 pm to
Roaad
quote:


---

Even the later states had significant slave populations. Take TN, for example. 25% is pretty damn significant.

---


Well I was getting at Missouri, Oklahoma, and Arizona as slave states compared to a TN, GA, SC, or VA. OK reps are more likely to break with the deep south than TN reps.

ETA: So as the USA expands westward, would be slave states like Utah & Nevada to balance Idaho & Montana are more likely to side with "free" states, eventually giving the free states a 60/40 or 70/30 majority on the matter.

This post was edited on 7/13 at 11:21 pm

Reply • Back to Top
Posted by
summacumdawg
on 7/13 at 11:18 pm to

meldawg399

No,because tarrifs are perfectly constitutional. The South in no way was being disenfranchised. Each southern state had 2 Senators and more than their proportional members of the house. They were represented, the tariff was a policy passed by the federal government. You really want states leaving over policy disagreements? I understand if the federal government egregiously circumvents the constitution or it tries to intentionally give less weight to states in a certain region but seceding over a policy disagreement? You do know why we switched from the articles of confederation to the constitution right?


Reply • Back to Top
Posted by
RandyVandy
on 7/13 at 11:20 pm to
meldawg399
quote:


---

the slaves have a right to attempt it. and just because one side wins/loses doesn't make them the morally right one either imo.

---


Agreed


quote:


---

I think the South get an unfairly portrayed bad rep from the Civil War. The situation was very
complex and too many people oversimplify it and view it in absolute terms. New England states had explored similar options before; and I find the basis for the colonies rolling out on England and the South rolling out on the US very similar. So I question how could the colonies be absolutely right yet the South absolutely wrong?

---


I don't think the South get's an unfair rep. I went to grade school in CA, and my 8th grade teacher taught us, explicitly, that the Civil War was about states rights, not slavery. If anything, Id say the Confederacy is portrayed in overly positive terms or romanticized by most: There are certainly no "Gone With the Wind" equivalents for the Union.

My point is, that if the Civil War was really an issue of sovereignty and whatever else, wouldn't a slave rebellion be as equally defensible? Yet somehow I doubt most Confederate apologists would agree.

This post was edited on 7/13 at 11:27 pm

Reply • Back to Top
Posted by
Roaad
on 7/13 at 11:22 pm to
meldawg399
quote:


---

Well I was getting at Missouri, Oklahoma, and Arizona as slave states

---
Border states joined late, and really had almost no contribution to the war.

Hell, Mizzou and KY played both sides of the war.


Reply • Back to Top • Refresh