Message
re: Teach a man to Fish (Fark Board Beginner Questions)


Posted by

Rattlehead
on 7/3 at 1:28 am to
CtotheVrzrbck
quote:


---

CtotheVrzrbck

---


Check out DownloadHelper


Reply • Back to Top
Posted by
vtdad
on 7/6 at 9:33 am to

Rattlehead

Question, if I may....How do you guys make those Godfather pics? I've tried to make one (using Paintnet) but it's nothing like what you guys make. I've been working an ungodly amount of overtime due to the storm trouble outages. (I work for the Power Co. AEP) I try to make at least 1 or 2 pics each time I am lucky enough to get to my PC.
Reason: there is a guy on the uva 247 board that's calling himself The Godfather to recruits. reportedly he is behind the scenes offering money,etc. parties, other favors.... ala UNC of late. SO I am wanting to make a Mike London (uva coach) Godfather pic. I just can't figure out how to get that silhouette looking image!!! any help is appreciated.


Reply • Back to Top
Posted by
timdallinger
on 7/6 at 10:20 am to
vtdad
quote:


---

vtdad

---
Good to see you. It's been a while. Nice to hear you've kept working on digital photomanipulation.

There are several ways to get that "Godfather" style image. We'll cover a few.

1. First of all, you are going to need to mask your character to seperate him from the background. Picking a good source image will be important. Images that have a lot of contrast already (wide changes between light and dark parts of the images) will lend themselves to better results using this technique.

Image: http://static.guim.co.uk/sys-images/BOOKS/Pix/pictures/2012/2/22/1329910745597/The-Godfather-007.jpg


2. Place that render on a black background.
3. This is where things can get a little complicated. The following image has the brightness and contrast changed.

Image: http://www.thenoobnews.com/uploads/2012/03/godfather.jpg width= 400


So using Paint.net, go to Adjustments>Brightness/Contrast. Take the contrast all the way to 100. You should be left with a black and white image. Now, change the brightness. You are going to have to play with this to get it right.

Now, if you want the image only monochrome (black and white), you are probably going to have to some tracing. This is where it can get difficult. It may be tracing but it's a lot like drawing. This is where vector art usually starts.

The result can be something like this:
Image: http://samaita.com/vectoor/wp-content/uploads/2012/03/Vectoor-Don-Vito-Corleone.jpg

(not my work, found using Google images)

This particular image used a type of vector trace but you can still see where it was cleaned up by hand. These can be very labor intensive depending on how detailed you want to get.


Reply • Back to Top
Posted by
vtdad
on 7/6 at 11:43 am to

timdallinger

Thanks a lot Tim, I'll give that a try (hopefully later tonight, I just got called out for work AGAIN). I've got over 100 hrs. this week alone, oh well...the money is good...whenever I get to spend it!!! THANKS again!!


Reply • Back to Top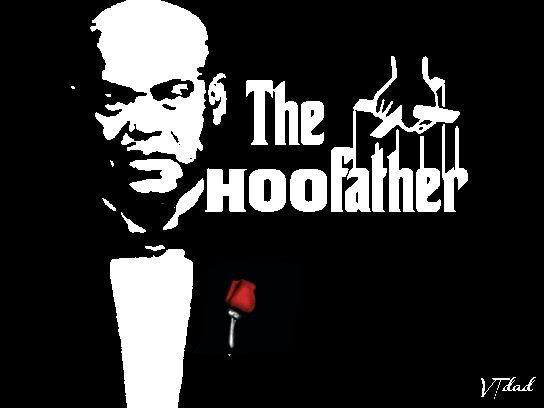 Reply • Back to Top
Posted by
When in Rome
on 7/7 at 10:29 pm to

timdallinger

This is kind of a general question for anyone who uses Gimp...

So I FINALLY figured out how to install the Gimp Animation Package on my Mac via Macports, Xcode, and Terminal. However, after restarting Gimp and X11, the Video menu was nowhere to be found.


Does anyone have any insight? Because Google sure as hell doesn't



Reply • Back to Top
Did you install GIMP from MacPorts too, or just the normal install?


Reply • Back to Top
Posted by
When in Rome
on 7/7 at 11:49 pm to

Schwartz

Normal install. Was this where I went wrong?


Reply • Back to Top
Could be...I'd give that a shot.


Reply • Back to Top
Posted by
UltimateHog
on 7/26 at 9:42 pm to

Schwartz

I need some help, trying to make my first gif from the Dodgers Cardinals game today - Hairstons reaction to Mottes 99mph that went right next to his face just missing him...

I used my iPhone to record it from the TV, sent it to my email, saved it (.MOV) I used Bigasoft Total Video Converter to convert it from .MOV to .GIF, and used Photoshop CS6 to remove the first 22 layers that were unwanted, and cropped/centered it. Then hit save for web, edited the size, and saved.

Uploaded to photobucket, but when it restarts, it goes blank like below. How can I fix this/why does it do this?





Reply • Back to Top
Posted by
InVolNerable
on 7/26 at 10:10 pm to

UltimateHog

Did you actually delete the the frames of the first 22 layers, or did you just delete the layers? If you just deleted the layers then the frames of the gif are still there, they are just blank resulting in skipping.


Reply • Back to Top
Posted by
UltimateHog
on 7/26 at 10:17 pm to
InVolNerable
quote:


---

Did you actually delete the the frames of the first 22 layers, or did you just delete the layers? If you just deleted the layers then the frames of the gif are still there, they are just blank resulting in skipping.


---


Yeah I just deleted the layers the first time, went back and deleted the frames but it's still doing it?

ETA: Got it, just started over and it worked, maybe deleting the layers first is what caused it.

This post was edited on 7/26 at 11:02 pm

Reply • Back to Top
Posted by
timdallinger
on 8/3 at 1:37 pm to

UltimateHog

Not really a Fark question; more a html code/forum posting inquiry.

How have some of ya'll gotten so slick at posting images? Specifically, how do you hyperlink an image to take you to the full size version?

I know the "width = xxxx" after the image address then the [/img]code but I can't seem to figure out the url syntax for hyperlinks.


Reply • Back to Top
Posted by
Rattlehead
on 8/3 at 2:04 pm to
timdallinger
quote:


---

timdallinger - how do you hyperlink an image

---


Create a link and in the link title insert the full URL of the image you want to display in your post with [img] tags around it.








Reply • Back to Top
Posted by
timdallinger
on 8/3 at 3:09 pm to

Rattlehead

Thanks. Wow, I feel dumb. I was trying to write HTML code and it was not working.

Occam's razor. "Horses not zebras."


Reply • Back to Top
Posted by
bobbyray21
on 8/4 at 10:49 am to

timdallinger

I have a question about how to make .gifs. I did read through the thread, and it sounds like either gifsoup or benderconverter are the best tools to use if one is working from a youtube video. But what if you didn't have the video available on youtube?

Basically, this .gif was available about a minute after the match was over. So I'm assuming that the video was not pulled from youtube. So how would one go about creating .gif such as this?

Image: http://assets.sbnation.com/assets/1276258/serena.gif



Reply • Back to Top
Posted by
Rattlehead
on 8/4 at 11:50 am to
bobbyray21
quote:


---

bobbyray21

---


1) Capture of live video stream to file using a tool like Net Transport

2) Captured video file imported into Photoshop and cut/edited

3) Create GIF


You could also pull from your sat/cable box with video capture hardware (Hauppauge makes some cool shit) or even screen capture to video with a tool like CamStudio.




Reply • Back to Top
Posted by
bobbyray21
on 8/4 at 3:00 pm to
Rattlehead
quote:


---

1) Capture of live video stream to file using a tool like Net Transport

2) Captured video file imported into Photoshop and cut/edited

3) Create GIF


You could also pull from your sat/cable box with video capture hardware (Hauppauge makes some cool shit) or even screen capture to video with a tool like CamStudio.

---


Interesting. I'm not familiar with any of those tools.

My best guess was that they burned it to a DVD from their DVR. But that process is probably too slow for as quickly as they got it up.




Reply • Back to Top
I'm trying to add text to a .gif I pulled off of GIFULMATION and I'd like to add text to it. I'm on GIMP and have the image loaded, and can see the layers, but I can't seem to get any layer other than the first or last layer to show on the "editing" screen. How can I go frame by frame and add my text?

Thanks!


Reply • Back to Top
Posted by
Rattlehead
on 8/8 at 2:48 pm to
TigersSEC2010
quote:


---

TigersSEC2010

---


Check out the last post on Page 17 forward ITT


Reply • Back to Top • Refresh