Message
re: Alltime Saints Jersey # Countdown to First Preseason Game


Posted by

LSUFreek
on 5/18 at 3:51 pm to

LooseCannon22282

2012 FA Vet OT Hutch Eckerson

Product of South Carolina who first entered the NFL as an undrafted free agent signed by the San Diego Chargers in 2011, before being waived prior to the regular season. The Lumberton, N.C. native played for the Gamecocks from 2006-10. He started 23 career games, seeing action at both tackle spots.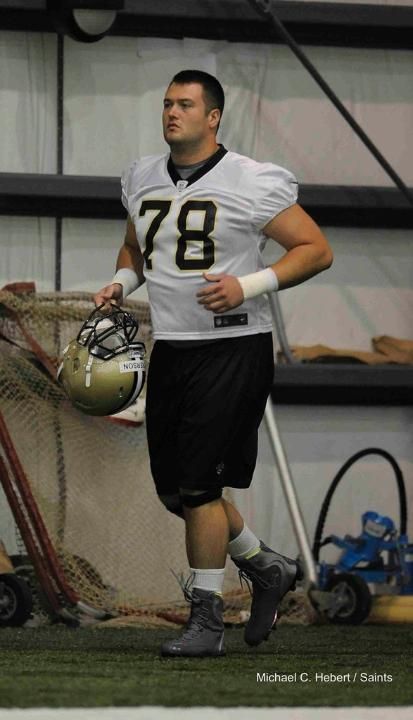 Reply • Back to Top



Reply • Back to Top


HOF William MF Roaf




There was another pretty special player who wore this number if any of you can remember his name.



Reply • Back to Top



Reply • Back to Top
Posted by
blueslover
on 5/19 at 9:35 am to

Suntiger

Kinda weird to me... as a lifelong fan your team is kinda like an investment, a part of your life. The Saints have been continuously in my existence longer than wives or children, longer than jobs... So to have that much investment for that long there is a unique reward in now seeing the second Saint go into the Hall of Fame. It's in the vein of the payoff you get when you see your kids fulfill the hopes you have for them. Even more cool is that we can see there will be a growing amount of black and gold clad players getting the yellow jacket in years to come.

anyhoo, props to one helluva a player, an unequivocal and unquestioned hall of famer! Incredibly nimble and quick for the giant he was, welcome to Canton Willie.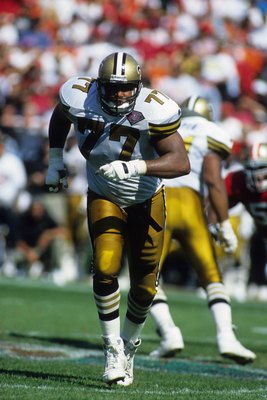 Reply • Back to Top
Posted by
St Augustine
on 5/19 at 1:09 pm to

blueslover

He was working out one day when I used to work at Elmwood. It is amazing how truly large an individual he is. He's more like a comic book character than a real person. One of the best ever.



Reply • Back to Top


7 year player (71-77) with 41 starts.

#76 Jonathan Goodwin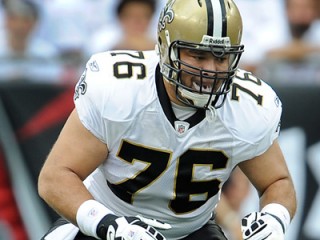 >

Anchored our 2009 Superbowl team and had a pro bowl apperance that year as well before leaving for the 49rs.


Reply • Back to Top



Reply • Back to Top


New Orleans Saints All-Time Numerical Roster


Here's the list at 75:



For all-time to wear #75, how about Bruce Clark, who tallied 39.5 sacks over his run with the Saints.




But, I'll add another #75 to the list, the guy currently wearing it. A stand out in last seasons pre-season, Mitch King. Hopefully Mamma's Boy can bring some much needed solid depth for the defensive line this year.





Reply • Back to Top
Posted by
blueslover
on 5/21 at 8:24 am to

CocoLoco

nice link, Clark looks like the obvious choice

more-
Clark attended Penn State University, where he played for coach Joe Paterno's Penn State Nittany Lions football team from 1976 to 1979. As a junior in 1978, Clark became the first junior to win the Lombardi Award as the best college defensive lineman. He was recognized a consensus first-team All-American as a senior in 1979.
The Green Bay Packers chose Clark in the first round (fourth pick overall) of the 1980 NFL Draft, but refused to play for them. Clark then chose to play for the Toronto Argonauts of the CFL instead to avoid playing for Green Bay. After two years in Canada, he played for the NFL's New Orleans Saints for seven seasons from 1982 to 1988, and joined the Kansas City Chiefs for one final NFL season in 1989.
He later played a single season for the World League of American Football's Barcelona Dragons. Clark was drafted in the first round of the supplemental draft by the Barcelona Dragons in 1991. His experience and leadership were key to the Dragons successful first season. Clark started all ten games and was co-leader in sacks with seven that season.
----------------------
forgot about being a #4 overall that went to CFL instead. Looked it up... Seems like he didn't want to play nose in a 3-4 and then GB GM Bart Starr thought he could draft him and force him to play it. It was somewhat a changing of the guard era when players first started bucking up against the system for what was best for them.

Don't remember why the Packers still owned the right to him after two CFL years. Saints gave the #11 overall pick to GB (WR Tim Lewis) in 1983 for him. That was prolly the most famous QB draft in history. Hebert was here so they weren't going that way but HOFers Jim Kelly was #14 & Dan Marino #27 that year.

1989 bankruptcy filing actually has a lot of his contract details-
Pursuant to Paragraphs 5 and 6 of the 1988-89 contract, Clark's salary was $575,000 payable in 16 equal weekly installments of $35,937.50 each over the course of the 16-game regular season schedule.







Reply • Back to Top
Posted by
99DSTJ
on 5/21 at 10:02 am to

blueslover

Now everyone knows my secret.



Reply • Back to Top



Reply • Back to Top
Posted by
blueslover
on 5/22 at 9:01 am to

99DSTJ

Moore, clearcut without a doubt, the startling low number of players to consider is a good education to understand how terrible inept the franchise was for so long.

More Moore:

(born October 7, 1951, in Malden, Missouri) was an American football defensive lineman in the National Football League for the New Orleans Saints and the New York Jets. An All-American, he played college football at the University of Oklahoma and was selected in the second round of the 1973 NFL Draft. At the time he was drafted, Moore was the highest selected college walk-on in history of the NFL Draft. Moore would go on to set a team record for service with 169 games played in 13 seasons with the New Orleans Saints, playing for five permanent head coaches and three interim coaches in that time.

He led the team in sacks in 1980, and was selected to the Pro Bowl in 1983. Moore retired from the NFL in 1986 and was later Inducted into the New Orleans Saints Hall of Fame, the New Orleans Saints 40th Anniversary Team, the Missouri Sports Hall of Fame, and was named as one of the Top 100 Sooners in Oklahoma University football history.
--------------------

5 coaches in 13 years tells ya all you need to know about what the Saints were then.

Great 2009 Interview Looking Back
-forgot the NFL used to have a yearly arm wrestling championship. Moore won it twice -sez he lives in Mandeville. Anyone know him?.
"It took me 10-15 years to reflect and appreciate what I had, to come to grips. Guys have 2-3 Super Bowl rings, they take them for granted. It didn't happen here. All the work, all the weights. It took me awhile to reflect and realize."

But it was the fans and the city that meant the most. "I love the city of New Orleans," he said, "I love the community. There are more positives than negatives. It has been a wonderful experience."




(vintage OK pose)


(today, left)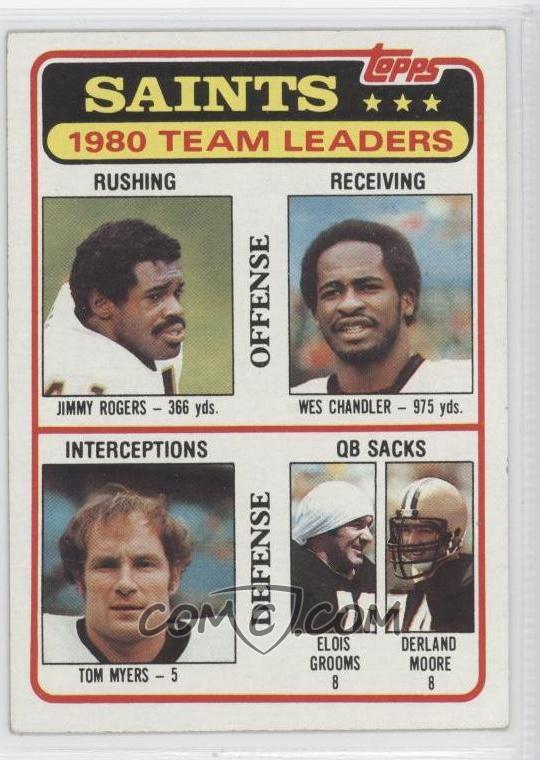 Reply • Back to Top
Posted by
Suntiger
on 5/22 at 9:11 am to

blueslover

Damn, our leading rusher in 1980 had 366 yards rushing?! Jeez!

Just looked it up and that was the season we went 1-15. Glad I was too young to really remember back then.

ETA: Showing some love for Bushrod



5 year Saint out of Towson. 46 career starts and one pro bowl appearance.

This post was edited on 5/22 at 11:03 am

Reply • Back to Top



Reply • Back to Top
Posted by
blueslover
on 5/23 at 7:35 am to
99DSTJ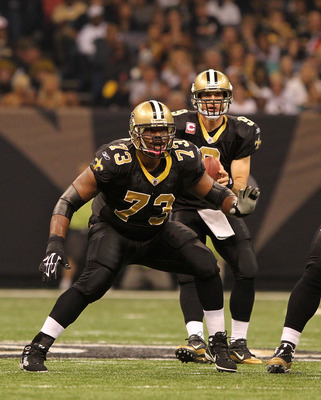 Evans was signed to a three-year contract by the Saints on July 25, 2006. He emerged as a consistent performer in training camp and preseason, and won the starting job after the projected starter, Jermane Mayberry, was injured in training camp and ultimately retired. In his rookie year, Evans started all 16 games, and both playoff games, at right guard. He was subsequently named to the Pro Football Weekly All-Rookie team.

In his second year, Evans started all 16 games at right guard again, and contributed to an offense that ranked No. 3 overall in the NFL. Remaining a starter in 2008, Evans was part of an offensive line that allowed just 13 sacks on the season, a Saints franchise record.

Having established himself as one of the NFL's top right guards in 2009, Evans was named to the 2010 Pro Bowl NFC roster, being only the fourth guard to make the Pro Bowl in the Saints' 43-year franchise history. Jake Kupp made the Pro Bowl in 1969, Brad Edelman was honored in 1987, and LeCharles Bentley went in 2003.

Evans was a restricted free agent after the 2009 season, and on May 5, 2010, the Saints resigned Evans to a seven-year, $56.7 million contract that was reported to make Evans the highest-paid interior offensive lineman in NFL history, surpassing Alan Faneca's five-year, $40 million deal with the New York Jets in 2008
---------------------

a memorial nod to Frank Warren as well...


The defensive lineman was a third-round draft pick in the 1981 NFL Draft by the Saints out of Auburn University. He went on to play 189 games during his 13-year career with New Orleans, recording 52½ sacks. His impressive career earned him an induction into the New Orleans Saints Hall of Fame.
Warren died at the age of 43 after suffering a heart attack at his home in Birmingham, Alabama. By tragic coincidence, he had only five days earlier appeared on the HBO television program Real Sports with Bryant Gumbel to discuss the dangers of rising obesity among NFL linemen, many of whom now top 300 lb (140 kg). Warren stated that his weight scared him and left him wondering every night if he'd wake up to see the next morning.


Reply • Back to Top
Posted by
Suntiger
on 5/23 at 9:33 am to
blueslover


I like Evans, but
Warren!


Reply • Back to Top
Posted by
goatmilker
on 5/23 at 9:36 am to

blueslover

Frank Warren

One of the best Saints ever.
Died much to young.
13 years in the trench!





Reply • Back to Top
Posted by
blueslover
on 5/23 at 9:47 am to

goatmilker

plenty of props to FW fo sho

I went Evans cuz he's on track for a HOF career... #34 on the Top 100 NFL players last year, highest paid guard in NFL history (did Nicks pass him?). I might have gone FW for longevity but JE has been here 6 years now.

Good guy too, check out his site


Reply • Back to Top
Posted by
Meateye
on 5/23 at 11:02 am to

blueslover

Why is this thread not Stickied yet?????? C'Mon Admins!!!!


Reply • Back to Top • Refresh