Message
Draft Talk: Wide Receivers


Posted by

blueslover
on 4/13 at 3:21 pm

Who might be a can't-pass-on candidate at #89?

Meachem gone and Devery turning 30 makes a deep threat the only potential need at WR.

There are some possession and small slot type guys that I can see being okay but not overwhelming value available (Joe Adams, Chris Givens, Alshon Jeffery, etc). I only have two that they might have ranked high enough to take...
Marvin Jones Cal- IF they think he is fast enough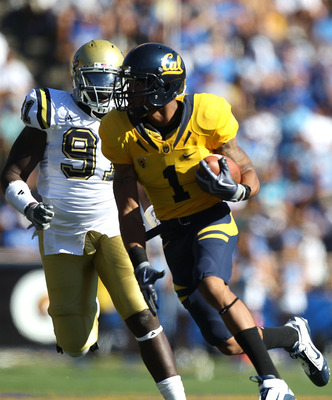 Ryan Broyles, Oklahoma- IF they think he is tough enough to play outside



There are other WRs that might rate around #89 but not ones that look like BPA to me- McNutt, Streeter, toon, etc.

My no chance of even hoping for list has Blackmon, Floyd, Hill, Wright, and maybe a couple more.

Anybody else you think might could fall to #89 at WR and be excited about?




Reply • Back to Top
Posted by
99DSTJ
on 4/13 at 3:25 pm to

blueslover

I really like McNutt. Has great size for an outside receiver. I've seem him rising a little in most mock drafts.


Reply • Back to Top



Reply • Back to Top


I like Greg Childs out of Arkansas (who was playing very well before dealing with injuries all of last season) or Tommy Streeter out of Miami, one of which should definitely be there in the 4th round.


Reply • Back to Top
Posted by
Cajun Invasion
on 4/13 at 3:38 pm to

Neauxla

Brolyes was a beast in collage, if not for his injury he would be a solid late first to early second rounder. To me it woukd be hard to pass on him if hes available.




Reply • Back to Top
Posted by
blueslover
on 4/13 at 3:51 pm to

THRILLHO

Go 4th Rd and I too would be excited about Streeter. I like Jarius Wright Arkansas more than Childs for a deep threat. Joe Adams in the 4th would be cool too. He might be able to spell Sproles on some return duties. T.Y. Hilton has some flash too for a 4th Rder.


Reply • Back to Top



Reply • Back to Top
Posted by
Cajun Invasion
on 4/13 at 3:55 pm to

blueslover

Alot of good WRs this year, without meachem its almost guaranteed we draft one.
Going to be interesting to see what the stratigie is to replace him without SP.


Reply • Back to Top
Posted by
blueslover
on 4/13 at 3:56 pm to

Neauxla

I was a big red machine fan so I'm hoping Joe Morgan comes back as strong as he looked in preseason last year to win a spot as a deep threat. We have had enough success with UDFAs that hope is warranted.


Reply • Back to Top
Posted by
fightingtigers98
on 4/13 at 4:24 pm to
blueslover
quote:


---

T.Y. Hilton has some flash too for a 4th Rder.

---
is the guy i want, and if not him AJ Jenkins or Streeter


Reply • Back to Top
Posted by
blueslover
on 4/13 at 4:49 pm to

fightingtigers98

Jenkins was borderline on my list. I think his probability of being there still is so remote that I don't think he's a legitimate hope for guy. Stranger things have happened tho.


Reply • Back to Top
I would pass on a WR at 89. That being said, if Broyles is there in the 4th round, take him. I think teams will very scared b/c of his injury. Seems lately that more teams aren't taken chances on people coming off big injuries.


Reply • Back to Top
Posted by
Breesus
on 4/16 at 3:46 pm to

blueslover

I just dont want out pick to be on offense. If we need a reciever i think we can find one in the FA or when we have more picks. This year, i think its D all the way.


Reply • Back to Top
Posted by
Zipfer2022
on 4/16 at 5:54 pm to

blueslover

I really like Broyles. He is a stud. OU's offense was not the same after he went down with injury.


Reply • Back to Top
Posted by
whodidthat
on 4/17 at 12:59 am to
Neauxla
quote:


---

TE is fine but not WR.

---


Ladarius Green would be great. If he doesn't get drafted before.


Reply • Back to Top
Posted by
blueslover
on 4/17 at 10:42 am to

whodidthat

I don't get "pass on a WR". The point of these threads was to target players that might enter "can't pass on" territory at that position.

So if ya go no WR on these, how far up does it apply?
Alshon Jeffery
Mohamed Sanu
Brian Quick
Reuben Randall
Stephen Hill
Kendall Wright


Reply • Back to Top
Posted by
99DSTJ
on 4/17 at 10:54 am to

blueslover

Unless there is someone rated as high as one of those guys at a position of more need. No way you pass on any of these WRs



Reply • Back to Top
Posted by
whodidthat
on 4/18 at 1:17 am to
blueslover
quote:


---

I don't get "pass on a WR". The point of these threads was to target players that might enter "can't pass on" territory at that position.

So if ya go no WR on these, how far up does it apply?
Alshon Jeffery
Mohamed Sanu
Brian Quick
Reuben Randall
Stephen Hill
Kendall Wright

---


I get your point. Some great players. I would take Alshon in a heartbeat. I actually want us to pick up Elvis Akpla. He would be a steal in the 7th round. Maybe a free agent. Last year he had over 1100 yards, 11 TD's. Plus he smoked Trumaine Johnson, a top 10 CB in this years draft. He's great at running routes, body control, and receiving, plus we all know that Brees can make any WR better.


Reply • Back to Top
Posted by
Tiger Voodoo
on 4/18 at 3:48 pm to

blueslover

Haven't looked at many mocks, but where is Fuller from A&M projecting? Is he going higher than 3rd now?

I thought he would have been a perfect replacement if we hadn't resigned Colston, but he could still be a contributor.

I'd love having 3 big guys like Colston, Graham, and Fuller. Would be a nightmare for defenses to match up with that kind of size.





Reply • Back to Top
Posted by
St Augustine
on 4/18 at 4:00 pm to

Tiger Voodoo

I think we 100% need a WR somewhere, I unfortunately no rather nothing about CFB from the previous season outside of the guys on the higher list.


I'm nowhere near sold on Arrington as being our 4th.


Reply • Back to Top • Refresh